With the stroke of a pen, and the fall of a gavel…
The mask mandate on airlines has come to an end.
It wasn't from the administration, who has been dragging their heels on this for months…
Instead, it was a Florida judge who struck down the FAA regulations (that's my state!).
It wasn't because she thought that they were a bad idea. She simply used legal precedent to show the federal government has overstepped its boundaries.
How refreshing to hear that!
Of course, the usual suspects are freaking out about this.
They claim it's an overreach of the judiciary…
Even though they were the ones cheering on the 9th circuit when they allowed plane travel from China back in Feb 2020.
(That aged well…)
You've also got the Press Secretary talking about how polls show Americans want the mandate to stay in place.
They're also considering appealing the ruling.
I'll tell you this much:
After seeing the reactions of passengers, pilots, and crew who could take off their masks mid-flight…
Re-masking the airlines would be political suicide.
Maybe, one day, this administration will realize the neurotic journalist class aren't the real voters in this country.
No guarantees, though.
Anyways, we actually started to see travel names running into this news (which tells you something about public opinion on airline mask mandates).
Here's a look at JETS, an ETF that has airline stocks: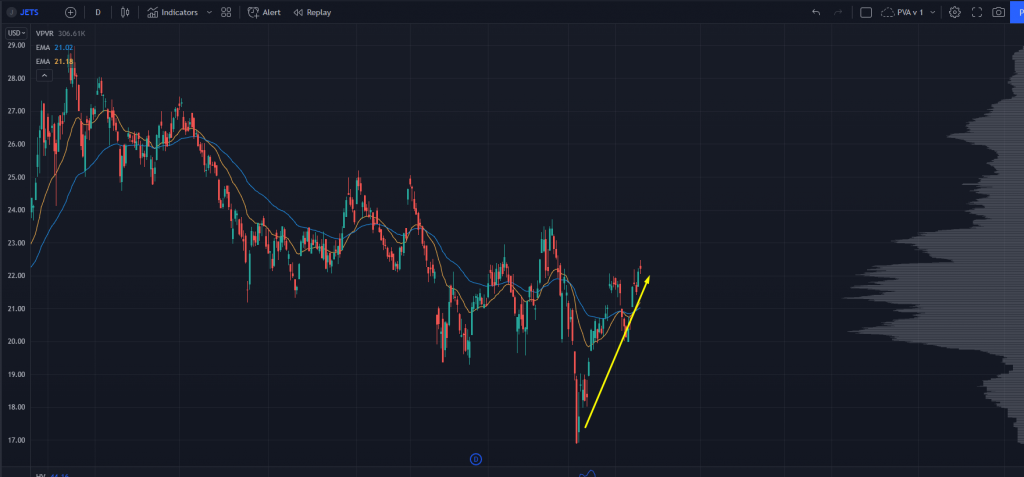 While the broad indices had a deeper drop into the April pullback, this one held the key $20 level that aligns with the volume shelf on our Trading Roadmap.
Many airline stocks are running hard into a level where sellers came in, but there is one travel-related name that's starting to interest me…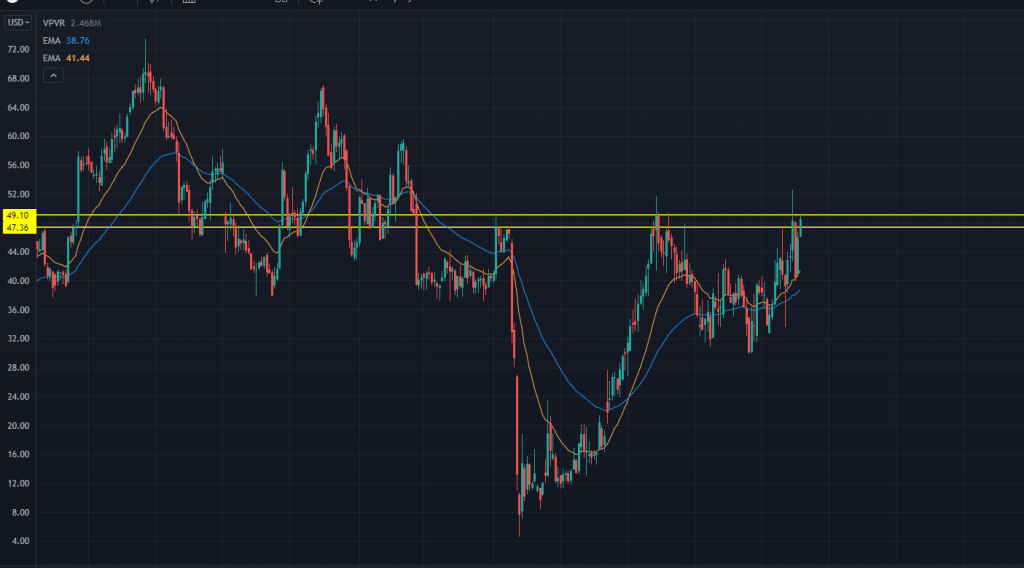 This company was on the brink of death through the pandemic, but fully retraced those losses into 2021.
Since then, it's been creating a cup and handle reversal pattern, and it looks ready to bust out into the 50s.
I normally wouldn't be looking at this play, but we saw something interesting.
The stock is seeing some monster relative strength against the overall market and is nearing multi-month highs.
Meanwhile, we had a combination of a "cluster buy" and a "buy at the highs" setup in this name — 2 insider buys in particular.
The first one is the CEO, who dropped another $400,000 into the stock. Oh, and he had already bought $500,000 of the stock back in December.
The CEO is confident enough in the name to buy at higher prices — something we don't see very often with insider buys.
The other buy is the CFO, who just purchased his first round of stock.
He's also a first-time buyer, something we actively monitor in the market.
With the evidence of explosive upside potential piling up… I'm sending his play to our Insiders Exposed members.
Join today, and you could get in on the ground floor if this stock takes off.
Discover our insider trading strategy… and learn how to get into Insiders Exposed to grab this ticker.
Original Post Can be Found Here