The past two weeks have been profitable ones for the Insider Report. 
The portfolio went 3 for 3 on earnings reports, giving members the chance to pick up some healthy gains along the way… 








Nothing makes me happier than hearing feedback like this from our members… 
And if you're wondering the answer to Jan's question… 
It's a resounding YES. 
Matter of fact, I hit the alert on two fresh opportunities earlier today.
The first is a small bank holding company that provides personal banking, wealth management, commercial banking and asset management services to high net worth clients and select institutions. 
But the firm's bread and butter is its personalized banking service for the ultra-wealthy. 
In other words, it serves a very small niche. 
Now this stock wasn't immune to the coronavirus selloff… 
In fact, shares tumbled roughly 50% amid the crisis: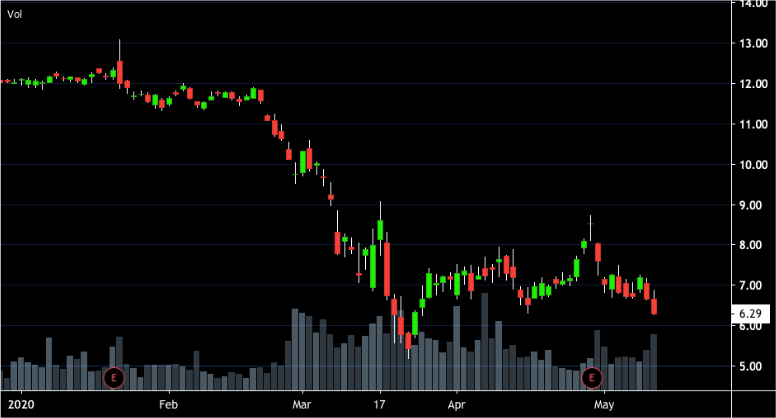 But insiders at the company have been eating it up since then… 
Which tells me that today's price is a steal. 
Just look at this: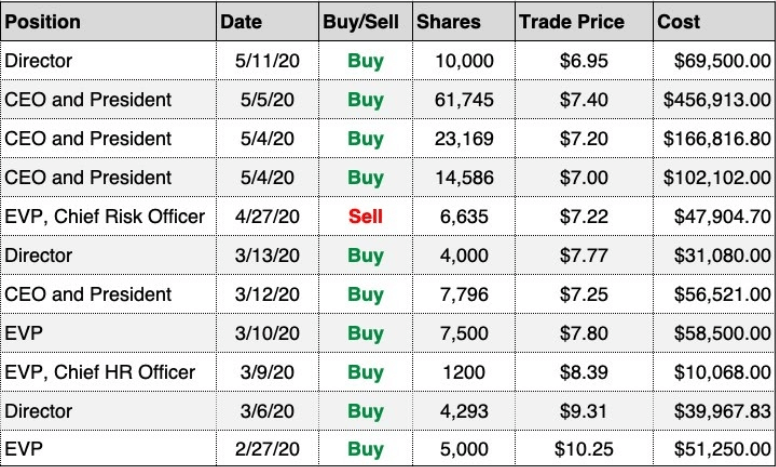 There have been 10 insider buys since February — a total investment of more than a million dollars by company execs. 
This is a significant cluster buy. 
It's also a big one. 
Matter of fact, insider buying was 5x greater in May than in any month in the last several years. 

Look, there's never any guarantee of what a stock will do. 
But this level of conviction from the firm's top brass is definitely a positive sign. 
Now let me tell you about the second opportunity… 
It's a mortgage real estate investment trust. 
Unlike a traditional REIT, though, this one owns the mortgages behind the real estate. 
That means the firm's investment portfolio consists primarily of mortgage-backed securities and debentures on commercial loans. 
The firm generates income from the spread between interest earned on these assets and the interest paid on its borrowings. 
It's a little complex, and I don't want to get too far into the weeds here… 
Because we don't need to understand the intricacies of the business model to profit from it. 
All we really have to do is look at what the insiders are doing… 
And the insiders at this company just started buying. 
More specifically, four C-suite officers have bought in the last week for a total investment of $1,096,800.

But get this… 
The CFO is a first-time buyer. 
The Chief Credit Officer hasn't bought in almost four years. 
And the CEO/CIO is buying for the first time since 2017. 
These are all very good signs. 
Now, the company reported worse-than-expected earnings on April 29… 
But the stock only took a small hit. 
It appears the weak quarter was already priced into the stock after the coronavirus selloff in February and March.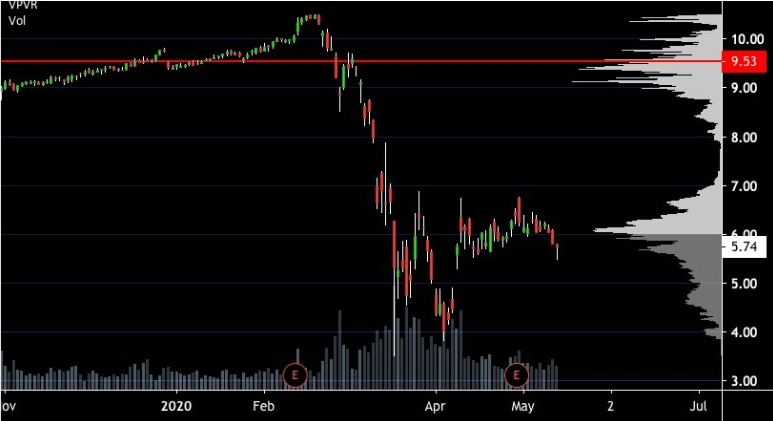 Once Wall Street had digested the news, company insiders called their brokers and began buying. 
… And thanks to an ugly two days for stocks, investors now have the chance to get in for slightly less than the insiders paid. 
Now if you're new to the idea of following insider buying — a 100% LEGAL strategy, by the way…  
Then I encourage you to click the link below to watch a free video training class in which I'll tell you exactly how it works…  
And how I use this strategy to consistently find high-probability, low-risk trades for my members.