If you've been on my list for a while, then you've probably heard me talk about the "Cluster" signal.
The Cluster is one of the most powerful signs of a potential stock breakout you can hope to find. 
Well, I just recently identified a MASSIVE Cluster buy that's taking place on an automotive electronics manufacturer… 
And based on the sheer magnitude of this Cluster activity, I'm anticipating a potentially major return for traders who jump along for the ride. 
Now, if you're not familiar with the Cluster, let me break it down for you. 
A Cluster occurs anytime we see multiple high-conviction stock purchases from company insiders. 
Sometimes, there are multiple insiders buying up the stock… 
And sometimes, the Cluster is formed by just one buyer with a massive appetite. 
That's precisely what's going on with this particular stock. 
For the past several months, one 10% owner has been buying up shares of this audio stock at record pace. 
It started with four purchases in April after shares stabilized following the COVID selloff. 
He went on to make six more buys in May. 
But he really ramped things up last month. 
Here, check this out: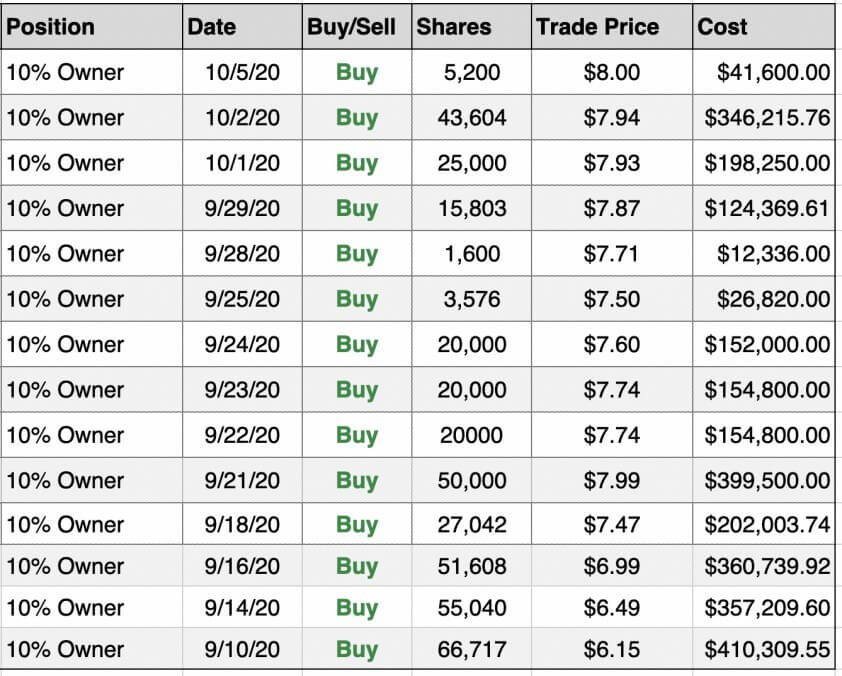 Since September 10, our friend has made 14 insider buys. 
His total investment with just these 14 purchases alone?
$2,940,960.
But here's what's even more interesting… 
The stock has nearly doubled in price since our insider started buying. 
Now as I mentioned, the company is a manufacturer of automotive electronic products targeted toward budget-conscious consumers. 
In other words, they're not top of the line. 
But this insider clearly believes that the stock is severely undervalued… 
And he's building a massive position to capitalize on it. 
Now I've already given my Insider Report members the ticker on this potential blockbuster… 
But it's still hovering around our buy price, which means there's still time for you to get in before it makes a potentially massive move higher. 
So if you'd like to learn more about the Cluster… and the little-known SEC loophole that makes insider trading 100% LEGAL… 
Then click right here to watch a full training video and discover how you can get your hands on this ticker plus many more opportunities just like it today!