They say "timing is everything"… 
And nowhere is that more true than the stock market. 
In fact, it doesn't matter what instrument you're trading — the timing of your entry will either make or break your trade. 
So today, I want to show you a simple rule you can use to help time your stock entries… 
And potentially make a lot of money. 
It's called the Five Dollar Rule. 
Let me break it down… 
See, when most people hear the term "penny stocks," they think of stocks that are literally trading for a few pennies… 
Or even fractions of a penny per share. 
But the SEC actually defines a penny stock as any stock that's trading below $5 per share. 
Why is this important? 
Well, most of the big dogs on Wall Street — I'm talking about the multi-billion dollar funds and trusts that really move markets — have bylaws in place that restrict what they can buy. 
… And most of them don't touch a stock once it drops below the $5 mark. 
So when you see a $100 or $200 stock fall all the way down below five bucks, you also see a corresponding dip in volume as all those big players exit in accordance with their bylaws. 
But here's where the rule really comes into play… 
And where savvy traders like us can exploit it to our advantage. 
See, once that stock starts to come back and break above that $5 mark, it tends to build a solid base of support that it can quickly build from. 
And as all those institutional, big-money buyers step back in, you'll often catch a nice breakout to the upside that can hand you some quick, easy gains.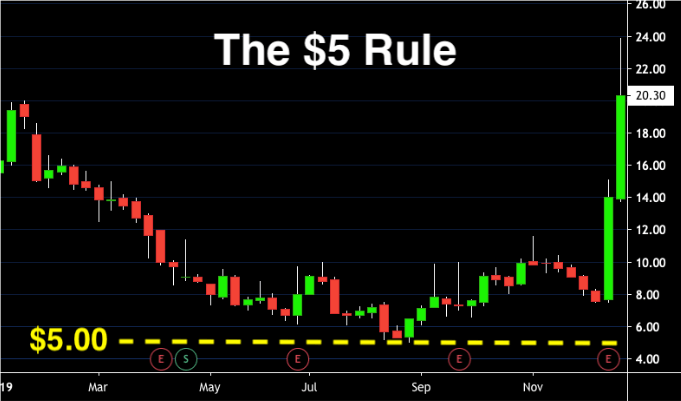 Now, the Five Dollar Rule is a great tool to have in your back pocket as you search for potential stocks to trade… 
And it's just one of the many "tricks" I've picked up over my lifetime in finance and trading. 
But if you want to learn about the crown jewel of my professional career — the powerful strategy for finding low-risk, high-probability trades that has netted more triple-digit returns than any other system I've ever encountered…