Bitcoin, out of the blue, jumped > $4000, later rushed to break $5000 barrier and voilá back on the map.
 Spot trades = $5230 and above 200-EMA on the weekly chart.
 $3810 becomes a new floor 'maybe' bottom in the short and medium term for traders.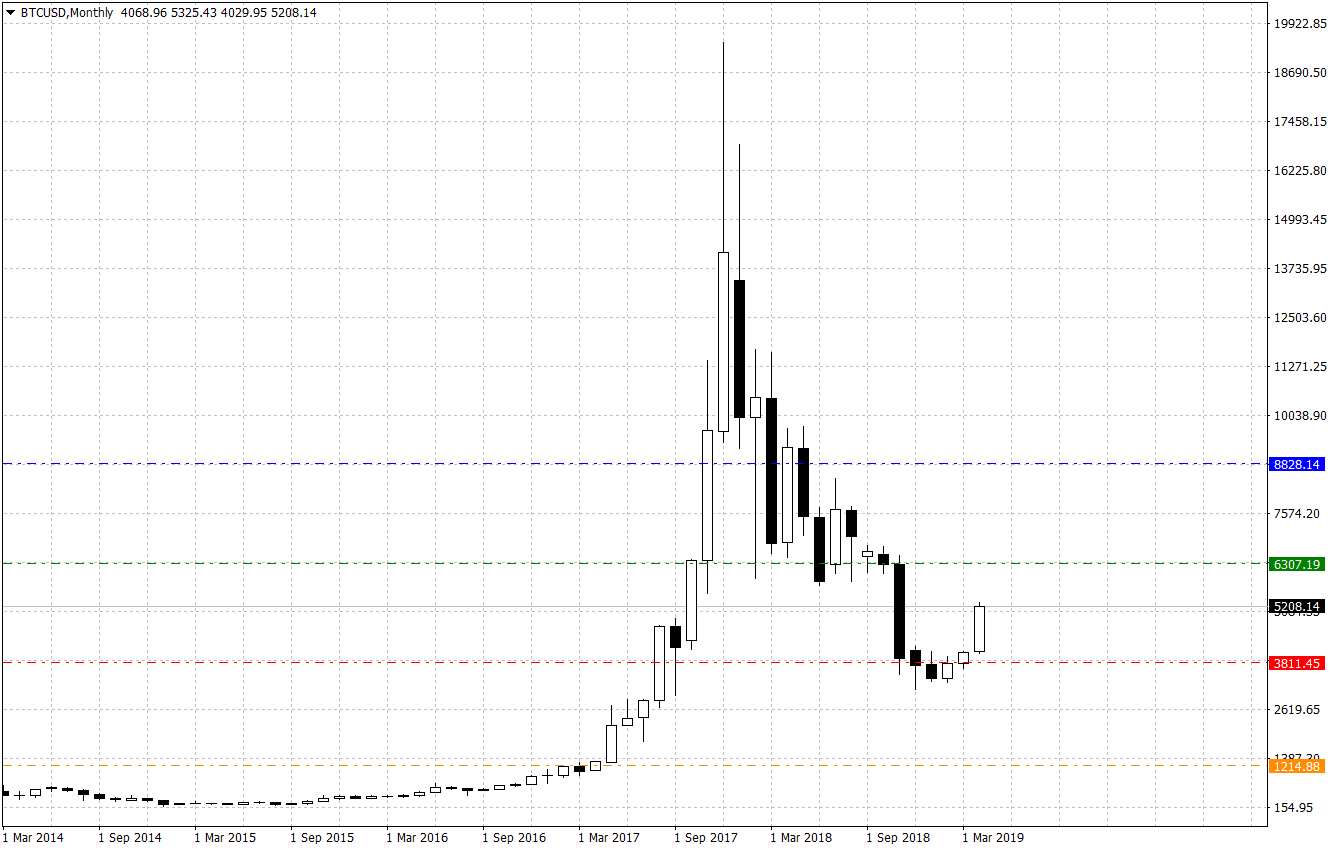 When you want to trade any asset class after such spikes (a consequence of news or macro changes) take time to see the big picture no need to rush, after all, you want to risk your financial resources so it is worth taking a minute or two.
The monthly chart above is divided into three colors to provide a full vision on the key levels and so regions Bitcoin prices are actively rotating.
Currently, prices rotate in a bearish region trading from $6300 down to $3811. If you decide to go long your 'risk' to play this asset goes down all the way to $3810 (1460 points or -27.70%). On the other hand, if you risk, then your upside somehow could easily be capped at $6300 and it translates into a +19% reward. Do the math…
If prices close and open above $6300 level, then there is evidence to expect a new price rotation in a new bullish region that plays from $6300 level (short-term bottom) up to $8820 level. Does it make sense? I truly hope so…
Thank Cryptocurrency Junkies this token/coin/virtual coin (any name you like) did not break below $3100 level, otherwise, no one would ever consider Bitcoin a serious 'quick rich' scheme for a while (except the junkies).
As a 'trading scenario' as a trading 'setup,' this is the perfect setup to abuse from your broker's cryptocurrency feed and squeeze them. Yes, you can win this one and make money out of the short/medium term euphoria. 
Nomura's View: Where is the bubble?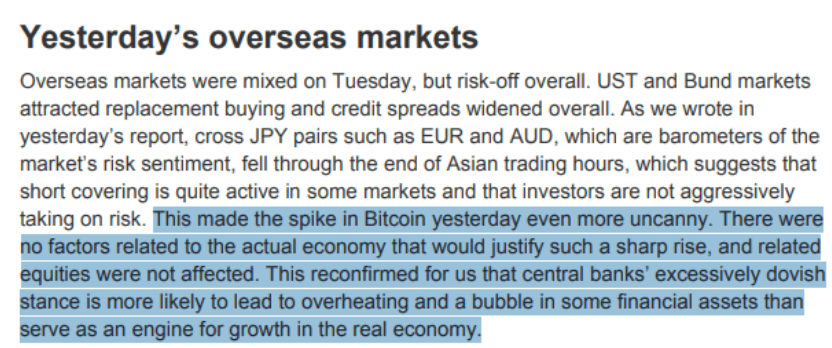 There are multiple views on Bitcoin's recent spike. This one right here is funny and over-engineered, to say the least.  Nomura is a decent investment bank, not like Morgan Stanley that every year seems to be positioned to lose money in trading. (you did not hear that one from me)
If you are wondering where this piece came from, make sure to follow this professional on twitter:
Nomura analyst think Bitcoin's big price spike earlier this week is evidence that central banks are reinflating the bubble in financial assets. pic.twitter.com/jdGYDAjsMd

— Tracy Alloway (@tracyalloway) April 4, 2019
$100M Bitcoin (Secret) 'Algorithmic Trading': Buzz words, Buzz words
Benjamin Powers wrote an article explaining the other side of this story. In his piece, the whole 'spike' situation goes around some mysterious $100M position via 'Algorithmic Trading' (yes, because if it is not the algorithm is not cool) and how all purchases were synchronized. The last idea makes sense, but also setups the long-term bearish view needed to be discussed in this post.
Yes, feel free to read Powers article because is very informative: The Bitcoin Spike is Due to Everything
Trade Bitcoin; Invest…just pass!
The spike got your attention and that is nice, but should not get your retirement account. News, Fake News, and any piece published have one purpose in common: to get you excited and move your money from the sidelines into the assets. That is about it.
Now…
Nothing wrong with that as long as you take care of your emotions (which is hard as…) so if you cannot manage your emotions, what can you do? quiet simple:
You manage your risk and trading direction.
Follow the herd so they think you are drinking the cool aid and then, slowly leave them on their way to the butcher and YOU go home with your profits.
Smart plan, so, how do you use the news to move the odds in your favor and make a few extra bucks?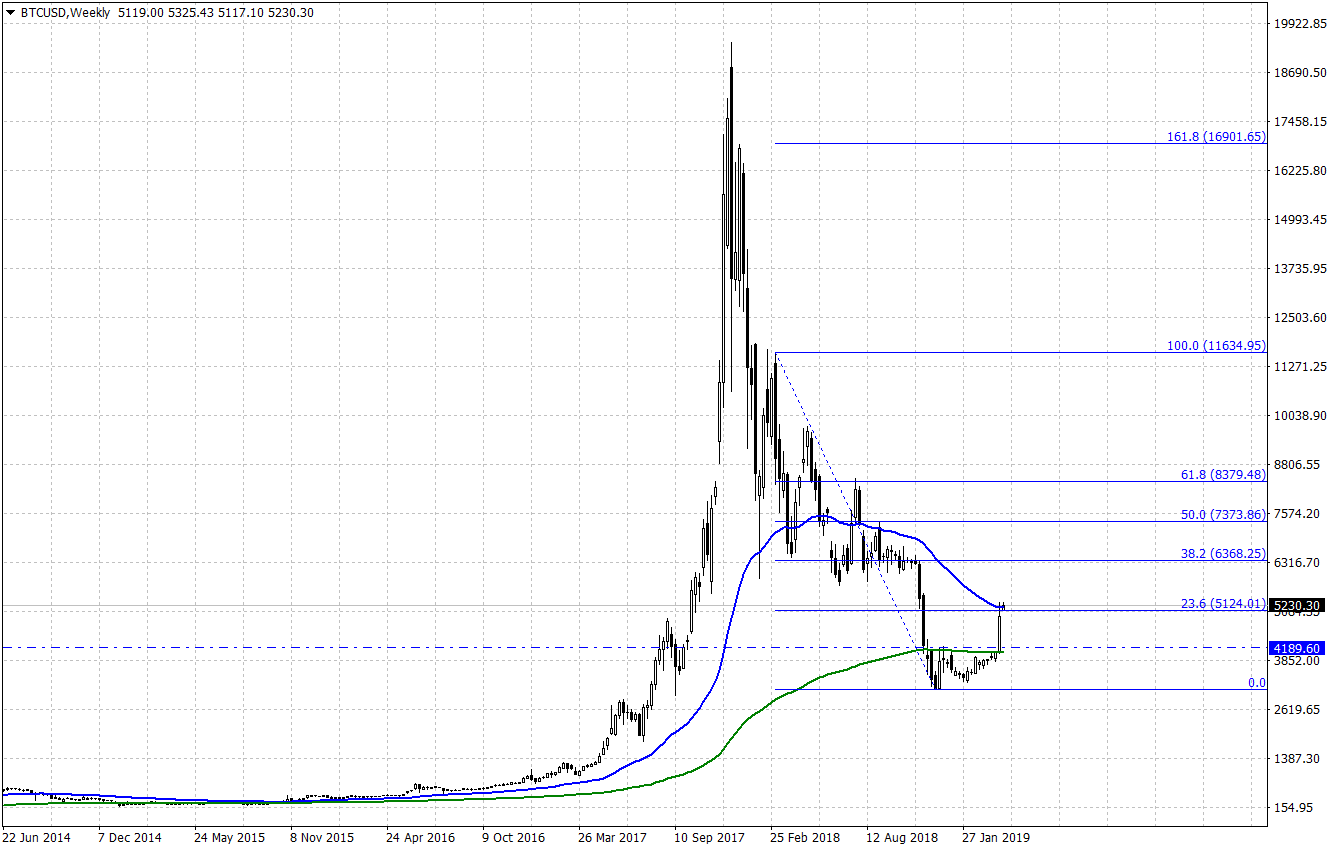 Risk Stance
$4180/$3800 are your existing levels to leave (get out) in any longs (buy positions) you may decide to have in Bitcoin post-news fever.
Adjust according to your account size, because it is a speculative position you may want to limit the account size risk to < 5% then again you do you. On this matter keep my words close to your chest: 'Never risk the house for pennies.' if you take a risk make sure it is your worth.
Reward Stance
As soon as prices get close to $8300 start unloading your longs that means start selling and do not listen to any cryptocurrency junkie because it is about to blow again as high as 90% to the downside.
Mental Note: 61.8% Fibonacci is a severe selling value for institutions and professionals and adding a 'double-top' to the left which gravitates near the same price $8400 = a deadly region for longs.
Evidence has been thrown all over the place to trade Bitcoin to the upside, the news isn't good nor bad, it's just news and served its purpose. Now let us go out there and make it happen for us without becoming a long-term cryptocurrency junky.