Last week I told you about the 250%+ trade we closed out using Insider Information.
Today I want to share an opportunity that is looking even better!
It's a fashion conglomerate trading at a huge discount to fair value with massive insider buying.
Warren Buffett once said, investors should "buy when there is blood on the streets."
And the stock I have for you today is noticeably red.
But Wall Street has this one wrong, and insiders know it.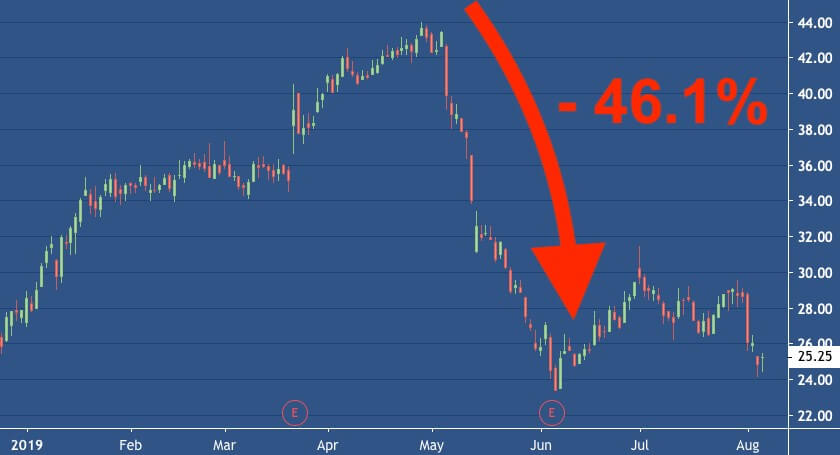 Combined, the firm's proprietary brands generate over $3.1 billion in annual sales.
However, apparel stocks have been under pressure in recent months, and today' stock is no exception.
Threats of a trade war and unpredictable tariffs have caused investors to blindly dump retail stocks with international exposure.
But a downturn in a particular sector does not mean there is a problem with the individual company.
In fact, just the opposite.
Contrary to what the stock price would lead you to believe, sales are growing.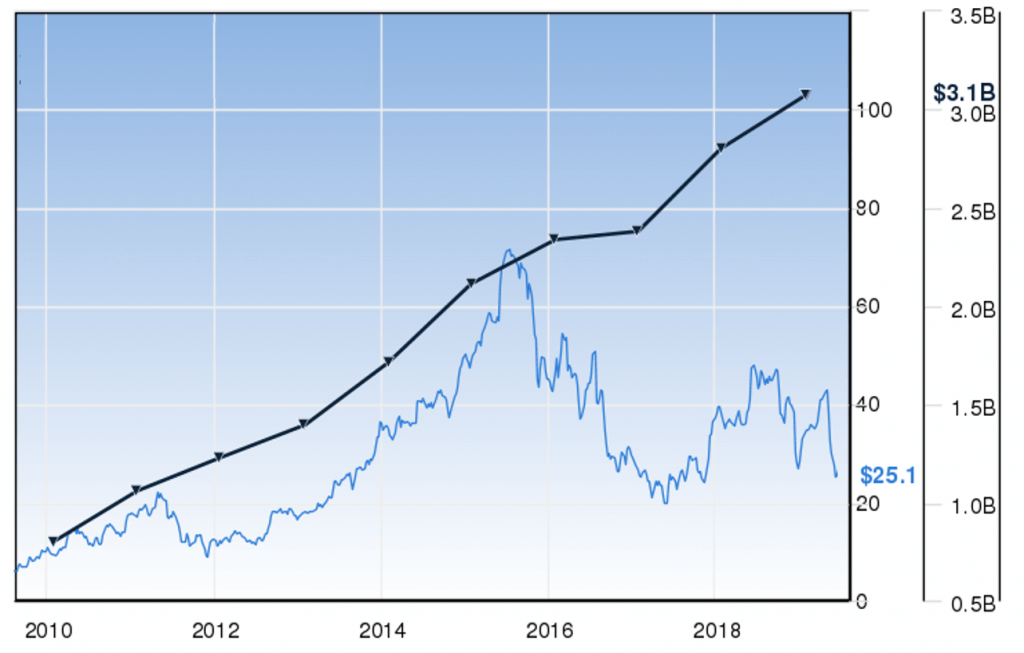 They have been for more than a decade.
And the company has beaten Wall Street earnings estimates in each of the last five quarters.
For value investors, the numbers don't get much better.
At today's price, the stock sells for just 9 times trailing twelve month earnings and 7 times next year's estimate.
The price to sales ratio just hit a 7-year low of 0.40, and the stock is trading at book value.
Analysts rate it a strong buy as well.
They have a consensus price target of $38 – 52% above where it currently trades.
But it's not just analysts who think the stock is insanely cheap.
The firm's top insider is bullish as well.
Company Chairman and CEO, picked up 40,000 shares last month for a personal investment of $1,058,800.
This follows another purchase he made in June of the same size.

$2 million in two months? That's conviction.
And thanks to the recent selloff, we can buy the stock at an even lower price than he did.
He is also a perfect track record insider.
The last time he bought was April 2017, just before the stock climbed 132%.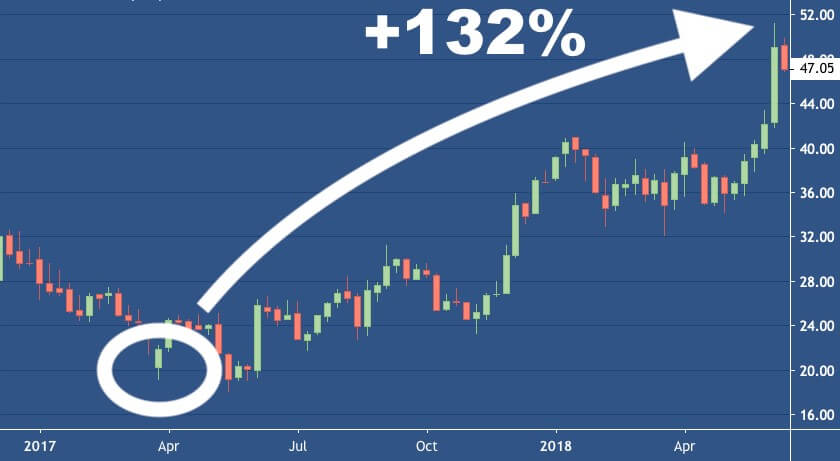 Today's back-to-back buys from the CEO represent more than double his investment two years ago, so he clearly believes this to be a blockbuster opportunity.
Another reason I like this stock is the price.
The white profile on the chart below shows the volume distribution for for the last 6 years.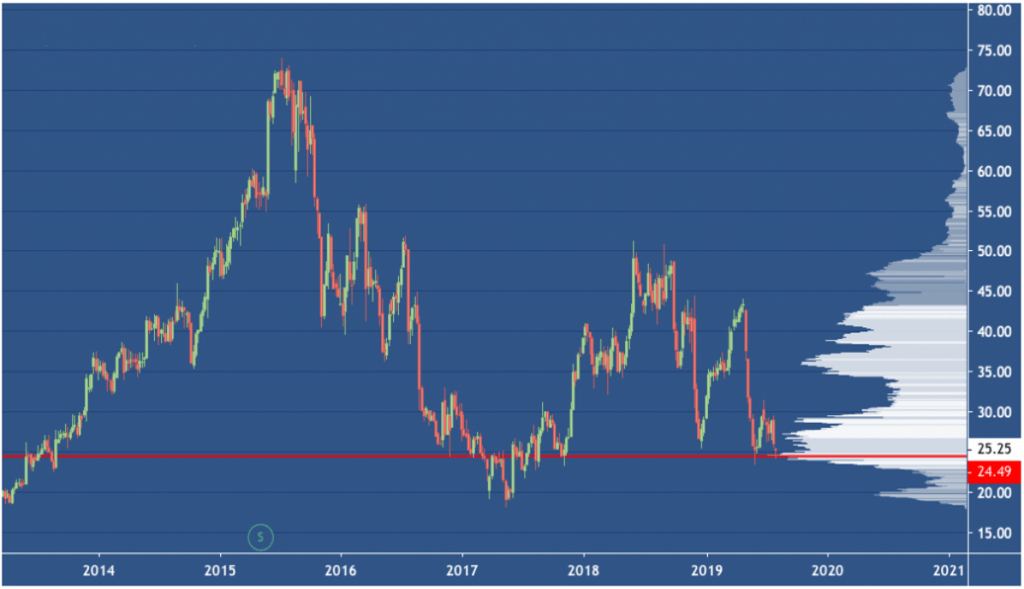 The stock has been as low as $18 and as high as $74, but it always finds support at the same price – $25.
The red line represents the point of control – the area where the most trades have taken place.
After falling more than 70% between 2015 and 2017, buyers stepped in and stabilized the stock in the $25 area.
The stock soon doubled to a high of $51.20 before falling once again to the $25 point of control late last year.
And after a rally in the first half of 2019, the same thing is happening again today.
The only conclusion I can draw is that institutional buyers have a big appetite for this stock at the $25 mark.
This level has served as a launch pad for the stock for almost three years, sending it up roughly 100% each time and that is just the stock. The options available create an opportunity for massive gains. But…
Buying a falling stock can be tricky.
But this has been a proven entry point for profitable trades in the past.
This is a healthy company with growing sales, a dirt-cheap valuation, telltale insider buying, at a technically sound entry point.
Investors would be wise to seize this opportunity and that's what members of our Insider Report are doing.
If you are not a member and would like to get access to this stock you can attend an on demand webinar. Click here for more information.