Just last week, we closed out a position that netted a total gain of 166% since our initial buy recommendation in March. So today, we're going to break down this triple-digit winner and show you exactly how one insider led us to victory.
Corindus Vascular Robotics (CVRS) is a medical tech company that manufactures robotic-assisted systems used in interventional vascular procedures. 
Only last December, doctors used the company's proprietary device to complete the world's first remote robotic vascular surgery.
This success was a huge boon for CVRS, and from December to March, shares shot up 100%…  
But med tech stocks can be tricky — particularly small caps like Corindus. Few, if any, analysts track these stocks, and their limited float means they're not on Wall Street's radar, either. 
But that's where following insiders comes into play… 
Corindus Director Louis Cannon has been a regular buyer since March 2017. But he had a track record of small trades — $5,000 here, $13,000 there, and never more than $35,000 at a time. 
Nothing of major significance…
That is, until Tuesday, March 12, when Louis picked up 573,798 shares at a total cost of $791,841.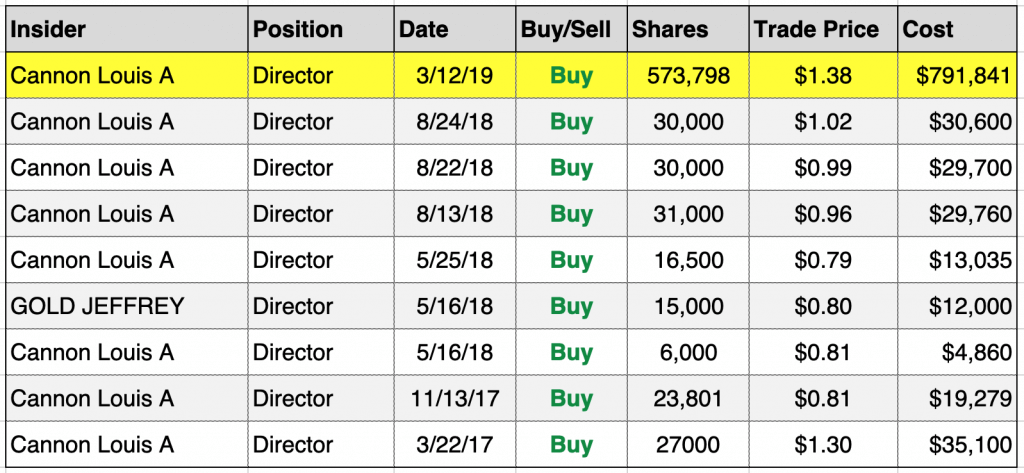 This was a significant purchase for two reasons… 
First, it showed major conviction from a company insider. 
At the time of this purchase, Corindus was awaiting FDA approval of one of its new devices. If approved, it would become the world's first — and ONLY — robotic platform approved for these procedures… 
Something Louis knew would significantly increase his company's value. 
Second, it was important because Louis isn't just a director at Corindus…
He's also the founder of BioStar Capital, a boutique investment firm specializing in breakthrough medical technologies. 
That means that in addition to having inside access to key info on Corindus, Louis is also an expert investor in medical stocks like CVRS. 
All signs were pointing toward a profitable trade — and on March 14, we issued a buy recommendation to our Insider Report subscribers. 
Learn More About How Our Team Analyzes Trades 
On March 18 — only FOUR DAYS after our initial buy alert — CVRS stock was up 37%. 
But this stock wasn't done yet… 
Less than two months later, the company's earnings report showed better-than-expected revenues, and the stock shot up again… 
Then, on Thursday, August 8, Corindus announced an acquisition agreement with Siemens… 
And its price skyrocketed 77% in one day. 
The acquisition was finally completed last week, and we recommended our subscribers take their final exit on CVRS…
Locking in a total gain of 166% since our initial buy alert in March. 
This is just one example of the kinds of profits you can realize by simply following the moves of insider traders! 
Now, we're advising our members to roll those profits over into our newest pick… 
It's a specialty insurance company that essentially insures other insurance providers. 
With a $4.7 billion market cap, this company is one of the biggest in its niche… 
But it's about to be worth even more. 
In addition to the recent purchase of an alternative asset hedge fund with more than $18.9 billion in assets under management, this company's CEO has agreed to purchase $22.5 million in stock by early December. 
This buying pressure has already started lifting the stock price, and we expect it to continue to do so… 
Now, if you want to learn more about this potential blockbuster stock — including its ticker symbol — then check out one of our on-demand webinars. 
Simply tap here to schedule your slot and learn all there is to know about profitable insider trading!