The scariest thing for an investor to do is buy a stock after it's already seen a monster run.
After all, no one wants to be the last one to the party and "top tick" a stock.
Yet, you can use some techniques to stack the odds in your favor for monster profits — even on stocks that have ran.
To show you what I mean, I'd like to share a live case study with you in Autozone. 
This name has seen some insider buying recently… 
But because of its absolute share size and options illiquidity, it doesn't fully fit the criteria for our Insiders Exposed members.
Let's first take a look at the chart of the stock: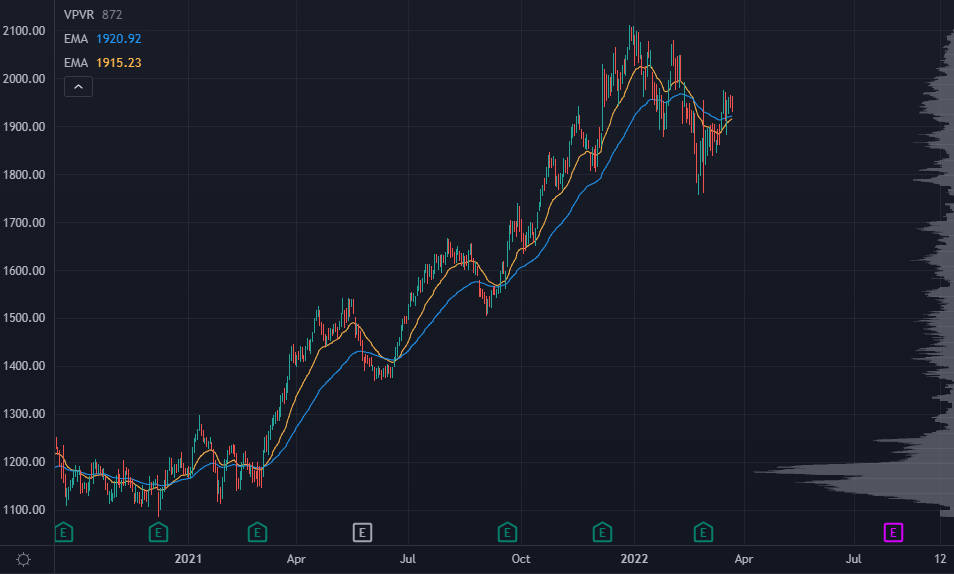 Autozone is a very well-run company that can run counter to some of the market's economic risks.
Right now, used cars have jumped significantly in value, thanks to shortages across the board in the automotive sector.
You also have consumers that, due to rising costs from inflation, may want to drive their older car around a bit longer instead of dropping serious cash into a new asset.
From the beginning of 2021 to now, Autozone's seen an incredible run of about 70%. And after that kind of move, it can feel a little sketchy entering into this stock.
However, we saw a key insider pick up shares near the highs.
Here's a screenshot of their Form 4, the document we use to spot insiders and find a massive edge in the markets: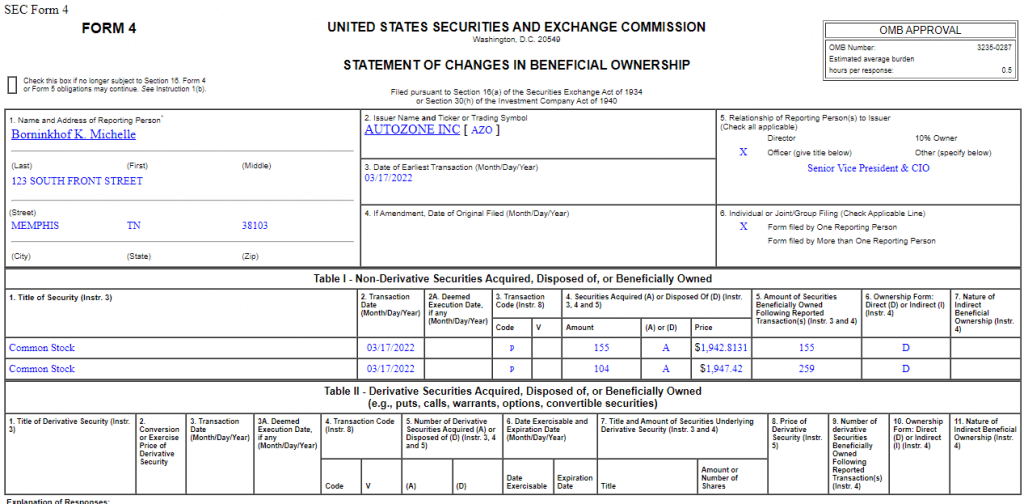 Ms. Borininkhof is the company's SVP and Chief Information Officer. 
Just a few days ago, she picked up 259 shares of the company. Not 259,000 — 259.
That may not seem like a lot… 
But this is stock trades at nearly $2,000. 
That means that this open market purchase was for $500,000.
When an insider doesn't wait for the dip on their stock, that signals they're urgent to get in. 
We don't know what they know, but if she is willing to drop a half a mil into the stock, we can strongly suspect she's positioning herself for serious upside.
This is also a "first-time buy" — another piece we look for because they tend to have explosive price movement.
Now, if you want to learn our full strategy for finding the best insider buys like this one…
Go watch this free presentation now.