They say history repeats itself.
The wild volatility, big gains and huge losses experienced during the first 70 or so days of 2021 are echoes of the 2020 tanking. 
But while most investors were drowning in a sea of red, there's a small group of traders coasting on a portfolio with open gains of 204%, 223%, 272%, and even 598%. 
Today, I'm going to give you an exclusive walkthrough of one of these big-winning trades… 
And reveal the little-known system that continues to find big winners in a sea of losers. 
Founded in 2003 and headquartered in Dallas, Matador Resources (MTDR) is an oil and gas exploration company. 
If you recall, oil and gas was a scary prospect in early 2020.
To be honest, the entire market was a scary place at the time. 
We'd just experienced a massive COVID-19 driven sell off, and no one could make heads or tails of the market.
Sounds a lot like our current situation, right?
When Matador first pinged my radar in April 2020, crude prices had already dropped by over $40 a barrel since January. 
… And this stock was reeling.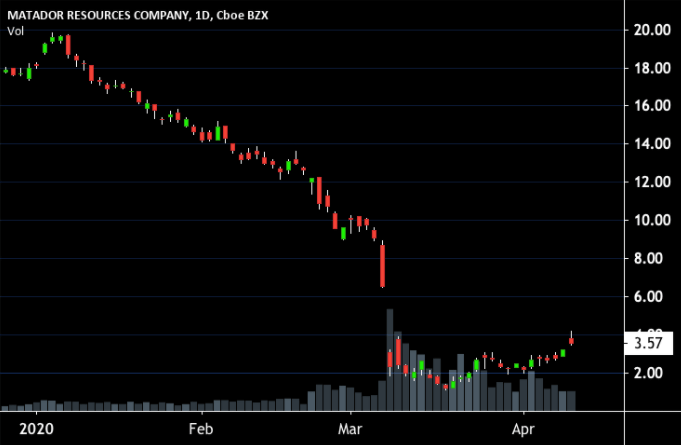 So, I needed to do some additional digging to make certain it was an opportunity and not a money pit.
After their fall off, Matador saw a textbook round of cluster buying by some key company insiders.
The Chairman, CEO, Executive Vice President, CFO, President, Chief Operations Officer and several company directors all bought stock at prices ranging from $2 to $10. 
Clearly, they knew something.
As it turned out, this was the heaviest insider buying in the history of the company…  
As well as a massive opportunity for my members.
On April 9 I sent out the buy alert for MTDR stock at around $3.59 along with a play on the call options that were trading for less than $2 a contract.
From there, it was off to the races.
Shares rocketed 52.3% in the first three weeks.
To lock in those gains, I issued an alert to take partial profits on April 29, the day before the firm announced its quarterly earnings.
That earnings report turned out to be another game changer. 
Matador reported numbers that blew expectations out of the water. 
Earnings per share were $1.08 versus an expected $0.02. 
Revenue was also a beat, coming in at $371 million versus an expected $223 million. 
Of course, the previously mentioned company insiders saw this coming a mile away.
And the stock reacted as expected, jumping as high as $9 during the following session.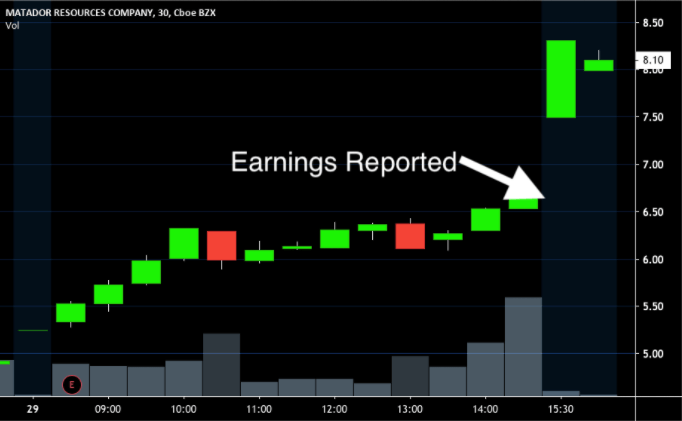 This gave my members a 150% gain on the stock and 245% on the options in less than a month!
But this bull wasn't done running.
After gaining more steam through May and into early June, our open stock gain was up to 191% in two months while the calls had quadrupled in value. 
We sold off another piece of our stock holdings as well as the final portion of the options to lock in 300% total gain on the calls. 
We continued to hold our remaining shares while keeping a close eye on Matador's next earnings report in the months that followed. 
The start of the holiday season saw a 9.75% bump for the stock on November 23… 
And by the first trading session of 2021, Matador was up to $12.49 — bringing our open gain to 248%.
This is a textbook example of the power of piggybacking traders who have privileged, proprietary knowledge… 
AKA, the company insiders. 
What's even better is that while the broader markets have been pummeled over the past month, energy has been outrunning every other sector by a longshot… 
And Matador has continued to gain ground for us. 
We're now sitting on a 598% total gain on this stock in just under a year. 
As you can see, it pays to follow the money moves of the insiders.
I am constantly scouring the market for other big opportunities like MTDR. 
I've been doing this for years…  
And the results speak for themselves.
So if you're serious about substantially increasing your potential gains and the quality of your portfolio, check out this free training.
In an exclusive interview with another trading pro, I provide a detailed breakdown of my proven methodology, including the cluster buying technique that helped me find Matador.
Click here to change the way you look at trading forever… 
Before you miss out on the next opportunity like this one!