Ah, Elon. The master troll.
We covered Mr. Musk's Twitter deal a lot when the news first broke earlier this year.
At first, the Twitter board was quite defensive. They tried to ward off Elon by implementing a poison pill, but nothing really came of that.
Eventually, they struck a deal. But that didn't mean the deal was done.
Giant transactions like this require approval from 3 zillion government agencies and departments, and this can take forever.
Over that time, Twitter's board had a change of heart for some reason. They started looking forward to selling Elon the company…
And Elon began taking the opposite position, threatening to drop the deal…
Earlier this month, he made good on that promise, announcing he was walking away from it.
For those with experience in the M&A world, this shouldn't come as a surprise.
Sometimes, you get a Letter of Intent (LOI) to buy a company…
But after some due diligence and negotiating, the buyer discovers something that makes them back out.
That's what happened with this deal. Elon expressed worries that many Twitter accounts were bots and spam and demanded the relevant data.
Twitter refused, leading Elon to ditch the deal.
The next steps are pretty straightforward: The Twitter Board sues Musk because they had entered into an agreement…
Then they go into discovery in the lawsuit.
Know what happens in the discovery part of a lawsuit?
Twitter data relevant to the matter — such as bot counts — could come out.
What would that look like?
I think Elon told us back in May.
He tweeted this out: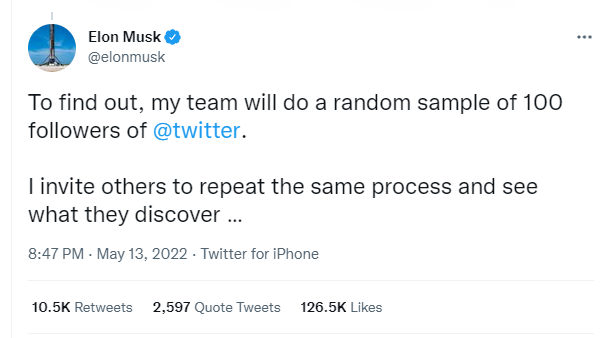 This was in response to Twitter's claim (discussed earlier) that only 5% of its Daily Average Users (DAUs) are bots.
If that turns out to be a low number, then the company is worth less because they are claiming a much higher user base than what investors think they know.
So his tweet essentially says, "Oh, I'll just sample 100 accounts."
Of course, everyone in the replies tells him how this is a stupid way of doing it.
100 random accounts is a hilariously small sample size, and nobody in their right mind would consider doing it like this.
This inevitably led to breathless news articles about how he is being an idiot with this method:

(Source)
Turns out, that's exactly what Twitter does.
Twitter has a human reviewer who receives 100 random accounts and checks them for bots.
That means twitter samples about 3,000 accounts per month to derive their Monthly Average Users (MAUs) they report to the SEC (and investors).
(Sounds like these media organizations are pushing some fake news, eh?)
If this keeps up, it means two things:
Musk will end up buying Twitter for a much lower valuation than originally discussed
Musk can then take the leftover capital and re-buy his TSLA stake at a much lower price.
Remember, he started selling shares in size back when the stock was trading above $880.
Elon's a smart guy and has the resources to keep smart people around him. The fact that people think he's making stupid moves likely helps him even more — his cold, calculated decisions fly under the radar as silly.
But he's not winging this stuff.
He's playing a different game than all of us.
Lucky for us, though…
We don't need the knowledge or resources to play that game. We can piggyback off his every move — whether that's in Tesla or something else — thanks to a document some have called "the most valuable piece of paper on Wall Street."
I got my hands on this document, too…
Go here to discover this document and how to use it to your advantage.
Original Post Can be Found Here