Click Here To Attend An On Demand Webinar
Earnings Reports This Week Could Mean Massive Profits For Insiders
Hey guys Dustin Pass here. It's Sunday afternoon, I hope you had as good of a weekend as I've had. With two of our Insider Report stocks having earnings reports coming up this week I wanted to talk to you a little bit about the opportunity they provide, but also I wanted to give you some of my background.
The first big trade I ever made over $10,000 was trading on the news. I used to trade the news almost exclusively. In fact, I created some software years ago where it was almost like arbitrage. We were getting the news data in advance of the public, This enabled us to trade things like the non-farm payrolls or the gross domestic product, I was trading currency at that time, and I had a Bloomberg terminal and of course that Bloomberg terminal gave me the data within milliseconds.
There's analyst out there, and they would set an expectation, the market would adjust to that, and maybe you were trading non form payrolls and you thought there was going to be a hundred and fifty thousand new jobs; when they came out, if it came out much greater than expected, we would see a massive move in the currency Market and because I was getting that data in real time, we were able to trade on that information and make tens of thousands of dollars, it was the easiest money I ever made, unfortunately that doesn't work anymore.
The technology has caught up and you just can't execute fast enough, the platform's will hold your orders. The next best thing is trading insiders, because it's almost like knowing what's going to happen before it happens.  That's really what was happening with my news trading so many years ago. We were trading on information that the public didn't have yet, and we were entering the market and then the market would move, and the great thing about following insiders, especially if you see big purchases right before earnings are coming out you can have confidence that it's a really good sign, and we've got a couple of stocks, that have earnings coming out next week I want to tell you about.
In fact we just closed one down last week, this is actually a stock that we were in, WMS, see this big green candle.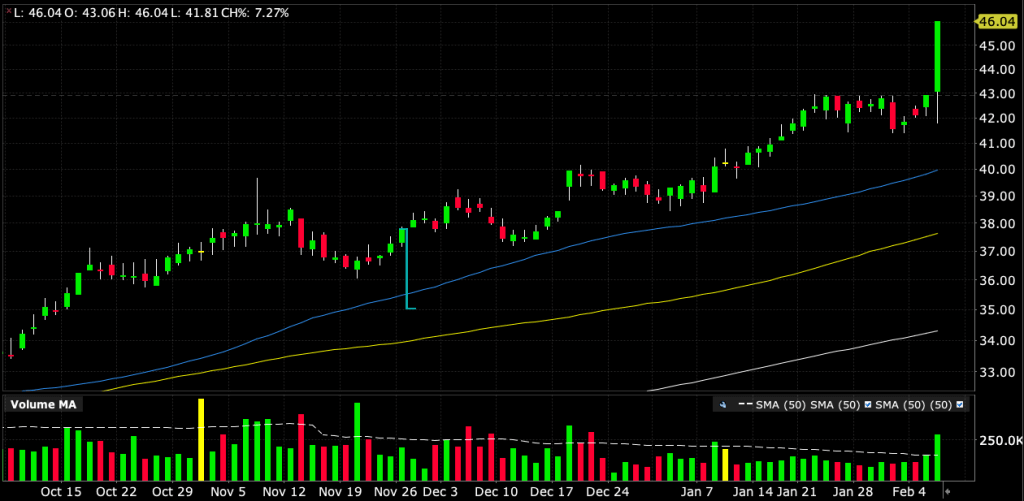 That move happened as a result of an earnings report, it came out way better than expected. And just like when I was trading news, the market shot up, we actually signaled a close on this trade for a little over 400% and we were only in it a few months.  We actually had another one we closed down last week too…
But the important takeaway here is this…
This week we have two stocks that insider report members are in that have had massive Insider buying and this week we have earnings being announced.
So if you'd like to get your hands on these stock tickers, you need to be an inside report member.
The way you become a member is by signing up, so if you want to see a little more about how it works and what you can get, we have a webinar you can watch on demand.
There should be links below and our hope is that the charts on these two two stocks that we are in will look something like the chart above later this week.
So ideally you guys are going to check out this webinar and realize this is an amazing opportunity and you're going to join us and make a bunch of money this week!
Guys, sign up and obtain the webinar.
I hope to see you in the members area, take care guys enjoy the rest of your weekend.