All throughout last year, we saw signs of inflation ramp up.
We knew it was coming early…
Which is why one of our 2021 investment themes was "empty shelves" — profiting from inflation, shortages, and other supply chain pains.
Of course, the Fed declared inflation was transitory for about 75% of last year… but that thesis finally fell apart when Powell and others came out and admitted it wasn't.
And it's only getting worse — YoY CPI for December was 7%, the highest since 1982.
It's spooky out there…
But my main question is how we can profit from the continued inflation trade.
And I think we are starting to see a setup develop in Gold.
The shiny metal has not responded to the headlines. It's possible there are no buyers because they know the Fed will hike…
But I bet we've seen enough build-up for an explosive move to be right around the corner.
Now, I don't say this because I'm some macro expert…
But because I can see the footprints of institutional traders inside our Trading Roadmap.
Let's take a look at GC, the futures contract for gold: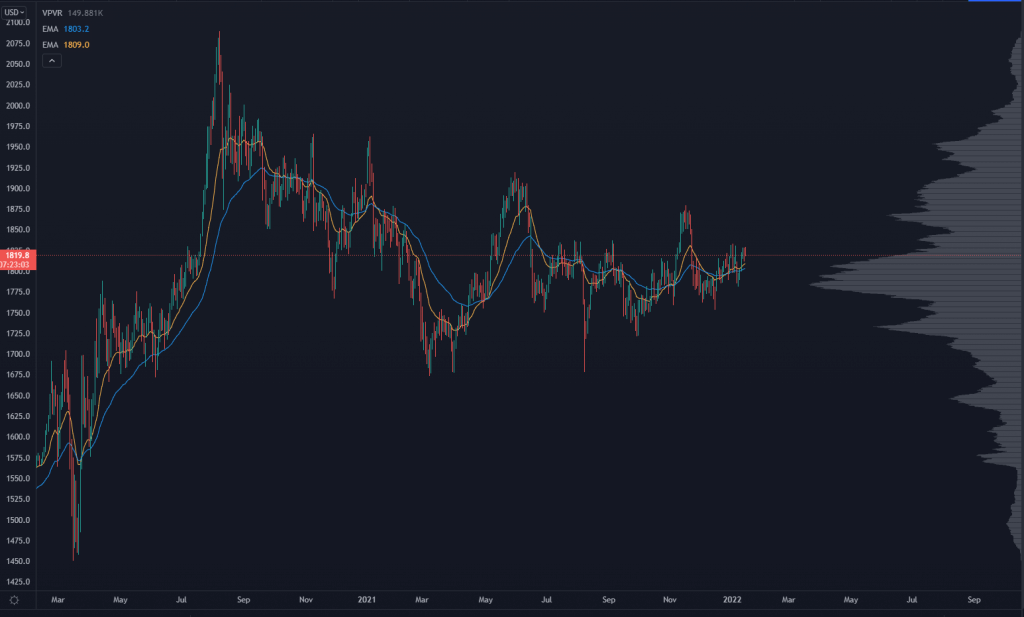 As you can see, not a ton of movement. It's been sideways for over a year, building up lots of energy.
Now, let's apply our Roadmap to see if we can get a better feel for how gold could trade over the next few months.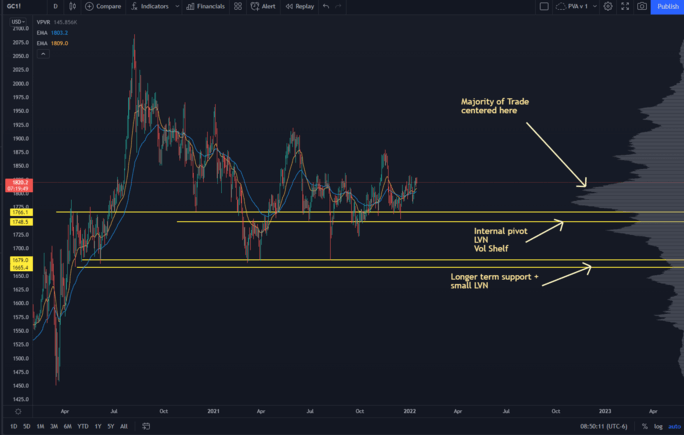 Our first level is 1665-1680. That's where a small LVN matches up with massive price responses.
This tells us we've seen a few shakeouts that have de-leveraged the space…
And more and more market participants have a good ownership price and are less incentivized to sell.
Above that is our next level around 1750.
That's an internal pivot level, and it coincides with another Low Volume Node (LVN). Aside from a few shakeouts…
This is the lower end of where price has traded for over 6 months, and it appears to be a floor.
Take a look at our Roadmap, and you'll notice the volume peak. That shows us where the majority of trade has occurred.
This is a crucial area to watch because if we see a move above…
It tells us most traders are now in a position of strength, and it can lead to some nice upside momentum.
Alright. Let's add one more thing to our Roadmap…
The anchored VWAP from the 2020 highs: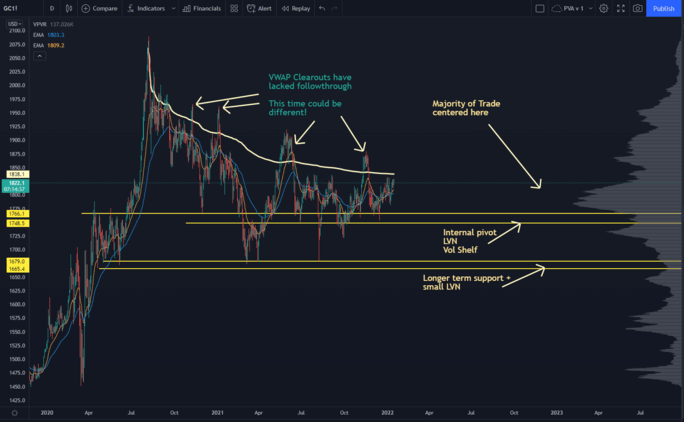 There have been a few attempts to hold above this swing AVWAP, but we just couldn't get any follow-through. Trapped buyers used these price spikes to get liquid at breakeven.
The last VWAP clearout was different because we didn't see any massive capitulation to the downside. We've continued to see higher lows, telling us there's sustained buying interest at slightly higher prices.
On the macro side, we do know that the Fed will hike rates a few times this year…
Yet they may be stuck between a rock and a hard place.
Too many hikes and they hit risk assets too hard…
But if they don't hike enough, inflation will continue to pose a major risk in the markets.
Regardless, you can see the narrative shift in our Trading Roadmap, and we may be setting up for some sustained momentum in the precious metals space.
At PVA, if we get the right setups, we'll alert our members to these new trades ASAP. Plus, we'll set up an options play to potentially earn triple the capital put into the trade.
Just check out my Roadmap training real quick so you can get up to speed on our core strategy.
After I teach you the roadmap in that training, I'll show you how to join PVA and prepare for this huge potential move.
So check out the training now.