Steve here.
In May, we saw a huge pipeline outage on the eastern seaboard, which destabilized gas prices and led to a ransom payment, facilitated by the US government.
The month prior, the US discovered an ongoing hack through Solarwinds, which exposed major corporations along with the Department of Homeland Security, the Department of Defense, the US Treasury, and multiple other federal agencies.
These attacks have become significant enough to warrant a US response.
Here's what President Biden said just a few days ago:
"I think it's more than likely we're going to end up, if we end up in a war – a real shooting war with a major power – it's going to be as a consequence of a cyber breach of great consequence and it's increasing exponentially, the capabilities," Biden said during a half-hour speech.
That's right, the President of the United States came out and said that direct violence could result from a hack.
On top of that, the US government is earmarking $47 billion for new infrastructure to help fend off cyber attacks.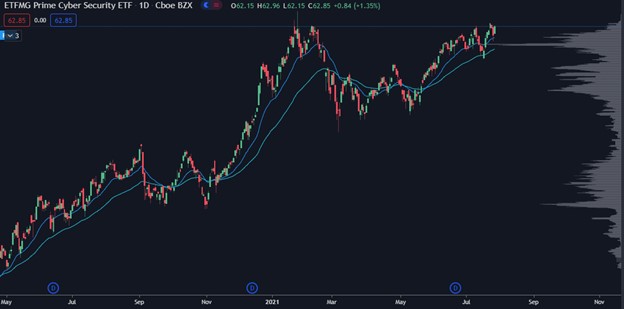 This is a daily chart of HACK, a cybersecurity ETF. It is right near all time highs and looks ready for a massive move higher.
The U.S.'s cybersecurity woes are creating opportunities all over the sector, and you're in the best place to take advantage.
I've already briefed my Precision Volume Alerts members on a best-in-class company that could benefit from the news, and we're seeing that reflected in our powerful, proprietary trading indicators.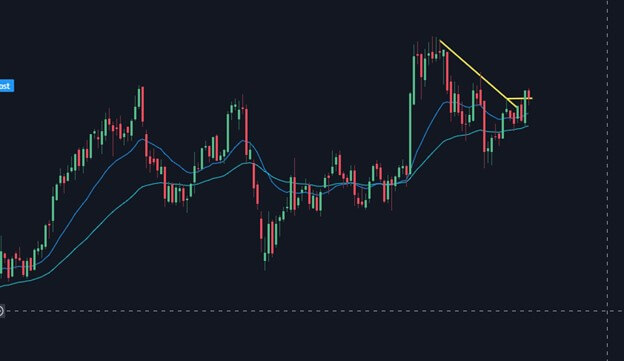 This stock has high odds of running to new all time highs. And if it does, then the leverage we have on our options positions will grow to a return of 126% — and we'll get even more if the stock keeps running!
Precision Volume Alerts members have been seeing quick wins, and big setups like this all year.
Members recently turned a 53% profit in only 9 calendar days.
Before that they scored 35% and 95% returns in only 2 weeks in those trades.
That's the beauty of having your very own secret roadmap to profits.
Biden's $47 billion infrastructure deal will be going live soon, and when it does, you'll want to be ahead of the curve.
Click here to discover my secret weapon for finding these opportunities before anybody else!