📌Goldman Sachs Group Inc analysts on Sunday downgraded their second-quarter economic growth forecasts for the United States because of risks stemming from trade conflicts with Mexico and China.
📌GS analysts expanded, "Because of the downside risks to growth, we have sharply raised our subjective probabilities for Fed rate cuts. But while it is a close call, the outlook has not yet changed enough for cuts to become our baseline forecast."
US Dollar Index: Slowly fading highs, but not bearish enough…(for now)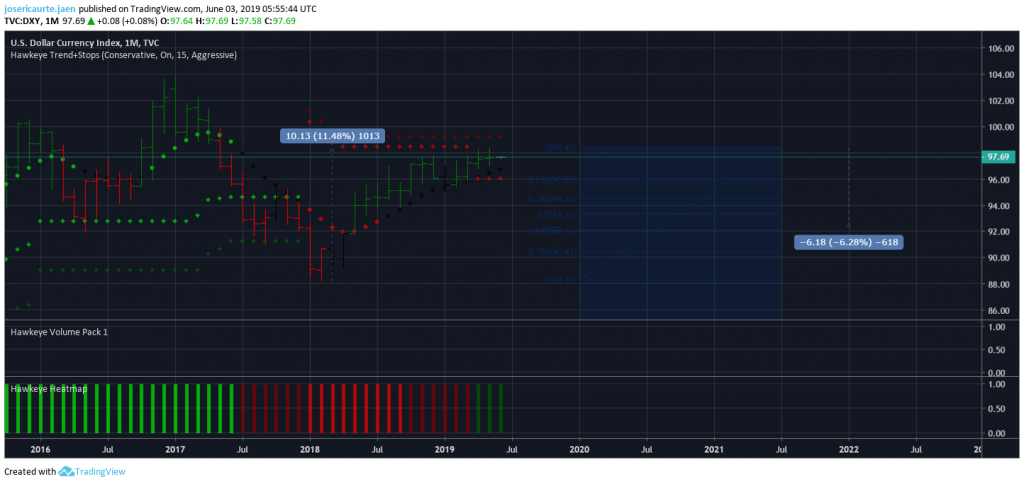 Although expensive, the US Dollar is the No. 1 hedge in the markets against the high level of uncertainty due to the chaos developing on multiple fronts from the US Trade Wars (threatening tweets).
The US Dollar Index, DXY, attempted to break above the 98 round figure in three different occasions touching 98.33, then 98.37 and later 98.28. In Technical Analysis, traders can relate to such trading pattern as a classic 'Triple-Top' and could lead to the end of the bullish trend.
On the monthly chart, since the bottom of February 2018 at 88.28 level, the US dollar has accumulated in 15 months an 11.58% gain. On the other hand, if in fact, the top is in place between 98.28/98.37, then one could argue on a corrective move targeting (-6.28%) in the next 10 weeks.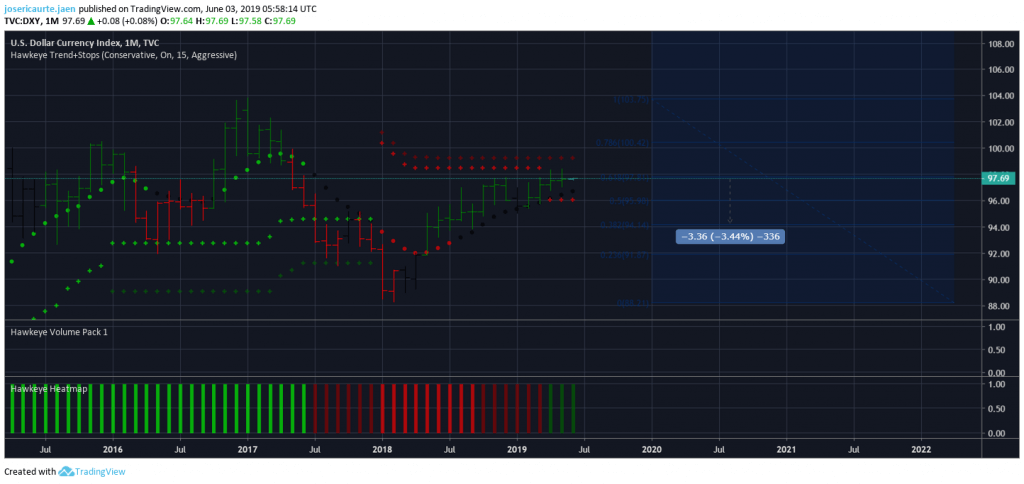 Let us move away and go back in time to January 2017 to collect more information and have an alternative bearish scenario for the US Dollar Index. The Fibonacci projection from the 103.82 high to the 88.25 low in February 2018 prints the 61.8% retracement at 97.81 (spot at 97.62). It can be evidence to understand why it was difficult for the index to break above 98.10 level.
Never forget how relevant 61.8% and 38.2% are in Fibonacci. From this level, traders may expect a conservative US dollar pullback around (3.44%) from current levels. It should not be discounted a deeper corrective move as explained on the first chart in this post.
Either the Federal Reserve change is narrative or the US Dollar will continue to rise based on its liquidity capacity compare to the Japanese yen, Swiss franc or other digital alternatives like Bitcoin.
You can learn more about the trading scenario expected to develop in the US Dollar Index.