Well, a couple of weeks ago, your old pal Ross went and got himself a COVID puppy.
A cute little French bulldog to be exact.
It didn't last long.
That's because a few days ago, my sweet pup went on to a better place.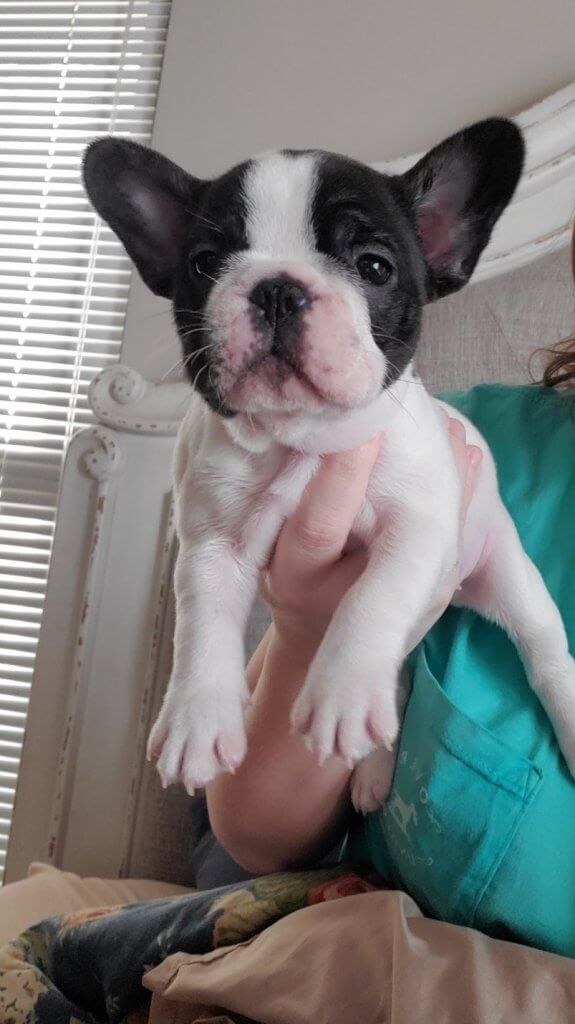 I promise it's not what you're thinking.
She's happy and healthy…  
"A better place" was just "not at my house."
I was NOT ready for the level of responsibility and commitment that she demands.
She's a good dog, and I'm a good Ross. We were just a bad fit.
It's the same with stocks. Sometimes you pick losers and have to make an earlier exit than expected.
And make no mistake, my former pup is anything but a loser in this scenario.
You might even say that she came out as the "top dog." *rimshot*
You've probably heard me say before that when it comes to stocks, "date 'em, don't marry 'em." 
I stand by that.
It started out innocently enough. 
Me: "How much is that doggie in the window?"
Breeder: "$3k." 
Also me: "Sh**… Let's do it."
I haven't had a puppy since I was 10, and how could I say no to that beautiful face?
What could possibly go wrong?
Well, last week I don't think I got more than 2 hours sleep any night.
She barked and whined ALL NIGHT.
And then there's the house breaking. 
Even though I kept her on a schedule, I would take her out only to have her pee on a rug within five minutes of being back in the house.
She chewed the furniture, put holes in my shoes, and somehow… ate a camera.
I'm telling you, this dog was the world's cutest-yet-holiest terror.
To top it all off, my girlfriend now lives an hour and a half away. 
So whenever I go to visit, which is fairly often, I have to pack this whole situation and take it with me.
It's a lot. 
I admit it. I made a bad call on this one. Being a dog owner doesn't fit my lifestyle or goals at all.
It was a mistake.
So, for both my sake and the dog's, I decided to find her a new home. 
And before you judge, I made sure to find a family where she would thrive.
I'm not an animal. I would never take her to a shelter.
So I listed her online for $2,500, a 15% loss if you've been paying attention, and found a perfect home with a fully "vetted,"  nice couple. 
They've just moved to the area and the wife will be staying home from work for the next 3 months.
So, she'll have the time to dedicate to and bond with this puppy.
It's a perfect fit.
My mom read me the mother's version of the riot act, i.e. the dreaded guilt trip, saying,
"You bought this dog, now you HAVE to live with the responsibility."
"But do I, Mom… really?"
I immediately thought of how I trade stocks (and how my mom doesn't know the difference between the S&P 500 and the Daytona 500).
Far too many investors buy stocks with the best of intentions, but end up with buyer's remorse for one reason or another. 
Maybe the company's CEO gets indicted… or a new product doesn't sell well… or maybe they experience a run of poor earnings reports.
Either way, they get heartburn when the stock doesn't perform and now must make the decision to either hold the stock and hope it comes back, or get out and take a small loss.
Watch this new video where I break down how I use volume to accurately find the best entry and exit points to minimize your risk and maximize your potential trading profits.
For the ones who stay in a bad trade, the reason is usually psychological.
They simply do not want to take a loss.
"I paid $15 a share for this stock and I REFUSE to sell it for $13. It's gonna go up I KNOW IT!"
People also forget that they're the stock owner.
What do I mean by that?
You, as a stock owner, literally have the power. 
You're the nameless, faceless, but all powerful shareholder that CEOs and Board Members are constantly speaking of, and you can do whatever you want with your shares.
There is absolutely nothing forcing you to stay in a stock that you're unhappy with.
When you come into trading, you need to have a clear strategy. If you don't, please stop trading until you can speak with a professional to help you develop one suitable for your needs.
Or, you can just sign up for my PVA service and follow along with my volume trading strategy.
Every position in your portfolio should align with your specific goals.
And if a stock is not helping you reach that goal, it's holding you back and should be dumped.
Will you take a loss? Sometimes… but as we all know, that's part of trading.
Even here at PVA, we take losses from time to time. 
The key is to take profit on more of your trades than you lose, which we do really well.
I recommended FuelCell Energy (FCEL) just last month at $4.01 a share.
Today it trades for $12.68 – a 216% GAIN IN 5 WEEKS!
Folks that's the STOCK… not the option.
What's my secret? 
My volume trading roadmap that tells me exactly where to buy and sell,
And, just like my short stint as a pet owner, any "losing" stocks will be dumped before they start to affect the bottom line too much.
Why let a bum stock drag down your net gains for the next six months to two years when you can stop the bleeding sooner?
It's the same with the dog. 
She doesn't even know her name yet, and I can still recoup most of my initial investment. 
Why keep her for the next six months, or 10 years, with us both being miserable the entire time? 
Once she's an adult, she's set in her ways, bonded to me and our routine. 
"Old dogs and new tricks" comes to mind.
Plus, an adult dog is a much harder sell than a cute pup.
It's a much better deal for everyone involved, for me to cut losses now, with minimal disruption to the puppy's life.
I get my peace of mind back. The dog gets a home with a great family who has the time to give her the best life. The family gets a beautiful dog to love for Christmas, with a pretty sweet discount.
Everybody wins.
Don't let pride or misplaced loyalty keep you in a bad trade until you lose your shirt.
You have the power to choose, and you earned it when you purchased the stock, or the dog.
Click to watch this free video on how to set up your trades so that you have a precise plan for your entries, targets and exits when it's time to move on.