With so much focus on the election, it's easy to forget that we're in the midst of earnings season, too. 
In fact, two of this year's hottest companies are set to report this coming week. 
Netflix (NFLX), which has exploded this year thanks in large part to COVID, will report on Tuesday… 
And Tesla (TSLA), which is up roughly 410% YTD, will hold its quarterly earnings call Wednesday afternoon. 
But while the financial media will be focused on these tech giants, savvy investors will be taking advantage of secret, under-the-radar opportunities that most traders will simply overlook. 
Opportunities like VOXX International (VOXX)… 
Which just gave a handful of investors a 28.9% stock gain in one week after crushing earnings… 
Along with a 164% gain on the call options.
Now, if you've never heard of VOXX, you're not alone. 
It's a manufacturer of automotive electronic products. 
They're marketed under the Audiovox brand name and sold through retailers like Wal-Mart and Crutchfield, an audio specialist. 
They're not top of the line. 
They're not trying to be Polk or JL Audio. 
Instead, the company targets the budget-conscious niche by offering low-cost, base-level audio equipment. 
VOXX's financials, at least for the previous quarter, didn't look particularly impressive either. 
But one person believed that the stock was wildly undervalued… 
And he built a $38 MILLION-PLUS position to capitalize on it. 
Check this out: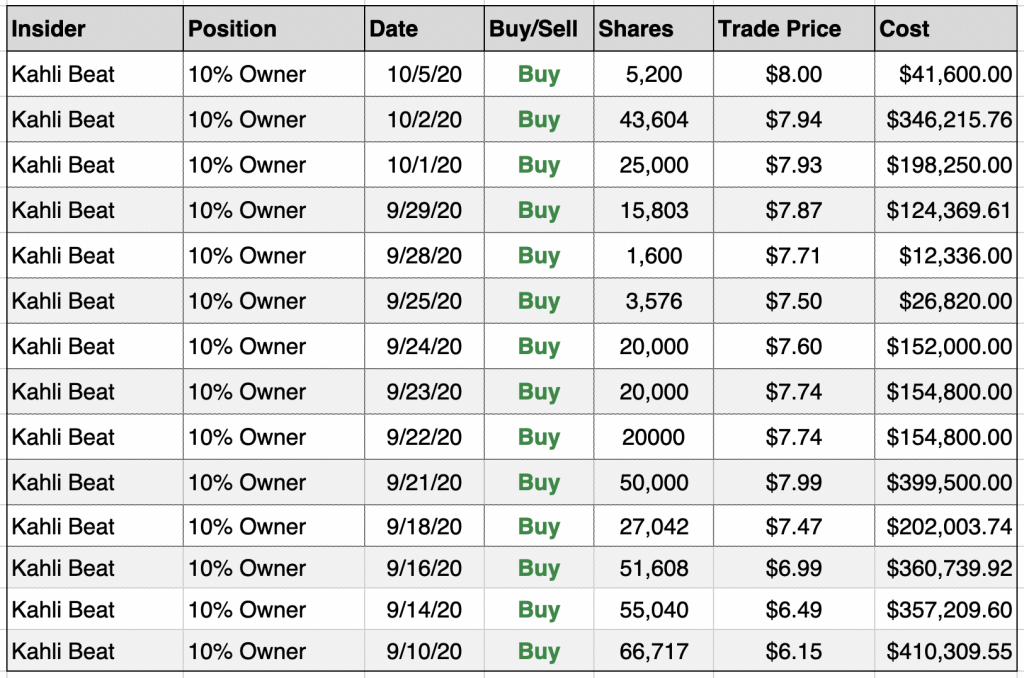 Beat Kahli is a 10% owner of VOXX International.
For the last several months, he's been buying up shares at record pace. 
It started with four purchases in April after shares stabilized following the COVID selloff.
He made six more buys in May. 
But then, as you can see, he really ramped things up in September. 
Kahli made 14 insider buys between September 10 and October 5… 
For a total investment of $2,940,960. 
Now, Kahli clearly keeps up with what's going on at VOXX. 
And he definitely knew that earnings were coming out on October 14. 
That earnings report revealed that VOXX's Q2 sales grew 42% year-over-year… 
And the stock surged on the news. 
So let me ask you… 
Do you think it was a coincidence that Kahli built up this massive $3 million position mere weeks ahead of earnings?
Or do you think that he KNEW good news was coming… 
And simply took advantage of it?
Of course, the answer is obvious. 
But what's not so obvious is how you could have learned about Kahli's investing and clear conviction that something good was around the corner… 
And profited from this move yourself. 
See, there's a small group of traders that did know about it. 
… Because my friend Ross Givens told them. 
Ross runs a service called the Insider Report… 
And as you may have guessed, these are precisely the types of trades that Ross hunts down for his members. 
See, insiders like Kahli have to file a special report every time they trade their own company's stock. 
It's part of the SEC rules that govern "insider trading"… 
Which is technically allowed under this one little-known SEC loophole.
And that same loophole allows regular traders like us to find out precisely when these insiders are gobbling up stock just like our friend Kahli… 
And to ride their coattails to profit city. 
Now Ross and I have put together a free training video to show you precisely what makes this strategy so powerful… 
And how you can start leveraging it in your trading today. 
Click right here to watch it now… 
And learn how you can position yourself to really take advantage of earnings season!