Powell's shift away from "transitory" accelerated some of the "bear markets" hidden underneath the broad market's surface.
Just take a look at this graph I saw from a Twitter account I follow, SentimentTrader: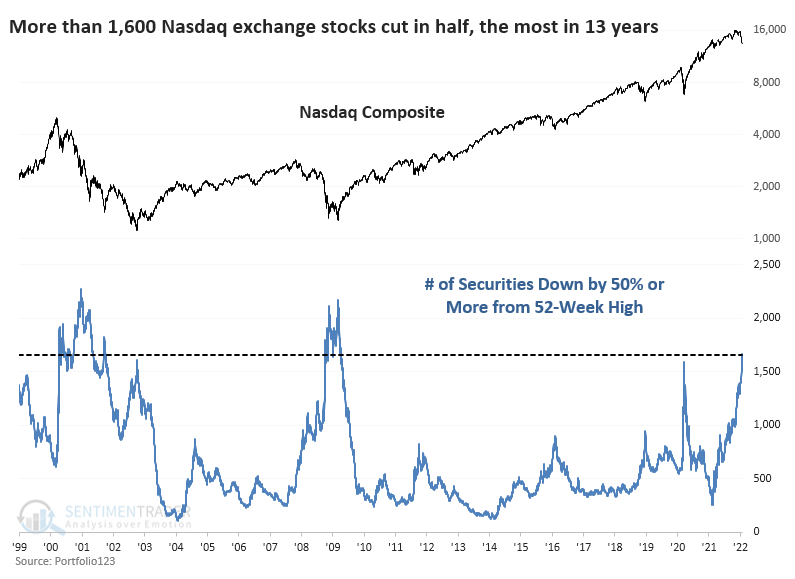 As you can see, while the Nasdaq's hitting highs…
1,600 stocks in the Nasdaq composite are over 50% below their 52-week highs. 
This doesn't happen very often. 
Many of these stocks will take months to recover — they'll need sideways churn to attract stock buyers at better prices. 
Odds are any rips will be sold as investors will use that liquidity to remove more inventory from their books.
In hard market corrections like this, you want to keep an eye out on "relative strength" names. 
These are stocks that haven't taken a huge dive like the rest of the market.
Now, my favorite screener tool is Finviz — and for the purposes of this relative strength tactic, we'll look at a few things:
Stocks only — we're avoiding ETFs.

In particular, liquid stocks over $10.

Then, we will look at names that are within 10% of their 52-week highs.

Finally… we look for names with positive insider buying.
(You can check out the full screener at this link.)
Finbiz is a good screener to us once or twice a week to check out what relative strength names are popping up. 
Now, when I find a stock on the screener that meets the above criteria…
I dive into the Form 4s to see if we can get some actionable trade setups for our clients at Insiders Exposed. These Form 4s are where the insiders disclose their trades…
And you can learn more about them in this free training.
If you'd like, you can go to the SEC website and search through each Form 4 for these companies to see when those insiders bought, and if it shows conviction…
Or, you can skip that work and let us flip through all the Form 4s for you by joining Insiders Exposed today.
I'll tell you how to join at the end of that free training I mentioned. 
So head here to learn how to take advantage of our insider trading strategy today!
Make sure you check it out now — I'll also reveal 5 key scanners we use for our insider trading strategy.