Well…
The tech wreck finally hit the big boys where it hurts.
Monday saw a hard move lower as sellers were flushed out of names like AAPL, NVDA, and GOOGL.
If you just follow basic charts, you might have thought the selling would continue: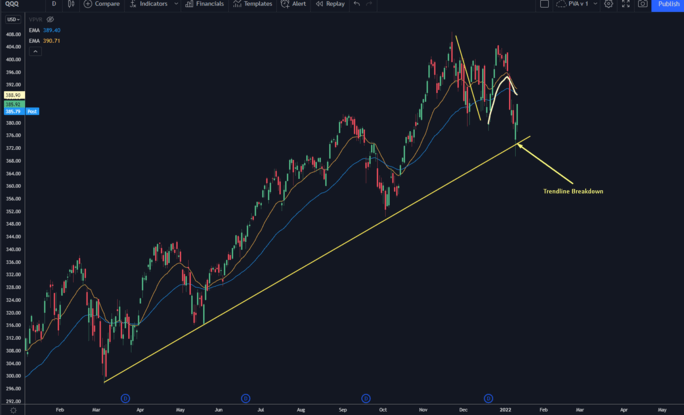 Once the Nasdaq 100 broke under that trendline, rookie traders were blowing out of their positions.
They got caught up in the panic… to their loss.
By the end of the day, we saw a massive rally in the Nasdaq — finishing the day solidly in the green.
Here's the thing: you could have seen this ahead of time if you had our market roadmap.
Take a look: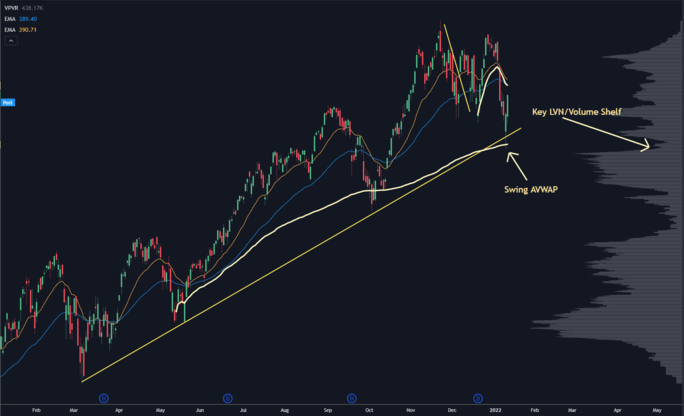 As you can see, the index fell to 2 massive roadmap levels.
The first was the swing anchored VWAP from the May 2021 lows.
On top of that, we had a HUGE low volume node (LVN) sitting right above a high volume node (HVN).
This creates a "volume shelf," which is often a key pivot level. Basically, it indicates that selling volume might be slowing down…
And buying volume could potentially pick up.
Novice traders went too aggressive buying the "obvious" dip at support…
But the smart money was waiting for the home-run setup.
That's where you want to be — with the smart money, not the novices.
Lucky for you, you have a new opportunity to do just that.
Here's one of our newer picks that's acting a lot like the index we were looking at earlier: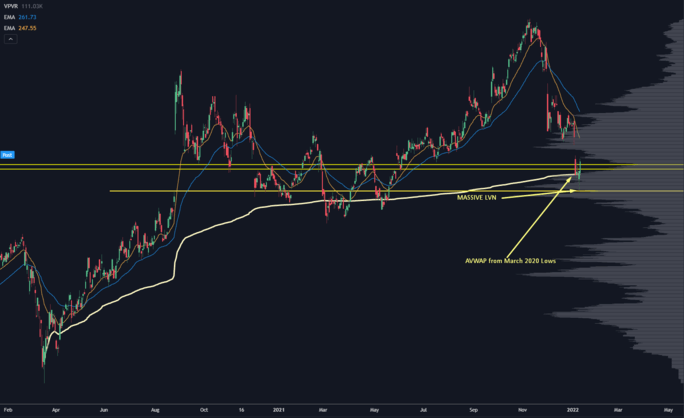 This stock had a nasty gap down on earnings, then an exhaustion gap off an analyst downgrade.
That brought the stock to the swing AVWAP against its March 2020 lows.
Underneath that was a huge low volume node (LVN) that provided instant response with the rest of the tech sector.
If the stock fills the gap caused by the analyst downgrade…
Then our options plays we have inside of PVA will almost double in value.
You don't have much time to jump on this.
So if you want to discover how our roadmap works…
And learn how to put it to good use by joining PVA…
Check out our roadmap training ASAP!