I hope you're having a great weekend.
Earlier I was going through my phone, looking at some photos from last weekend… 
And I realized I made a pretty questionable decision in front of my kids. 
See, the family and I went camping at a little spot on the Santa Fe River that we go to once or twice a year. 
We set up camp right on the river bank and were having an absolute blast. 
Now, most of you already know that we live to be in the water. 
Swimming, boating, wakeboarding, snorkeling, scuba diving… we love it all. 
So when we stumbled across a makeshift rope swing as we were exploring the area, well… I just couldn't help myself. 
Now I don't know how many people would look at an old, sketchy rope swing like this one and think, "Yeah, that's a good idea."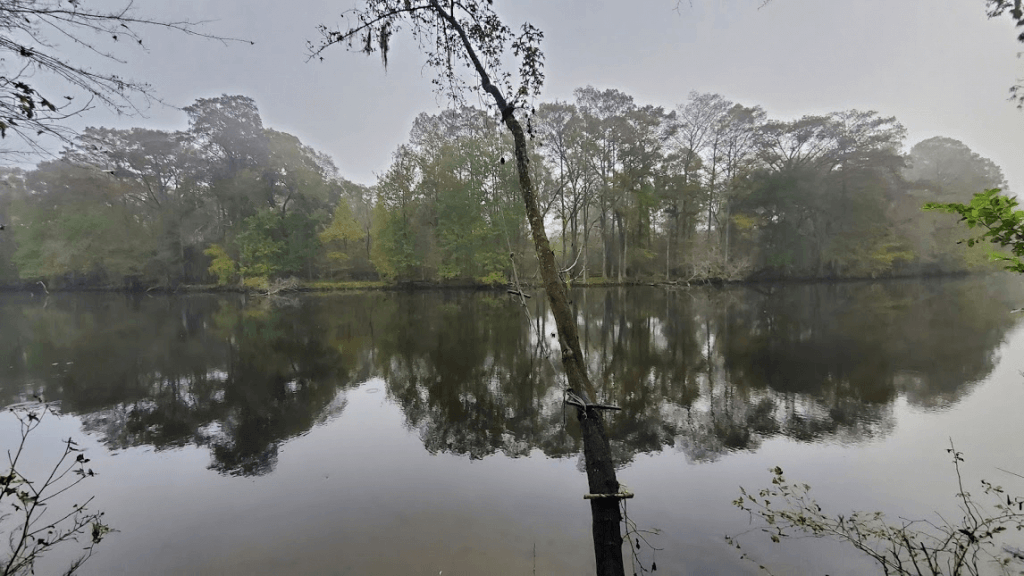 I mean, this thing literally had sticks tied to the tree with bailing wire for footholds. 
But then again, I've never been accused of being the sharpest tool in the shed… 
So naturally, I went for it full bore. 
My wife actually captured me giving my best Tarzan impression on this shifty looking swing… 
Luckily, that old swing held up, and I survived unscathed. 
Aside from taking our chances on that ramshackle swing, we also got some snorkeling in at the springs…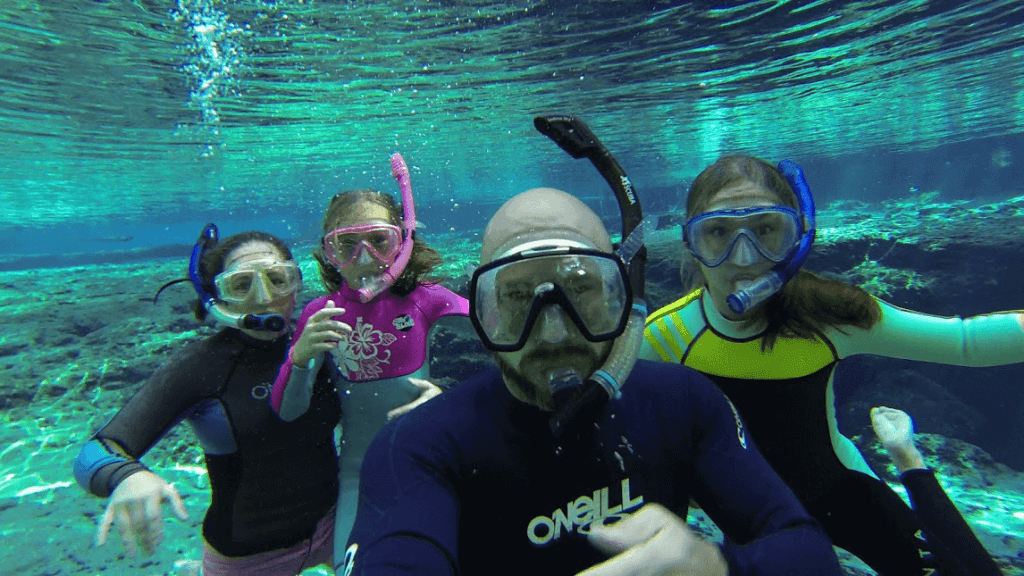 As you can see, these springs that line the Santa Fe River are crystal clear and just absolutely stunning. 
Outside of enjoying everything the water had to offer over the weekend, I also got a chance to flex my rustic outdoor cooking muscles.
Of course we rustled up some hot dogs and s'mores over the fire, but once it had burned for a few hours, there was a massive bed of coals that was primed and ready for the New York strips I'd brought along.
I put a grill about an inch above those red-hot coals, which were blazing hot enough to sear the outside of those steaks perfectly, sealing them up and locking in all that juicy red-meat goodness. 
They came off at a beautiful medium rare. 
Man… Talk about perfection. 
*Chef's kiss*
It was just so nice to get away for a weekend and spend some quality time with my family in the great outdoors. 
I've said it before, and I'll say it again… 
This is the reason why I do what I do. 
Over the years, I've had a lot of aspiring traders ask me why I got involved in the markets in the first place. 
The most obvious answer is, of course, to make more money. 
But making money just for the sake of making money is honestly… pointless. 
And here's a truth that I can tell you after almost 2 decades of trading and coaching other traders… 
Those who take up trading without a deeper, more profound motivation than simply "making more money" ultimately FAIL or GIVE UP at a much greater rate. 
It's true outside of trading, too. 
That's why thousands of businesses go belly up before they ever turn a profit… 
Because someone was more focused on making a quick buck than they were dedicated to building a business with purpose… 
And when the going got tough, their "why" simply wasn't strong enough to carry them through to the other side.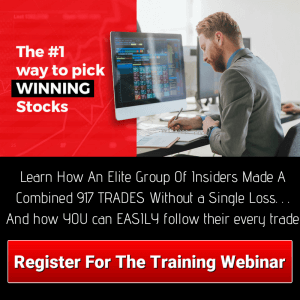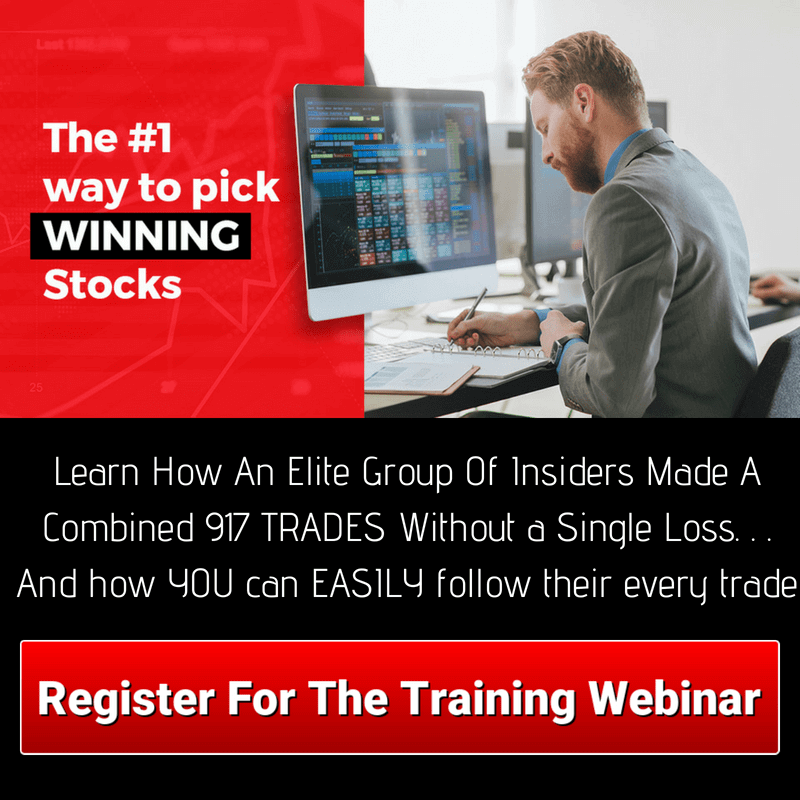 A few years ago, author Simon Sinek released a book called, "Start With Why."
The idea is that, for any goal or pursuit you undertake, you should figure out the "why" behind it before nailing down the "how" and the "what."
So for instance, when it comes to making more money, trading the markets would be your "how," while your "what" would describe your trading plan, style and strategy in more detail. 
But at the center of it all there needs to be a "why."
Why do you want to make more money? 
What is actually driving you to achieve the financial stability, security and freedom that you're reaching for?
For me, it's simple… 
Family. 
I want to provide my family with everything they need… 
And with the quality of life that they deserve. 
That doesn't just mean material things, either.
It means providing them with experiences like these… 
And most of all, it means providing them with time, attention and love. 
Don't get me wrong — I work hard, and I know you do, too. 
But I work hard AND make my money work hard for me in the markets so that I have the means to take trips… and make memories… without being preoccupied with work or financial matters. 
That's one of the best feelings in the world… 
The peace of mind that comes with knowing your family is well taken care of. 
Listen, becoming a successful trader isn't easy. 
That's why you need a strong "why" that will keep you pushing and striving even when things aren't going your way. 
But here's the thing… 
If you've got a strong "why" behind your desire to succeed in the markets, then I can help you develop your "how" and "what." 
There's a strategy that I've watched countless traders use to dramatically boost their profitability… 
And completely transform their lives. 
So if you're ready to learn more about it and see how you can implement it right away in your trading, simply click here to watch a free training video in which I'll walk you through it step by step!