Slowly, then suddenly. That's how commodity price spikes happen, and we're seeing a ton of them right now.
Here's a look at Natural Gas futures in the UK: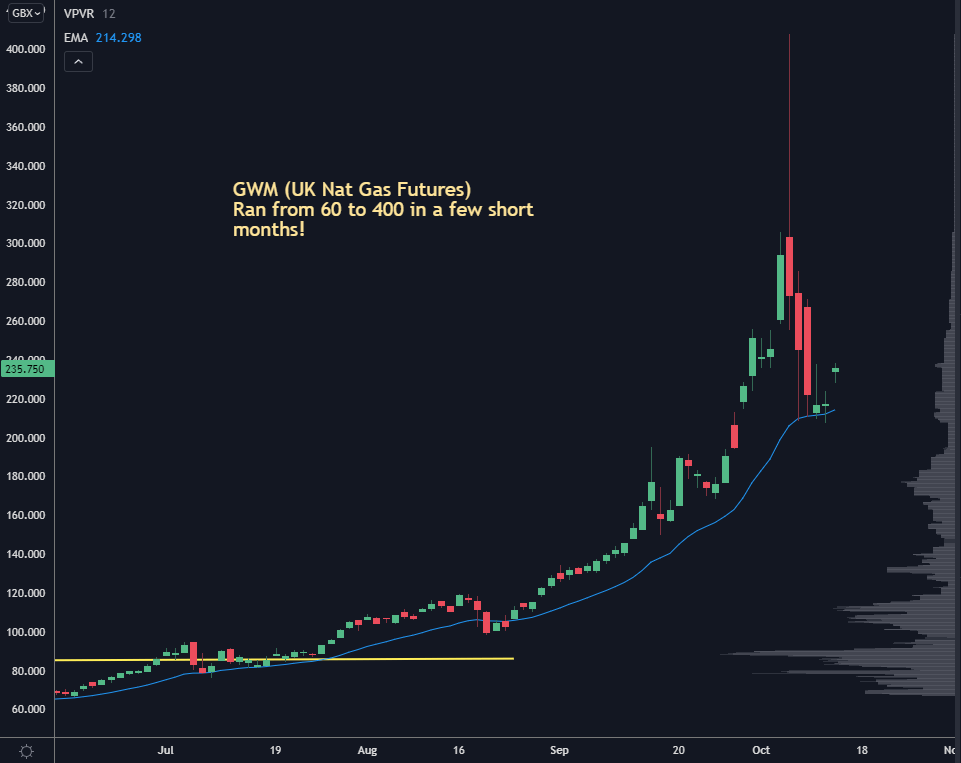 And here's coal futures that deliver in China: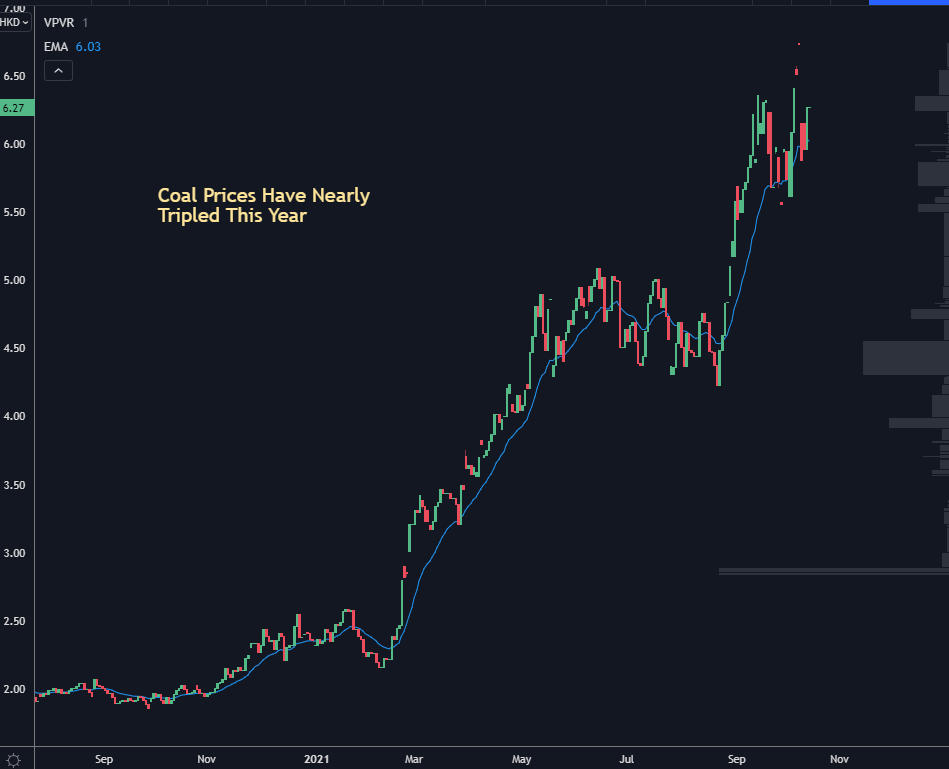 Plenty of folks across the globe are starting to feel the pinch. There's rumors of rolling power outages, supply chain disruptions, and the fear that inflation from input costs will drastically cut into the profit margins of companies.
We'll leave that mess to the politicians. For us, the real question is… how can we make money from this?
How to Play the "Substitution Effect" For Solid Investing Profits
If I go to the grocery and I see that the price of chicken has tripled, I may go look at the pork section for a better deal… and the same thing can happen with global markets.
And if commodity prices stay elevated, we may see that substitution effect come into play, and quickly.
As an example, people don't want to pay high prices for gas, so they will go pick up a Tesla. And we can see how well that's been going: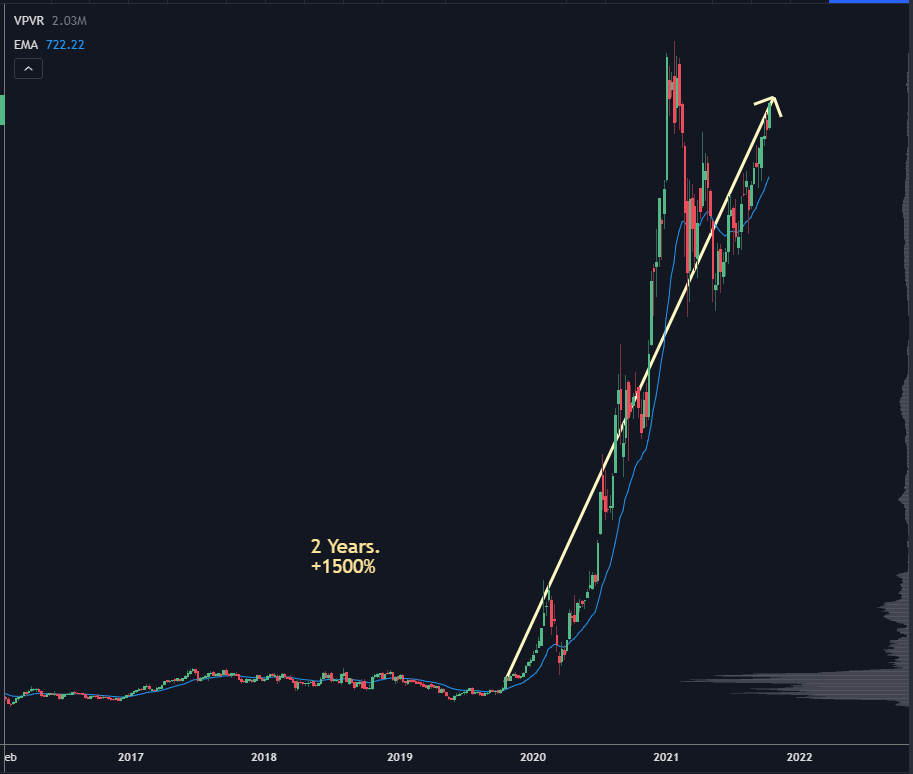 In the US, the best substitution right now for high energy prices is solar. We have seen the cost of solar get low enough to be competitive with coal, and with the low interest rates, both residential and commercial consumers are "bootstrapping" their solar builds through financing where the monthly payments are offset by the energy savings.
This is where you want to focus on into the end of the year.
Working Off The Post-Election Hangover
With the election of a Democratic administration, solar stocks skyrocketed higher at the beginning of the year. The promise of a "green" administration and solar subsidies led to a massive push higher.
Yet the trade became entirely too crowded and we saw a sizeable correction to the downside. Here's a look at TAN, my favorite solar ETF: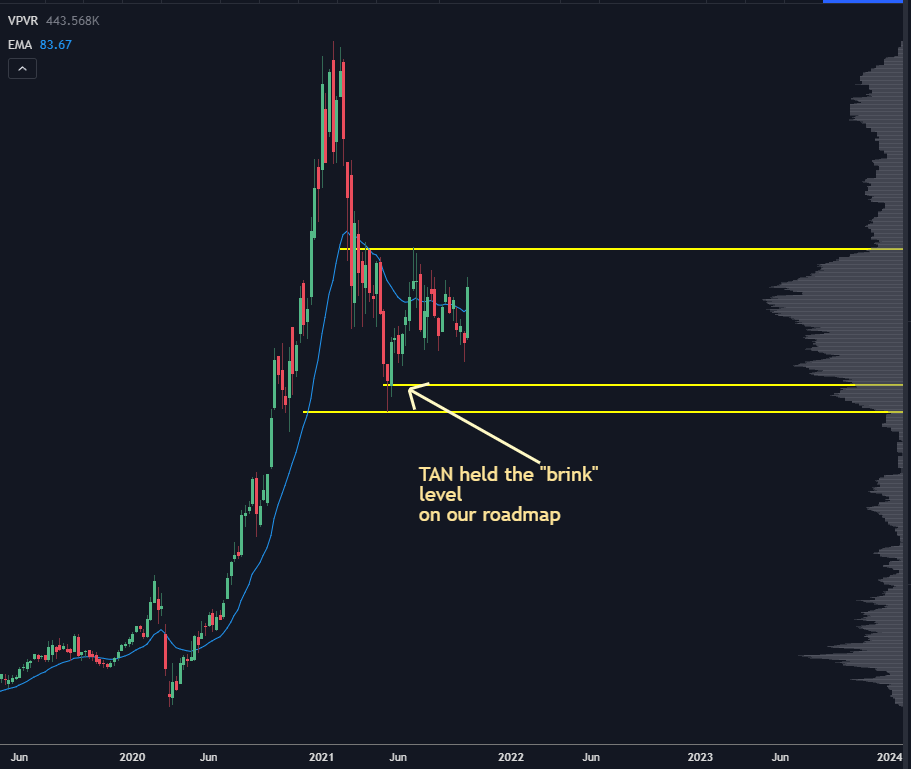 Since the correction, the sector has been chopping around as weak hands continue to be shaken out. Yet this is still a constructive chart long term. The stock held the "brink" level that we have on our roadmap, that shows institutions are more than willing to pick up shares at a good discount.
As energy prices continue to rise, the "substitution" narrative will start to come back into play, and this sector will begin attracting more interest. If we start to see a rally, there will be a pile-on with momentum investors that can jam it even higher.
Now is the time to start planning your trades in this sector, because the next leg could be something similar to what we saw in First Solar (FSLR) in 2007: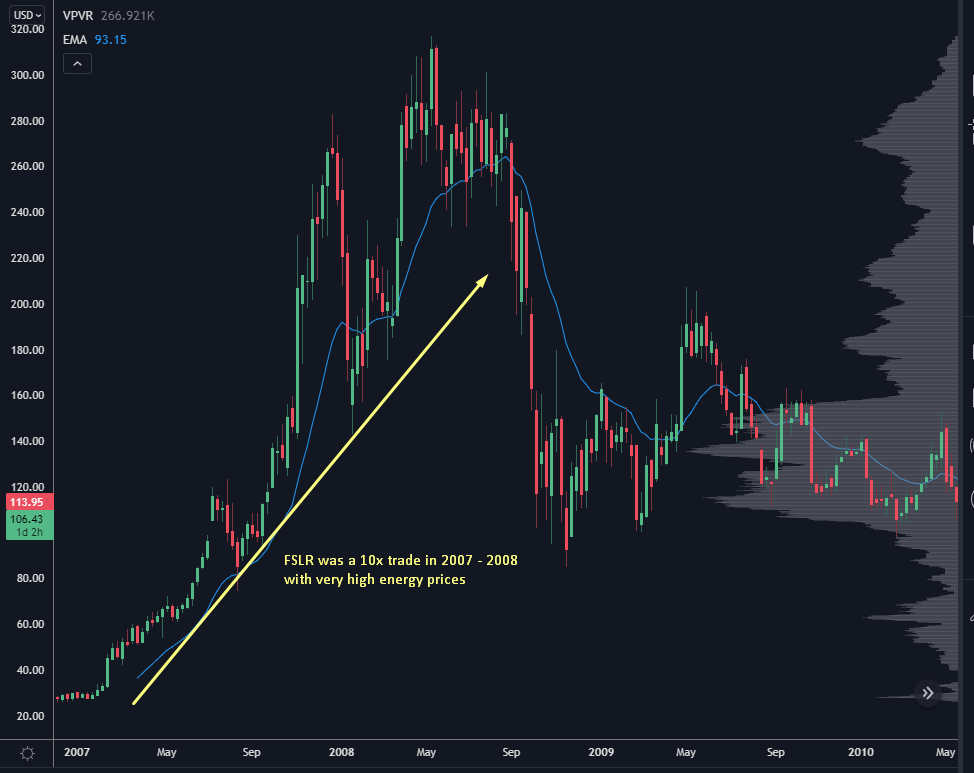 My Favorite Solar Stocks
A few weeks ago, I put together a solid watchlist on the best Solar stocks for you to play.
And inside of Precision Volume Alerts, we already put on a trade and took some profits — 45% on calls in just a 2 day trade!
Can you guess which solar stock it was? You can see my favorite solar stocks here: