If you've been following us here at MTD for a while, you're probably familiar with Ross Givens, a former broker, fund manager, VP at JPMorgan Chase and one of the world's top traders.
Ross is also recognized as a leading expert on insider trading…  
And you've likely seen one of his training videos where he walks you through the methodology behind his Insider Report trade alert service. 
\Well, I just want you to take a look at the current Insider Report portfolio: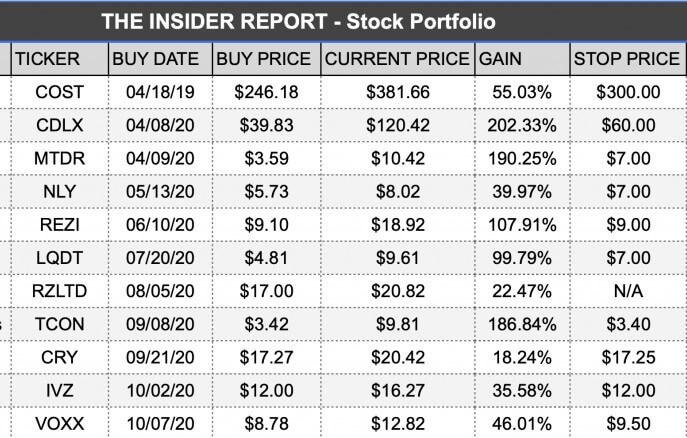 Now we're not showing you the most current active buys that have been issued in November out of respect to members… 
But you're looking at five stocks Ross has picked for his members that are up 100% or more since April alone… 
One of which has tripled with two not far behind it!
But that's not even the most exciting part… 
Because as I explain in the video, one of the newest picks is showing absolutely MASSIVE buying by the chief executive. 
Now this part is really important… 
We're holding a massive Black Friday blowout sale all week long. 
And RIGHT NOW, you can become a member of Ross' Insider Report… 
And get access to all of the most recent, open buys that are signaling potentially huge returns just like the ones you see above… 
For a rock-bottom price that we've NEVER offered before. 
Using the coupon code WINNING at checkout, you'll actually save 80% off the retail price of a new subscription… 
So click right here to find all the information you need to claim this insane Black Friday offer before it vanishes at midnight on Friday!