Look: Tesla's a $1 trillion company now.
Not trying to be bearish here…
But it's much harder to 10X a mega-cap stock (Tesla now) relative to a small-cap (Tesla back in the day).
However, the rise of Tesla created a smattering of new opportunities that could potentially lead to Tesla-like gains:
The entire EV ecosystem.
Just take a look at some companies peripheral to EV makers like Tesla: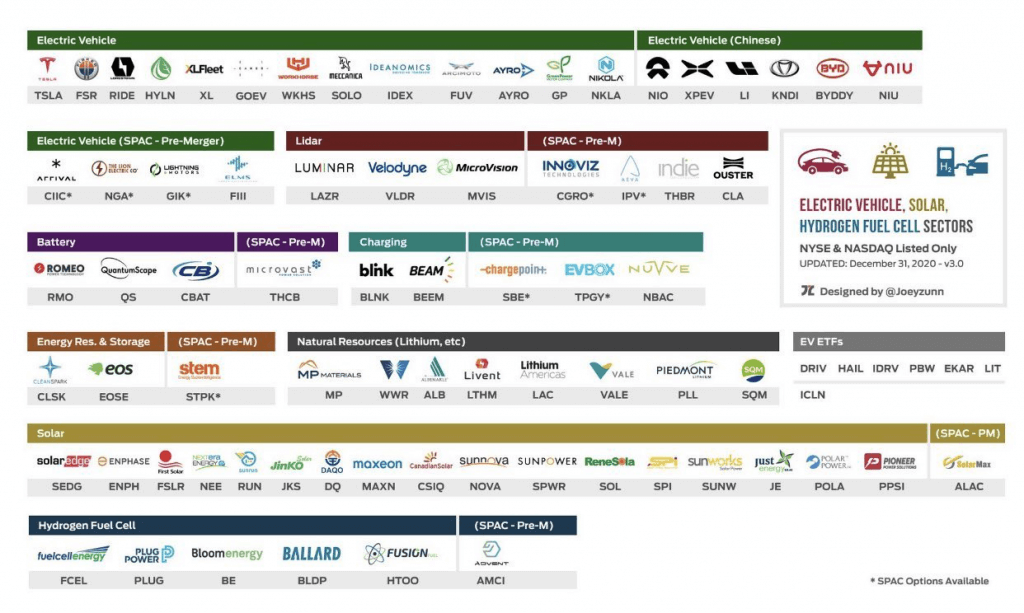 Yeah, some of the stocks in tickers in here have changed since their SPAC days, but my point still stands:
Anything peripheral to Tesla could be a great opportunity as EVs continue to take over.
Switching gears for a second:
Apple's been pumping out a new iPhone every year forever now…
And each time the new model was released, hedge funds would crack one of those bad boys open…
Examine the chipsets the phone had inside…
Then go invest in the companies that made those chips.
We have a similar idea here with these EV-adjacent sectors.
The problem is I'm not a battery expert. I'm not an autonomous vehicle scientist. I barely understand how some of this stuff works…
And I surely don't have the time to learn…
And that's why we follow insiders.
When CEOs, CFOs, directors, and high-level experts in these companies scoop up shares, they think something great is about to happen.
Speaking of, we found a company where insiders are showing that level of conviction right this minute.
You see, this company plays an important role in developing certain technologies used in several EVs (and even some combustion-engine vehicles).
Good news must be coming in 2022 because 6 insiders just bought in massive size:

In fact, one insider grabbed $750,000 worth of stock in just 1 week!
Here's the best part:
This name's had some absolute monster runs in the past.
If it retests its range highs…
We're looking at potential gains of 60-70% on the stock, and MUCH more on some call options.
We wouldn't have found this name without an invaluable, yet little-known document that reveals this kind of insider activity.
Head here and I'll talk more about this document and how you can grab this EV-adjacent stock ticker.