If you're not watching the Insider Buy/Sell Ratio right now, Ross explains why you need to be… 
"The Insider Buy/Sell Ratio is a metric that tracks the amount of buying versus selling from corporate "insiders" like CEOs, CFOs, VPs, board members, etc.
Now under normal conditions, these insiders sell more than they buy… 
So when the buy/sell ratio is above 1.0, it's a strong indication that executives believe it's a good time to buy. 
For March, the ratio is sitting at 1.56… 
Which is the highest it's been since 2008.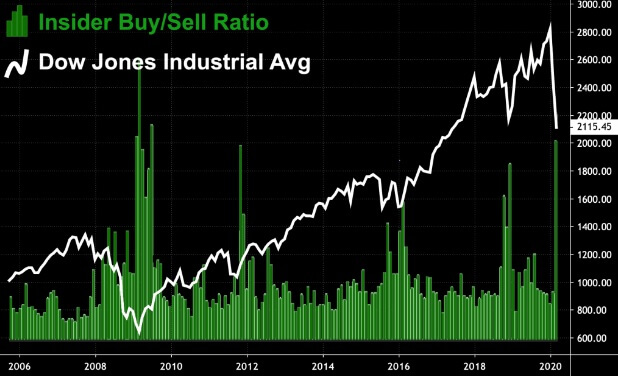 Based on this data, I believe we are in the middle of a once-in-a-decade buying opportunity. 
Insiders signaled a similar opportunity in December 2018 before markets skyrocketed in 2019. 
The same thing occurred during the 2011 pullback and 2008 meltdown. 
It is impossible to know if we have hit bottom. 
My gut says we have a bit further to go, but that's just a guess. 
Even if stocks do fall further, I am confident that prices will be higher in two years than they are today. 
If you've been kicking yourself for the last 11 years over not buying big in 2008, you're being offered a second chance to profit from the fear of less sophisticated investors. 
Now I've been monitoring every sector closely, and three in particular are absolutely on FIRE with insider buying right now… 
Financials, energy and basic materials. 
The way things stand between Russia and the Saudis, I'd rather avoid the energy space for the time being… 
And financials are particularly risky as well, since we don't know yet how much exposure they have to airlines, retailers and other industries being hit hard by the pandemic. 
But basic materials look very promising… 
And one stock in particular is being flooded with high-conviction insider buys. 
But that's not all… 
Shares of this stock have shot up 58% in less than a week while the rest of the market is melting down. 
Now if you want to learn more about the exhaustive research I conduct to find these trades… 
And how you can get your hands on this stock's ticker… 
Then tap right here to catch a webinar where I'll break everything down for you.