Markets have been a volatile chop-fest throughout the entire year as we continue to see deleveraging in front of central bank policy changes.
As of now, most are pretty sure we're in the "late stages" of an economic cycle, given the Fed's aggressive approach lately.
I'm sure you've seen a chart like this before: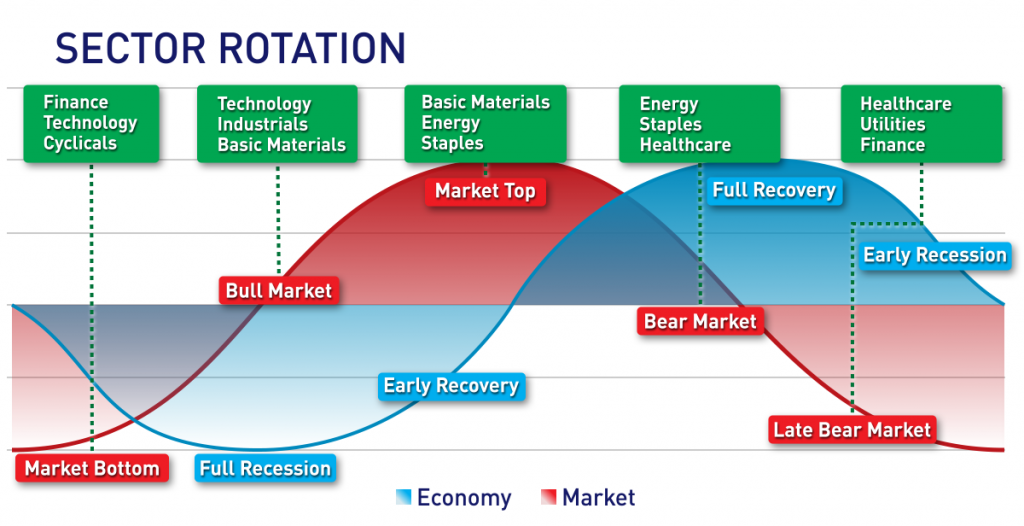 If we continue to transition, you could make a case for entering into certain financial stocks right now.
Now, there has been a ton of volatility in larger banks like Goldman Sachs (GS) and JP Morgan (JPM)…
But we're starting to see signs of a huge level in regional banks on our Trading Roadmap.
Here's the SPDR S&P Regional Banking ETF (KRE), which focuses on regional banks:

Just a little bit lower for current prices sits the swing Anchored Volume Weighted Average Price (AVWAP) from the March 2020 lows, a key low volume node (LVN), and a huge internal pivot level that goes back years.
It's quite possible we head into that level, given the current market weakness.
Yet, the insiders are wasting no time putting money to work at the beginning of the month.
Here are some of the insider buys we're tracking from just the past few days:
Penns Woods Bancorp just saw the CEO pick up a good clip of shares, and the stock's dividend yield is close to 6%. A director also scooped up a fair amount, although nowhere near as much as the CEO.
An EVP over at Central Valley Community Bancorp (CVCY) added to his position, but not with a lot of conviction. That said, two others scooped up some shares
We've also seen good size buys in CCB, FFWM, and WSBC.
So a wave of insider buying here does offer some supporting evidence (alongside the level discussed above) of potential gains to be made in regional banks.
Barring a cascade lower into a financial crisis, these names appear to be good places to park your cash and earn a dividend while this market volatility resets.
And yes — those buys above came from insiders: high-level execs and board members.
They're allowed to buy their own stock if they disclose it to the public, and that's how I found these buys.
Let me teach you how:
>>>Watch this free video presentation and I'll show you how to find insider activity.
Original Post Can be Found Here