Market rotations are one of the most profitable trading concepts to know.
You see, capital flows in and out of sectors as investors anticipate the next economic shift.
This plays a huge role in general bullish and bearish trends sector-wide.
If you can spot these rotational trends early on…
Well, the profit potential is endless…
And that's what our roadmap at PVA helps us do.
For instance, I published a Watchlist Wednesday a few weeks back about commodities and how they were about to pick up.
And guess what?
We just placed a commodities trade with huge potential. Could be more coming soon…
Right now, however, the money seems to be in green energy and EV stocks on the back of the infrastructure bill, among other things.
That's where a lot of our recent gains came in. Three of the four stocks below are in that general area, while the other still has some exposure to the whole shortage situation.
Anyways, let's look at how our roadmap helps us find all of these among market rotations.
Plug Power Inc. (PLUG)
First, let's start with PLUG, an EV fuel cell company.
This one had a massive run early in the year, followed by a crash back down to the $20s.
Then, it worked its way through the bagholders for much of the year.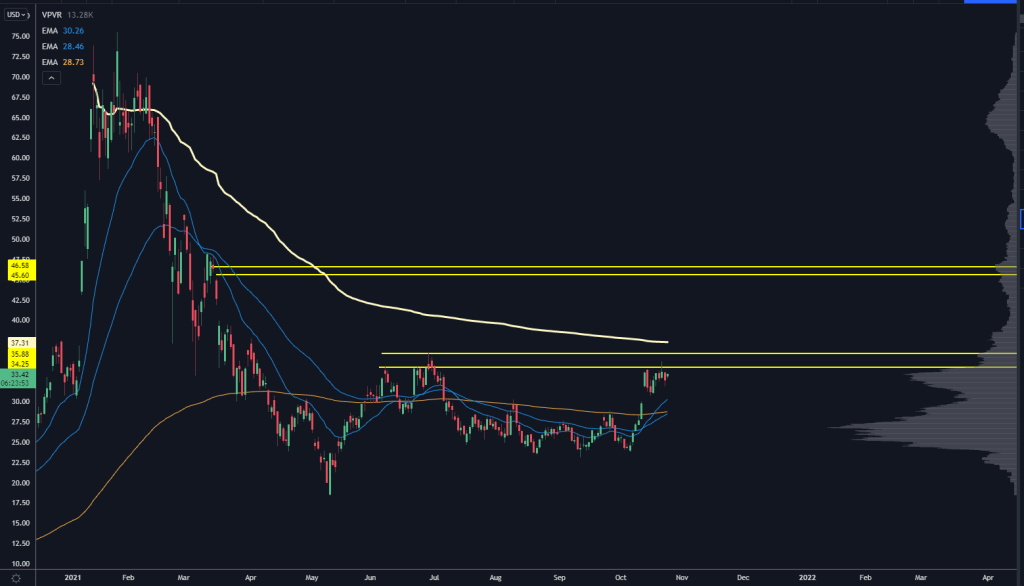 As you can see, it built out some volume in the $24-$28 range. After that, it gapped higher when it announced it signed a deal for some fuel cell power stations with Phillips 66.
For some reason, it didn't fade fast like stocks normally do on such news. The selloff was much shorter, and buyers stepped in to push it back to the high end of that range.
A lot of people had their eyes on PLUG. We could miss a good breakout entry real quick as fresh money pushes a potential breakout ever higher.
So here, we risked buying in before a clear breakout confirmation to secure a good basis. Bought the stock at $33.30 and the option (Jan 47 Call) at $0.96.
At worst, we hit our stop and lose a bit.
At best, it breaks out, buying panic picks up, and we can sell for a profit.
Fortunately, the latter was the case.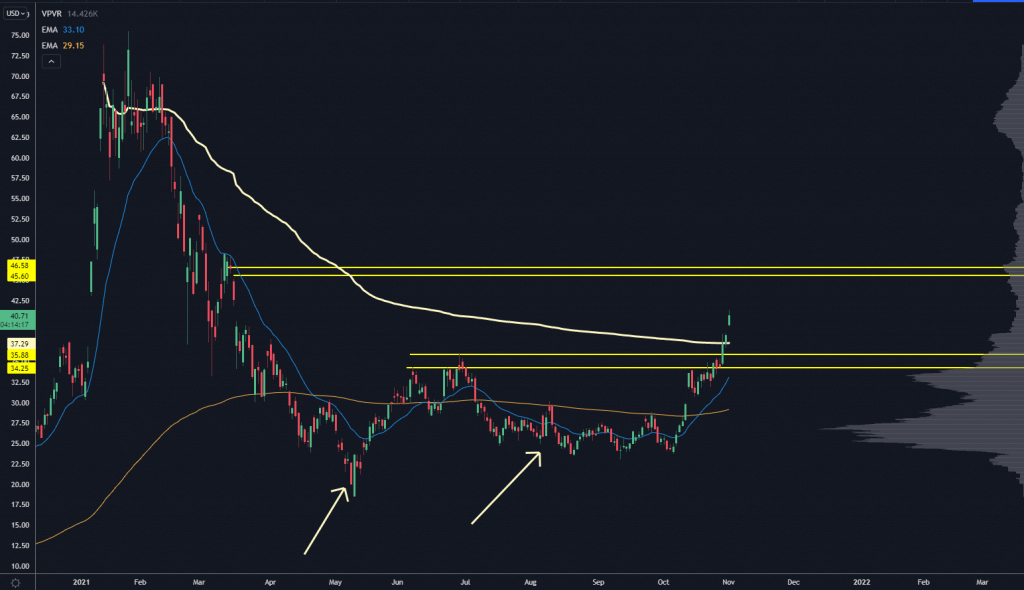 Over the next week, the thing climbed like mad. On November 1st, we bailed on half the position for a 22% stock return and a whopping 243% options gain (we sold the option at $3.30).
The rest of the options position is up 290%, and we think this one could go as high as 384%.
Amazing.
Lucid Group Inc. (LCID)
Next up is LCID, an EV manufacturer. Their new Lucid Air model just won Motortrend's Car of the Year for 2022. Good for them.
But that's not why we played this stock.
We were more concerned with some key price levels here.
This stock was on our watchlist for 5 months, beating its head against the $28 resistance level.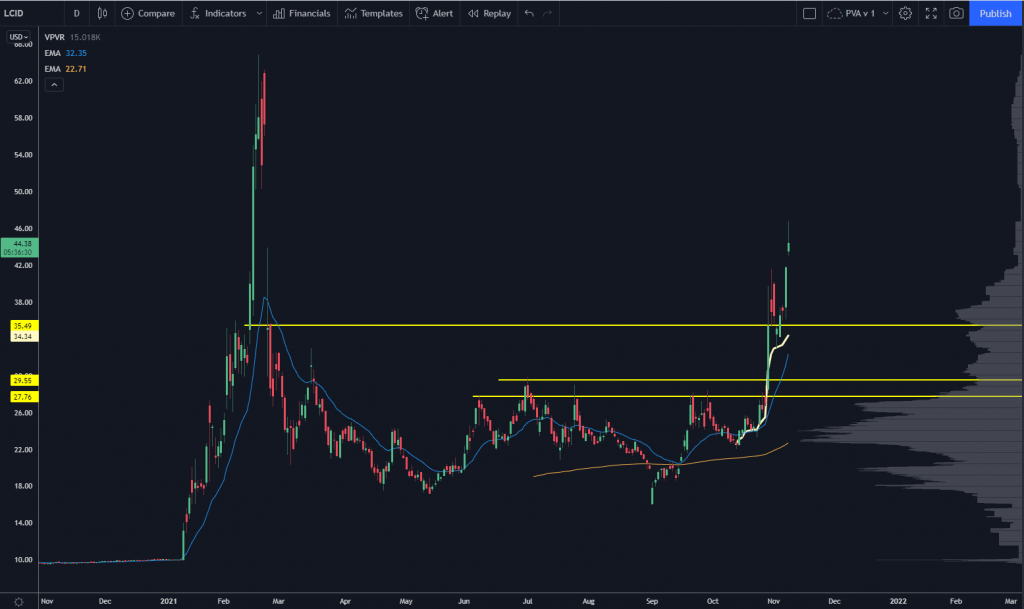 Plus, we had our anchored VWAP (that yellow line) holding it down more…
But on October 27th, LCID moved slightly above that $28 mark. It was ready to trigger, so we bought the stock at $28.15 and the option (Jan 35 Call) at $2.75.
Good thing we watched it so closely, too.
The very next day, LCID jumped 21%… which is insane…
But that gave us a 112% return on our option overnight!
We sold half of the stock and options positions.
Then, on November 8th, we took off another ¼ of the position (or half of what was left) to arrive at 60% total stock gains and 383% total options gains.
That's 383% gains in under 2 weeks. Or 8 trading days.
The best part: the remainder is sitting at a whopping 670% as we speak.
This is the power of our roadmap. We saw exactly when sellers would clear out, and once they did, it was off to the races.
Monster Beverage Corp. (MNST)
Supply chain issues have wreaked havoc on most industries. Monster Beverage Corporation, for instance, has been suffering due to higher prices in the aluminium they use for their cans.
Many investors were bailing on MNST…
Yet their panic turned into our profits. Our roadmap prepared us to play into some key price levels following a nasty downside move: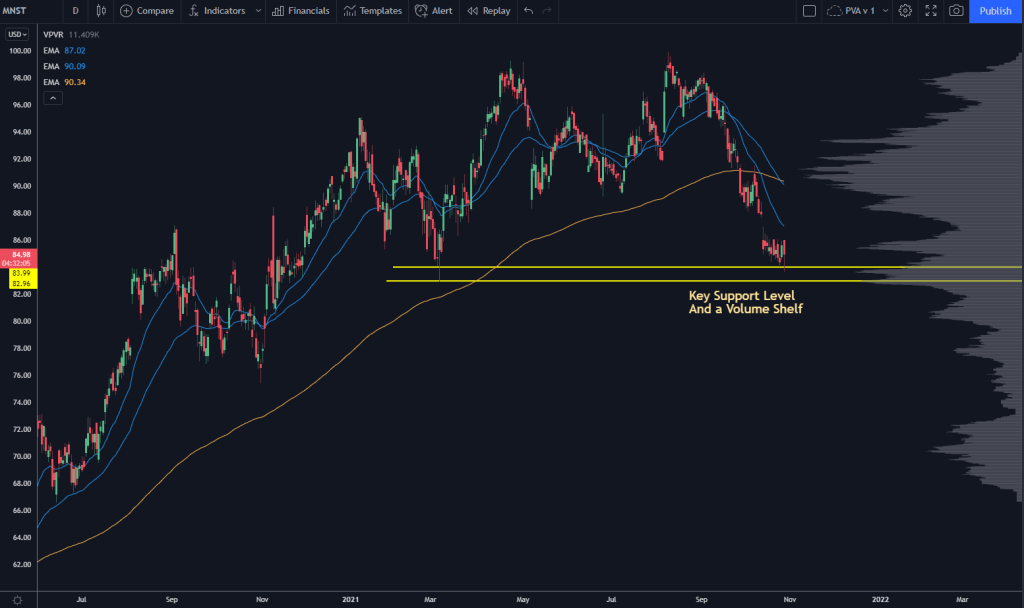 As you can see, it hit a key support level that also happened to be a volume shelf, a key component of our roadmap.
If it were to dip below that, surely, buyers would step up…
So we bought the stock at $85 and the option (Jan 95 Call) at $0.90.
Our roadmap guided us in the right direction: buyers did step up, pushing the price up.
8 days after opening the position, we sold half our shares at $87.54 for a 3% gain and half our options at $1.40 for a 55% gain.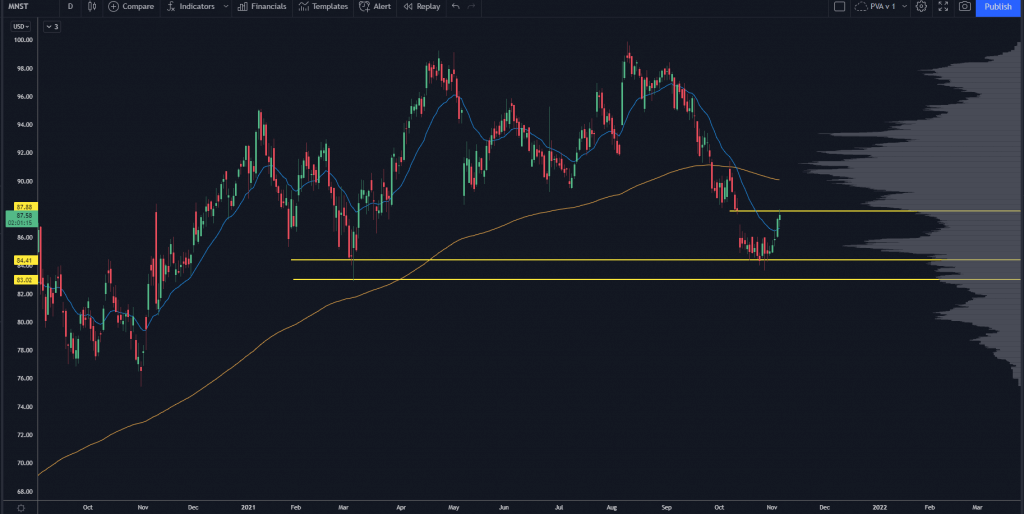 MNST was smaller than our other trades, but 55% in 1 week is nothing to sneeze at.
And anyways, the remainder of our position is up 177% now.
Livent Corp (LTHM)
Rounding things out is another fast-profits trade with LTHM.
Can you guess what sector they're in?
Yeah, lithium.
Stuff's a big deal these days with EVs.
Now, we've played this name before to strong success. Naturally, we kept our eye on it in case opportunity came knocking again.
Back on October 28th (right when we closed part of our LCID trade), LTHM was coming out of a "base on base" pattern where the recent pivot lows aligned with the prior pivot highs.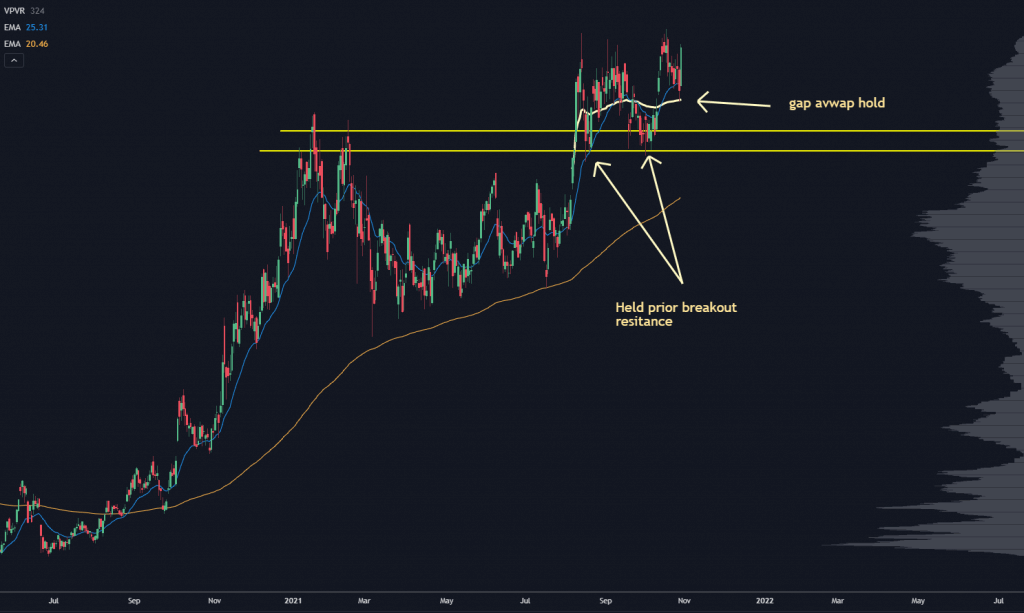 Plus, the stock held the gap-anchored VWAP.
That tells us some institutions were willing to buy against that price — a change of character relative to what we saw during the chop through September and October.
Earnings were coming up, too, but those didn't appear to be much of a risk based on historical data.
And so, we were hoping for a continuation of the existing trend.
In we go: buying the stock at $26-$26.68 (depending on if there were slight pullbacks) and $0.80 for the option (Jan 35 Call).
Just 4 days later, on November 2nd, our options position doubled our money (so, 100% gains), and we sold half.
As for the stock, we sold at $29.83 for around 12% gains.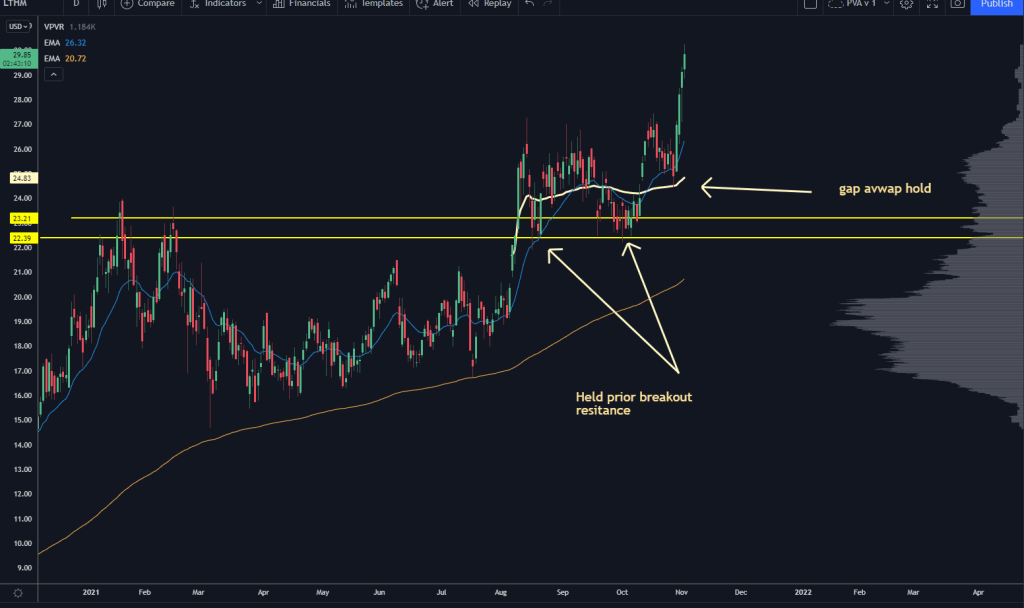 It's All in the Roadmap
Do earnings reports and macro data matter in price movement? Sure.…
But at the end of the day, our roadmap and the signals it offers show us the way to big-time profit potential.
With it, we can see themes building ahead of time when our roadmap alerts us to potential plays on several similar stocks.
These 4 trades are just a few examples of what I'm talking about.
To learn more…
Just watch this special training.
I'll explain my roadmap in more detail, so click that link above.