Let me tell you about a recent success story that you could have been a part of…
Live Oak Bancshares – ticker symbol LOB.
It jumped 25% in the past three days.
And Members of the Insider Report Service are closing out a 44.98% gain on the stock.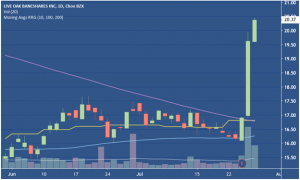 The Back Story….
Here is what happened….
In late December, the shares of LOB where down 57% as much of the market was also down. But as an outsider how could you know if this a good buy or not? It's tough to say.
But as an insider? The picture is much clearer.
And on December 21st, insiders at Live Oak Bancshares (LOB) were screaming "BUY!"
Insiders bought more stock in December than during any month since LOB went public in 2015.
And it's easy to see why…
2018 marked its tenth anniversary in business, and sales have grown during every year on record.
The stock also was trading near historic lows.
Nearly all fundamental metrics were its cheapest in history. 
The price to book ratio (a key metric for banks) was just 1.23. For reference, the average bank stock trades at 2.3X book – and that's after the recent selloff.
Insiders likely believed the drop in LOB share price to be an overcorrection.
Rising interest rates would almost certainly hurt the company's bottom line, but not nearly enough to justify the 57% haircut taken out of the stock.
Although LOB appeared to be in free fall, it had actually come down quite predictably.
As you can see in the volume profile chart above, the stock paused at high volume areas along the way down. It even spent a month rotating around the point of control – a number we will would be using for an upside target.
Shares  hovered around the $14 mark where they found acceptance after the IPO several years ago. I, along with the insiders, believed buyers would step in here and set the bottom.
Our initial target was going be around $18. After that, I'll be looking for the stock to bounce into the 50.0 – 61.8% retracement area at about $24.
We told our Insider Members to:  Buy Live Oak Bancshares (LOB) stock at the market. Use an end-of-day stop at $12.00. And our Speculators may consider the LOB Jun19 $15 calls (.LOB190621C15).
Summary…
If you had been part of the Insider Report Service, this one trade, along (among many others) could have paid for your entire year of Insider trade calls.
Click Here to learn more about the Service and how you can join.