Not a fan, and it does not mean I do not care about our planet nor I do not understand the value of buying a sexy electric car. None of those.
I simply do not understand Tesla, however, I encourage anyone to trade it. At least, it is so fun that I am not sure why Showtime is not writing up another episode with the ongoing drama building at this company. Yes, Elon Musk still the leading actor.
This is how I came across the saga which is always a fascinated reading via Holger Zschaepitz
Elon Musk's war with #Tesla's short sellers just got weirder as shorts rise again. The electric carmaker claims a California man who it says is part of an online group of short sellers has been stalking its Fremont factory and harassing its employees. https://t.co/s9YMZBU1QN pic.twitter.com/vhp95qOHSh

— Holger Zschaepitz (@Schuldensuehner) April 22, 2019
And please, read the article in Bloomberg because Elon's tweets are so absurd (and hilarious) like he is pretending not knowing why people want him to fail…he does not know…right. Source: Bloomberg via Peter Blumberg – Tesla Takes Short Seller to Court, Saying He Menaced Its Workers
Tesla via Volume Profile
It makes no sense to post without finding a way to profit from this, otherwise, I will be wasting your time and we both know I dislike that. So via the most powerful trading tool in 2019, let's take a look at what we can do with TSLA stock.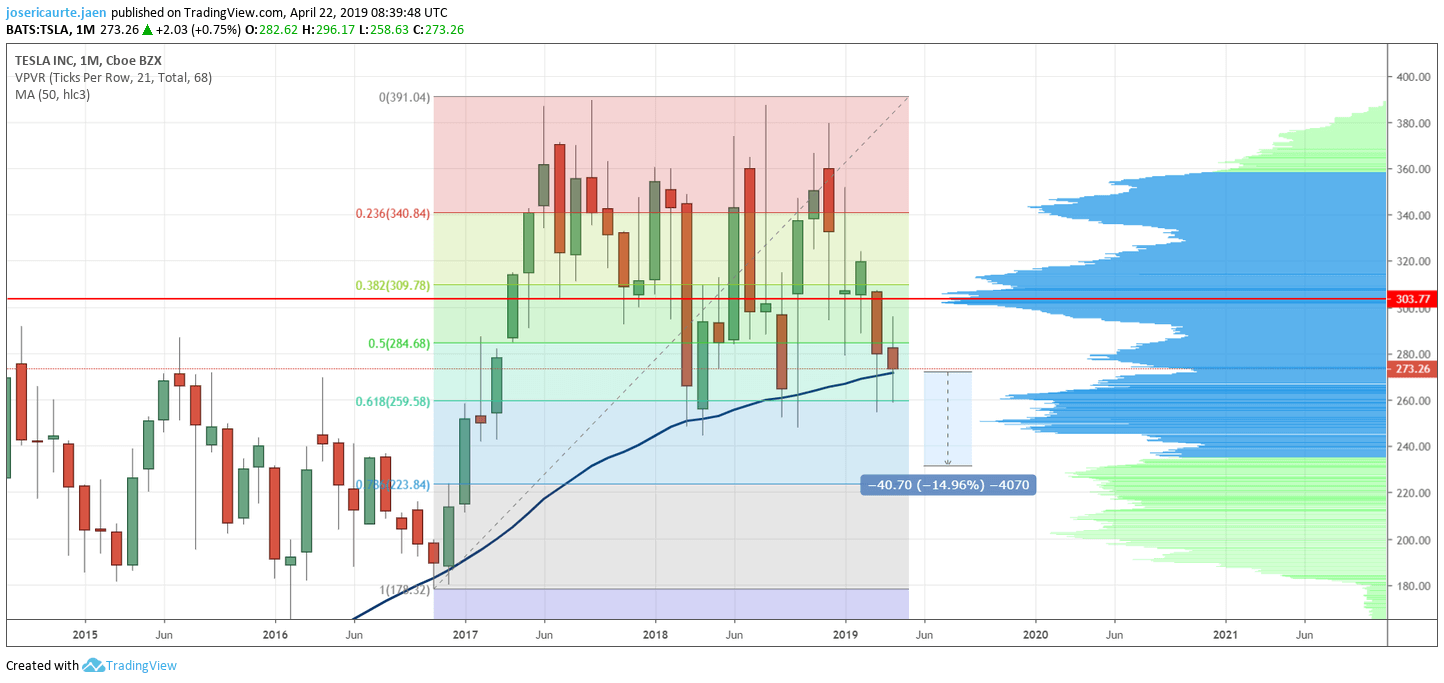 Volume Profile is part of the Pro package when you use Tradingview if you want to jump an inch in your professional trading career, why not giving it a try? Let's go now to the basics:
No Insiders clusters – probably Elon was the last cluster worth something.
5yr return still at +30% so keep in mind the uptrend still there.
61.8% Trend Fibonacci is around $259.60 and if I can see it you too, 50-EMA on Monthly Chart somewhere around $270.80.
Volume Profile to your right goes all the way down to $240 which means 'Short-Sellers' are going to need massive conviction to push this security beyond the $240 mark. If you add up that is only another +14% profit for them; Is it worth the hassle, risk, and drama? 
Trading Scenarios [even if the market makes another pullback]

It is difficult to play the downside even if the stock market makes another pullback during the next two weeks or in May.
If you are conservative and only want to trade it a (9%) risk could serve its purpose.
I have to move the needle and go with a more medium and long-term view. I can digest (21%) risk expecting TSLA to rotate all the way back to its previous highs, therefore, expect those short-sellers to get squeeze worse than an orange (ending up very dry).
Volume Profile indicates 'if' the stocks rotate above $303, then it can easily hit the $340/$360 range and from this point start a new 'Price Discovery' mode and break the $400 barrier. Remember, Never say Never.
This month members from the Insider Report closed massive winners for +250 and +200% in two well-known securities in the USA if you are ready to explore how it works and how you can benefit from our research based on following the most profitable traders in Wall Street; The Insiders. Then, go ahead and click in this link: