If you find a company that is absolutely a sure thing — maybe the earnings growth is stellar, and you know every single piece of good news about the company…
It's probably at the top already because that news gets priced in.
That leaves you with 2 options:
Park all your money in a Treasury yielding a whopping 2%…
Or take some risks.
If you want life-changing profit potential, you have to be willing to invest without every last piece of information.
That said, you can position yourself ahead of the risk curve and bolster the chances things go the right way.
We do that by following the insiders.
Remember: Insider trading is 100% legal.
The insiders just have to disclose their trades in what is known as a Form 4.
And we pay close attention to those Form 4s because the insiders know basically everything about their companies.
They see the internal spreadsheets.
They know the risks involved.
They have a firm grasp of the company's potential performance over the next year.
So when they bet tens of thousands of $$$ on an open market purchase of their stock, following along makes sense.
Take a look at this Form 4 from a VP at Fulcrum Therapeutics (FULC):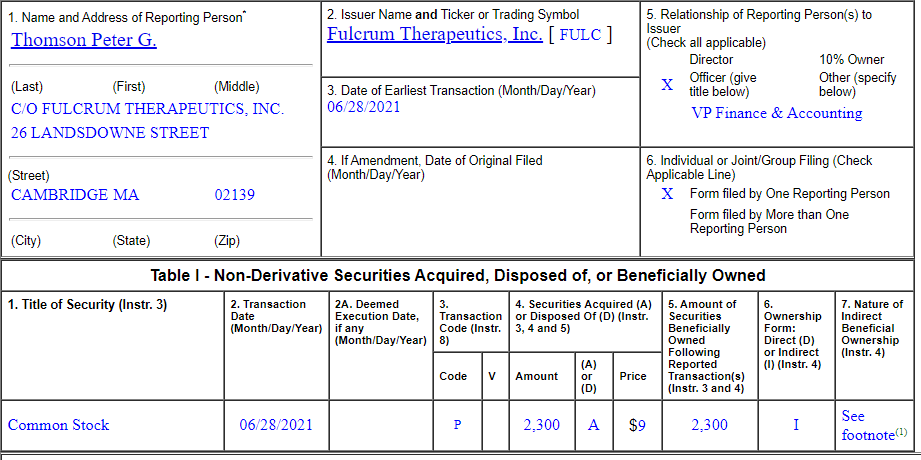 According to Box 4 near the bottom of the Form 4…
This VP dropped a cool $20,700 into his stock by scooping 2,300 shares at $9/share.
We don't know why he might do this, but this is a biotech company, so we can make an educated guess. It could be either:
Good FDA data regarding a drug the firm's developing
OR
Expansion into a new market
#1 is precisely what happened in FULC: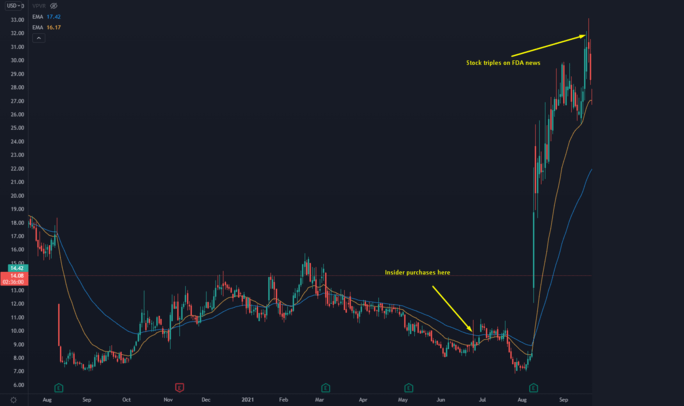 The insider we mentioned above and 3 others bought shares on the same day in the waning days of June 2021.
They waited about 1 month…
And their stock went to the moon.
Did we know that would happen?
Of course not. No one can see the future. We didn't spend weeks digging up every last detail about this company, either.
We simply followed the insiders, caught wind of this great setup, and rode the wave upwards.
Now, FULC is just one of several biotechs where we've spied on the insiders and followed their actions quite profitably.
Our past performance can't guarantee future results…
But setups like these have often paid off for us quite well.
And speaking of, we've got a similar trade setting up in a smaller-cap medical device company. This name's trying to build a better, cheaper mousetrap for a very well-known (and expensive) medical procedure.
Now, the stock's done very little for months.
But underneath the surface, we saw two key transactions:
First, a $100,000 buy from the CFO.
Second, a $100,000 buy from the CEO.
When multiple insiders buy stock around the same time, we call this a "cluster buy."
Remember, we saw exactly that in FULC — 4 separate insiders all purchased on the same day.
As I've gone over, we don't know if or when this stock pops off…
But nobody else does either!
That's why there's a massive premium baked into the name. Once the good news starts coming out, it's off to the races.
And should that happen, we'll be in nice and early to ride the frenzied buying to the top.
The best part is we've already started to see some very bullish news come out for the name.
They picked up regulatory approval for their product in an Asian country, opened a new clinic in Latin America, and just expanded to Spain.
With all that going on, they just secured full rights to their device to be sold directly in the United States.
With the right catalyst, this stock could be ready to skyrocket higher.
It's a small-cap with a low float and is right on the verge of a technical breakout: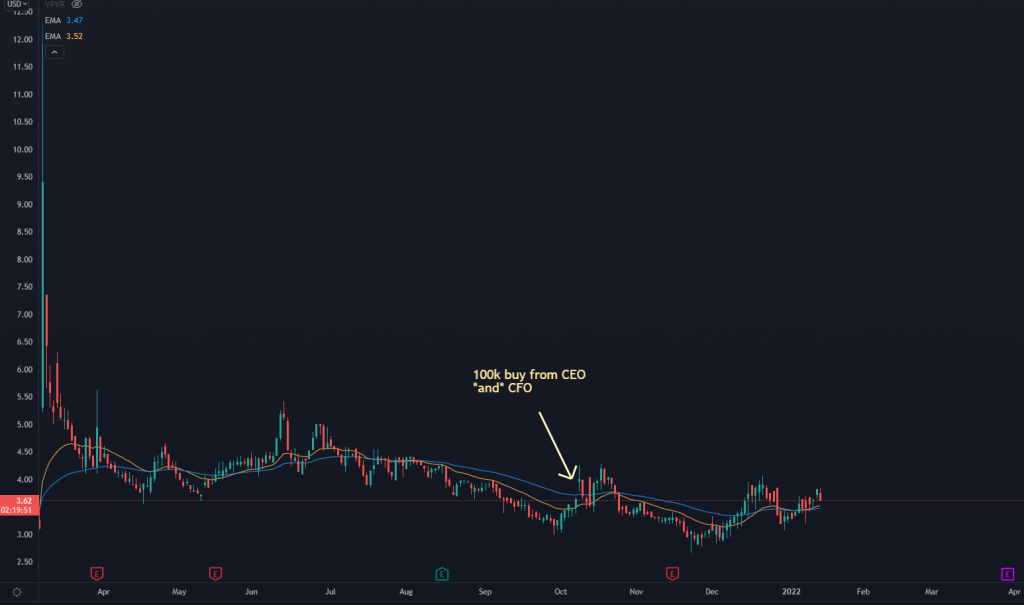 If we see a lift from current prices, the stock could be a quick double on good news…
And I wouldn't be surprised if it was acquired at a very nice premium.
Did we discover this stock by running a deep dive on the financials or consulting with a medical device expert?
Nope — it came directly from following the best traders out there — the company insiders.
I'll teach you how we do it.
Just head here to check out my special training on following the insiders to massive opportunities.