Despite some small pullbacks, The S&P500 has been jamming into new highs lately.
In hindsight, this always looks like a normal correction.
But underneath, it was an absolute bloodbath.
Remember: about 25% of the S&P's weighting is stuck in 6 stocks:
AAPL

AMZN

FB

GOOGL

MSFT

TSLA
So, for example, if AAPL is ripping to new highs, it can help drag the indices higher.
But below the surface, things have always been ugly.
The best way to show you that is the carnage is in ARKK.
ARKK's the flagship ETF for the ARK funds, run by Cathie Wood and friends: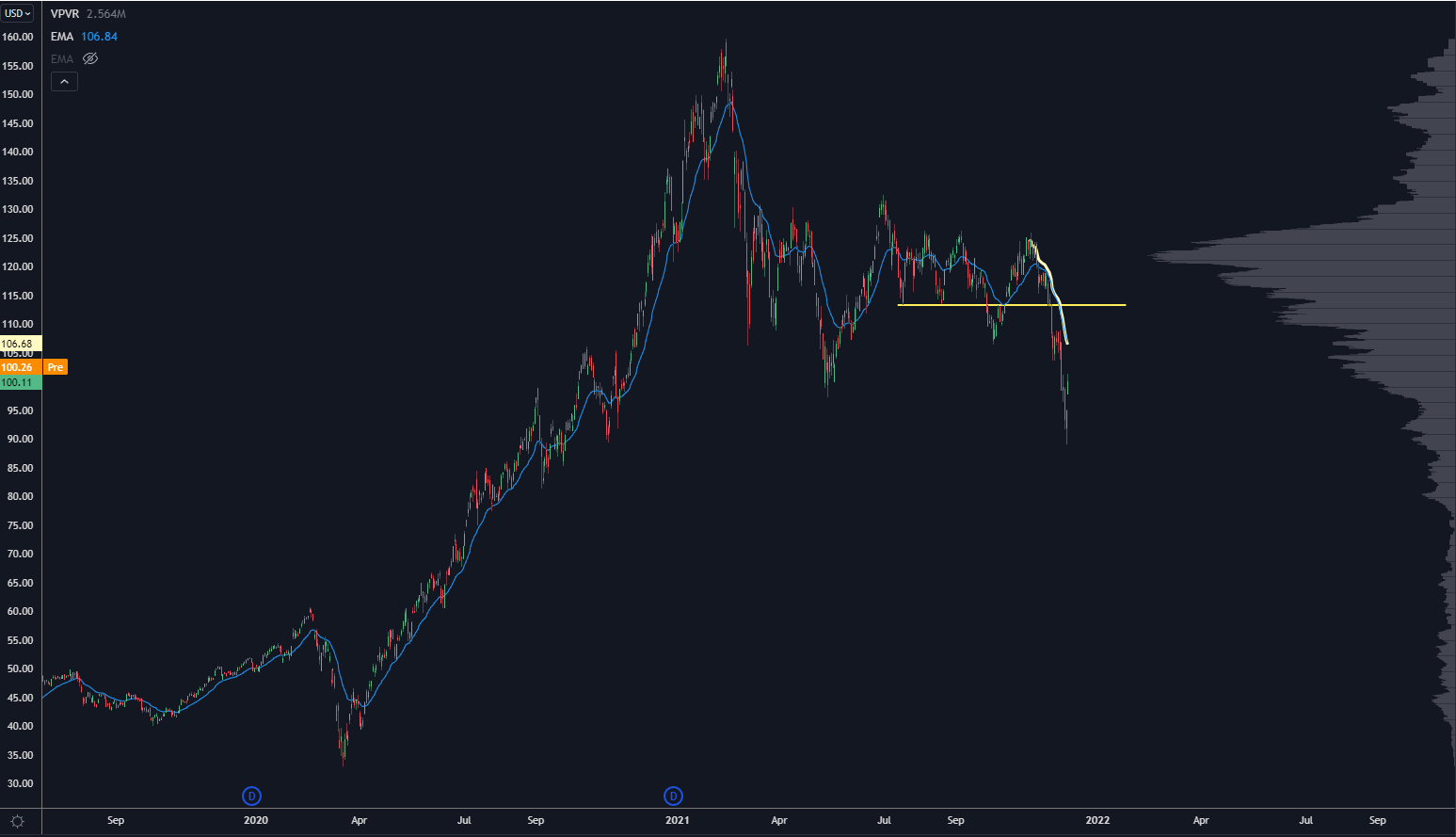 For those keeping score…
This is a 30% drop from the November highs to where the price bottomed out on Monday.
Oh, and it's a 45% correction from all-time highs.
This is the nature of the beast. When you trade momentum stocks, you need to remember momentum runs both ways.
Here are some other recent examples: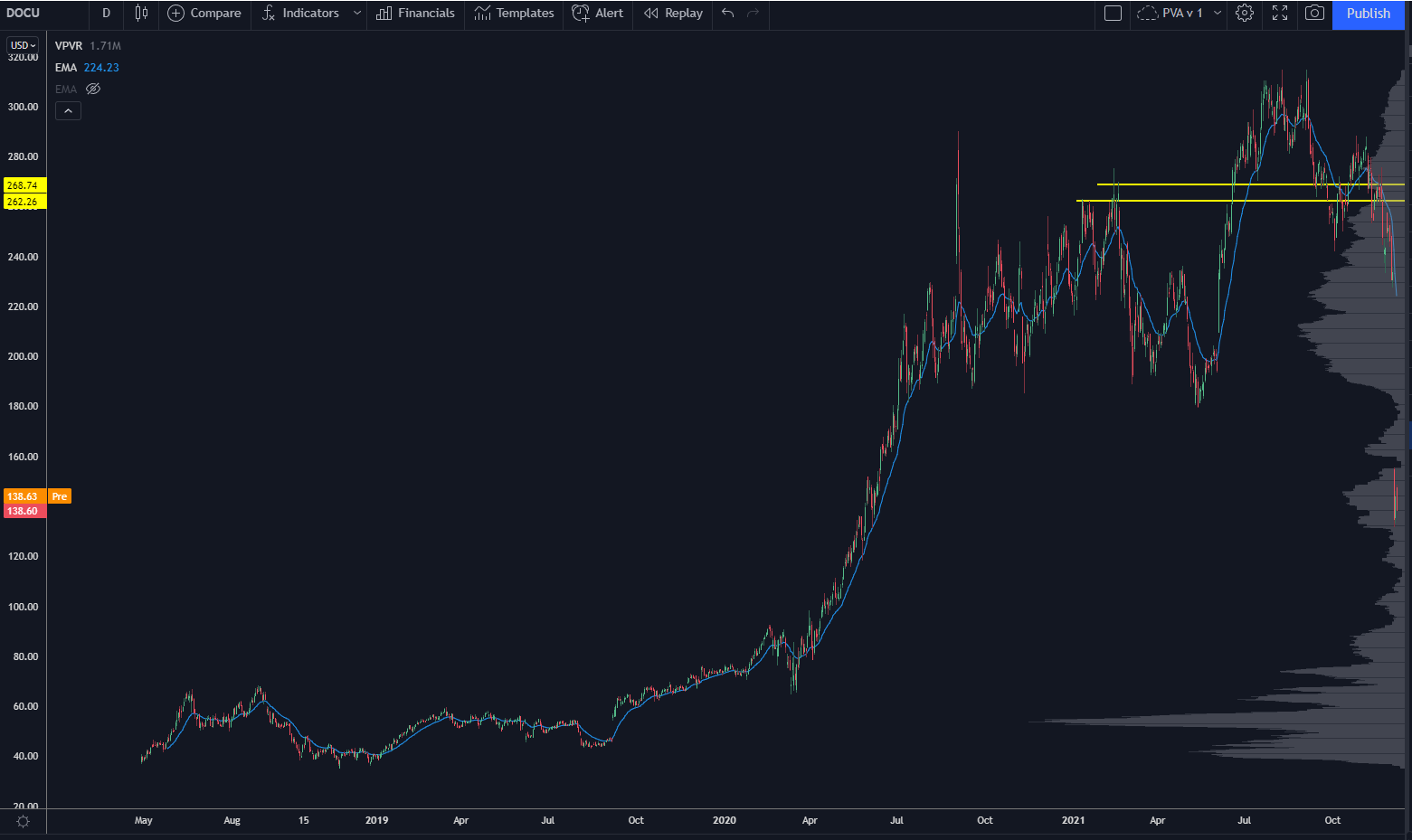 DocuSign (DOCU) had a nasty earnings gap down… and is now down 56% from all-time highs.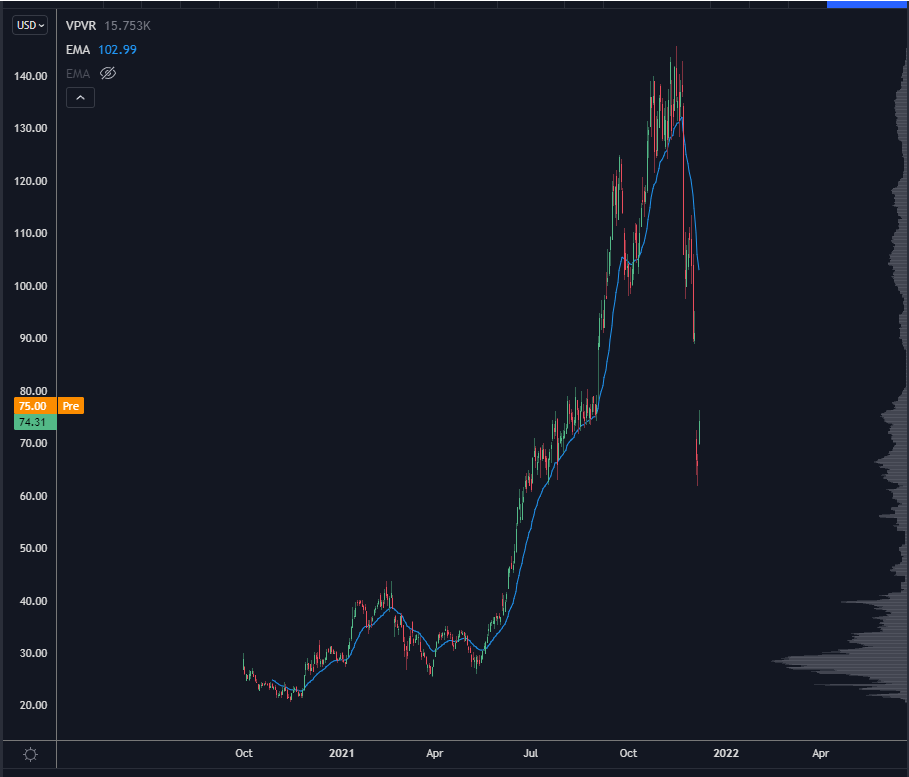 Asana (ASAN) got hit on earnings… and is now down nearly 60% off the highs.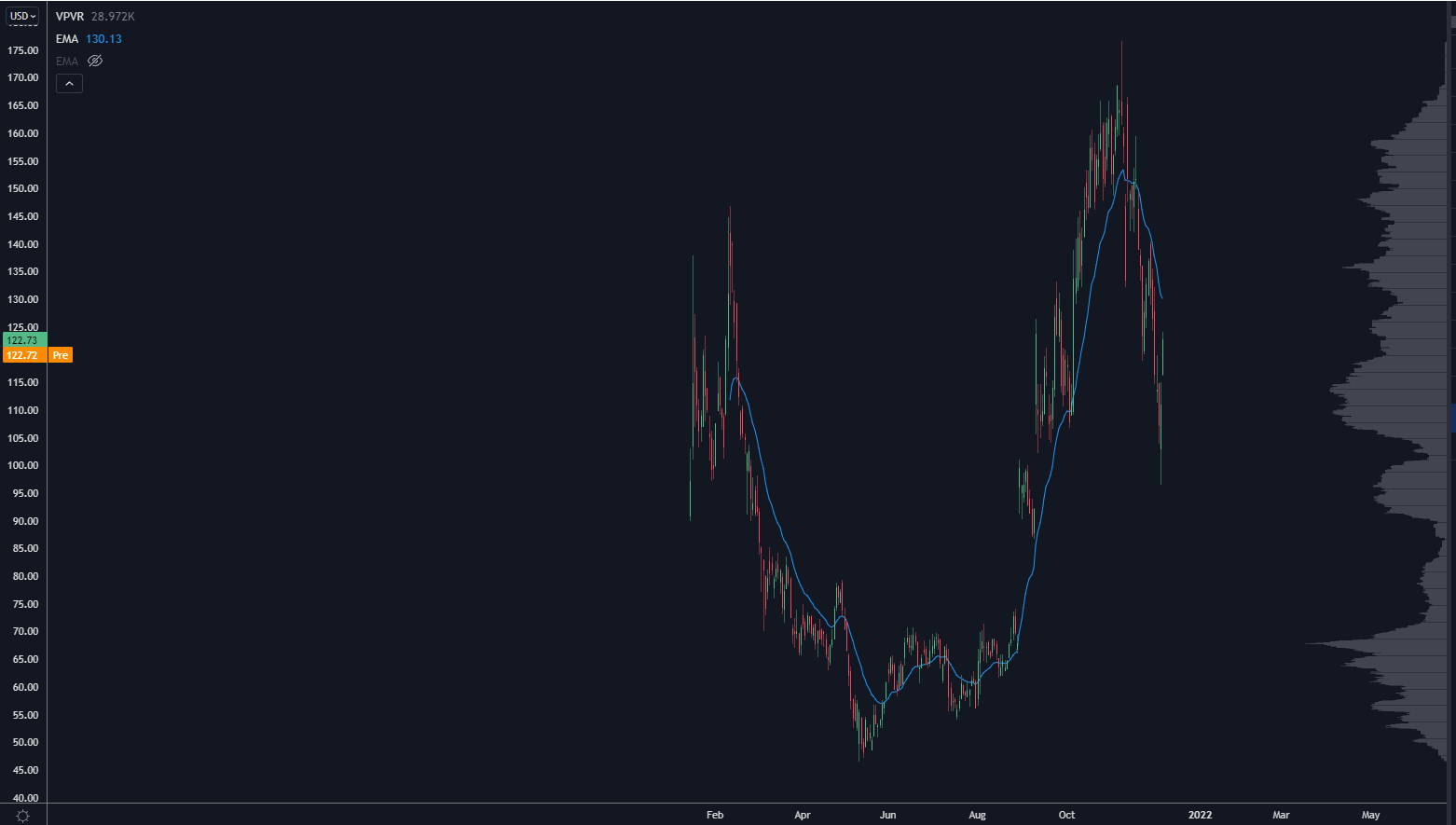 Then, we have Affirm (AFRM), a recent IPO that's been slashed in half during this selloff.
All of this is happening on only a 4% S&P pullback. It's far worse underneath the surface than what the indices show.
So what gives? Why did the risk appetite drop for high-growth tech stocks?
I'm seeing two primary reasons.
1. Future Earnings
First of all, many of these names did a "pull-forward" on future earnings.
We started to see very rich sales multiples, and many of these names couldn't sustain price levels.
Once the momentum runs out, then the momentum traders run… causing a massive pile-on effect where supply far outweighs demand.
2. The Fed
The other reason I see is the Fed's signaling. We have rampant and worsening inflation (just look at the recent CPI and PPI figures), and now Powell's getting hawkish.
See, tech stocks do wonderfully in a deflationary environment with loose monetary policy.
When the spigot turns off, then everyone runs for the exits.
Now, some of my trader buddies and I have had 1 other concern on our minds…
And it circles back to the ARKK funds.
ARKK's fund custodian very actively trades the fund's holdings. They regularly post daily buys and sells, and sometimes, these alone can lead to stock pumps.
Our concern deals with something called "negative convexity."
This is where you get a feedback loop that all of a sudden breaks, leaving you with massive liquidations.
So here's the setup:
ARKK buys way too much size on these momentum tech stocks. During pullbacks, the liquidity effectively disappears.
Lots of offers, but nobody wants to buy.
This then causes ARKK to drop, making some of the fundholders bail out.
ARKK then has to sell some stock… and if the stocks aren't liquid, then the stock careens lower…
Which causes ARKK to fall due to their exposure.
The funny thing is, everyone knows what the fund holds, and smart shorts can press their bets to accelerate the selling.
That's how you end up with a 30% crush on an ETF in a month.
Now, we've seen a hard bounce, and you've seen a massive bear market rally in some of these names.
As an example, traders threw in 1.5B into TQQQ on Tuesday:

And if we consider a basket of non-profitable tech stocks, they also saw a massive rally: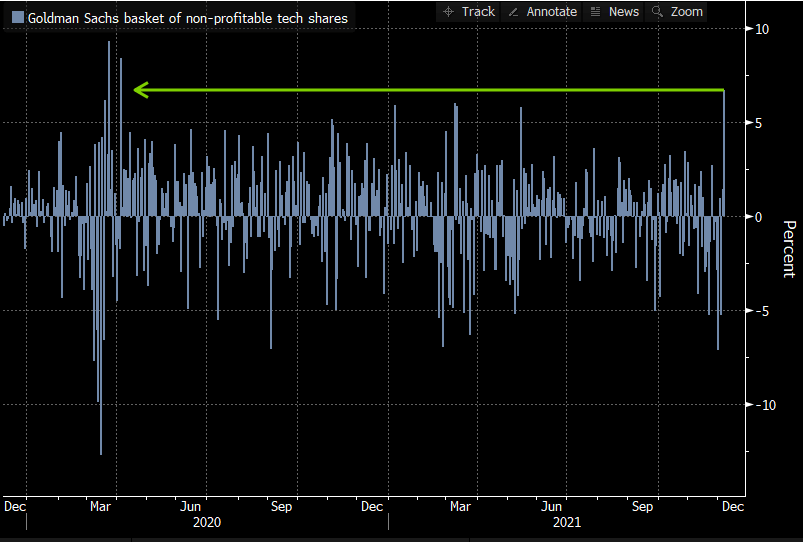 The tech momentum theme is now broken.
You've got trapped longs looking for ways to bail on some positions, even though liquidity isn't there to exit in size.
With that in mind, here are some strategies to consider:
Find the absolute best price you want to buy these stocks.

Some of them are close to very long-term levels where you can just park some shares in an IRA and forget about it for a year. 

Identify areas where you expect trapped buyers to come in and start selling into any strength.

This is where put options can shine because they limit your risk… yet you can still profit from the downside in a stock.

Look for the growth names that did not see massive breakdowns.

These relative strength plays show strong hands are willing to hold the stock into these kinds of pullbacks, and all-time highs are up on deck for them.

Stalk other sectors that have a more inflationary theme.

Banks, commodity stocks, and industrials are all holding up well, and that can become a self-fulfilling prophecy where the momentum traders start chasing the names that are working.
All of these setups should work nicely over the next few months…
And at PVA, we'll be using our roadmap to find the best opportunities.
So if you want the work done for you…
Check out this special training on our roadmap and learn how to join PVA today.