"If you own mutual funds in your retirement account, you are losing as much as 80% of your profits"
That's right… 80%.
It is the greatest con of the 20th century.
And it's helped Wall Street steal billions from everyday investors like yourself.
Here's how mutual funds destroy your retirement savings…
Take a look at the S&P over the last 30 years, from 1987 to today. We see that it's soared, especially over the last decade. It's gone from around 220 all the way up to 2,759, where it is today.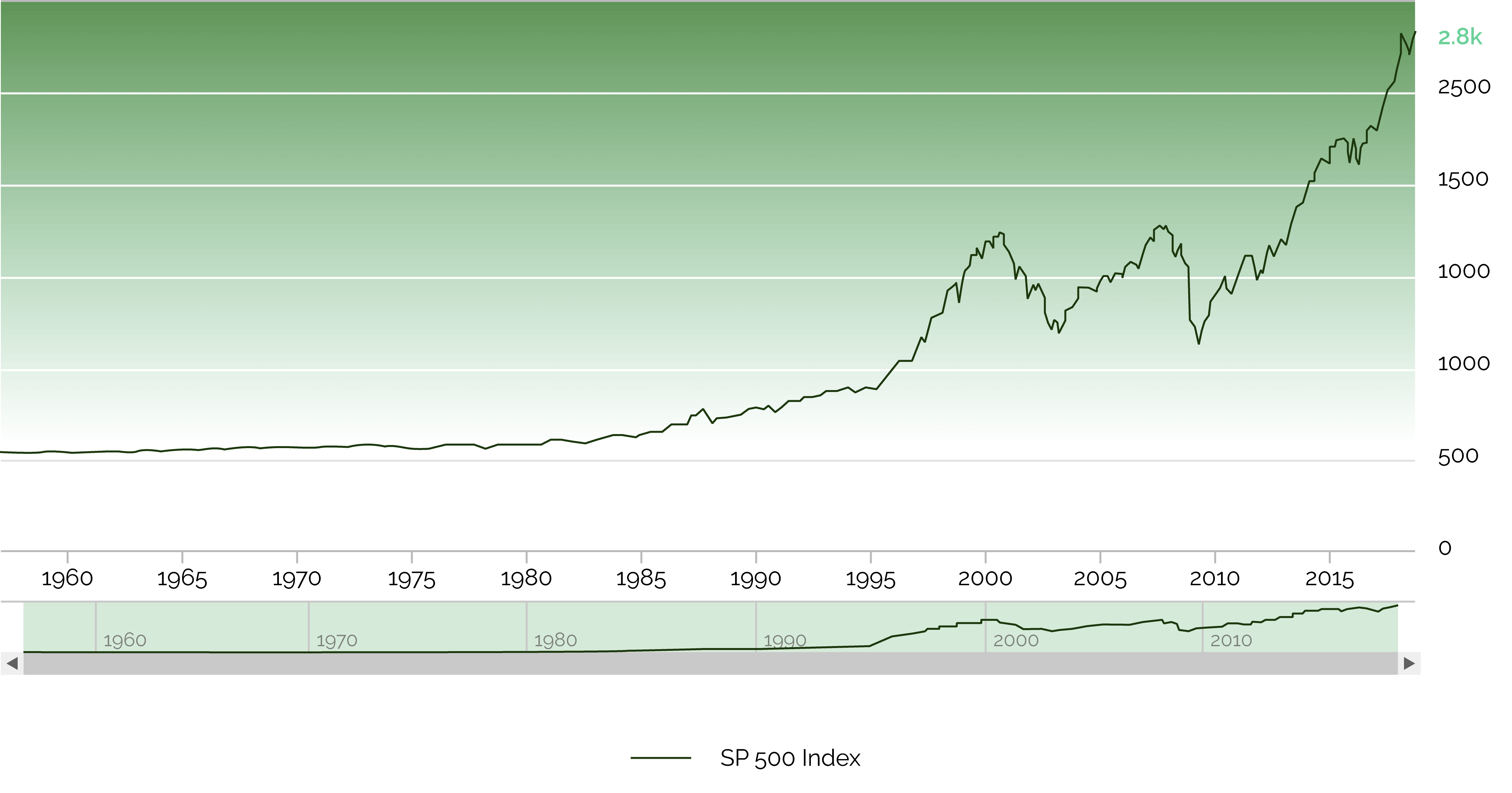 You would think if you've been invested in the market for the last 30 years, your money should be up 20 – 25 times what you started with and your retirement should be looking pretty good. And if you're just tracking the S&P index, you'd be correct.
Your annual performance figures are going to look something like this.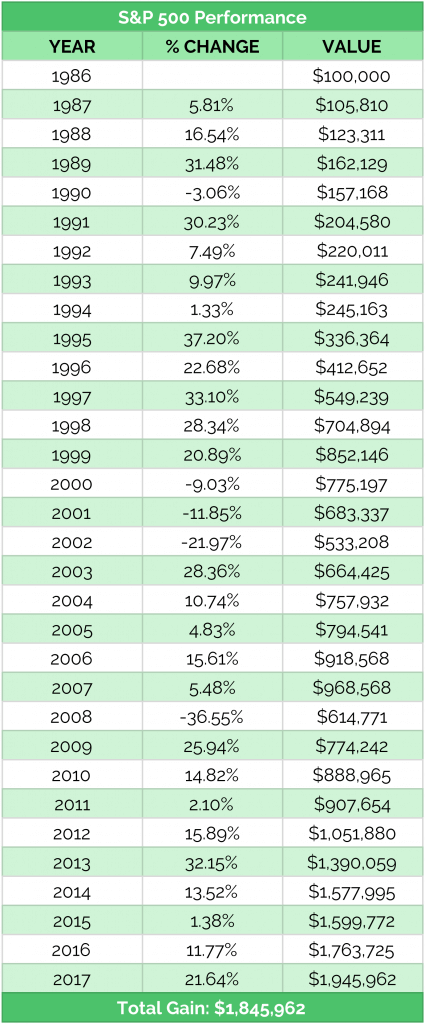 So, $100,000 invested into an index tracking the S&P back in 1986 growing at the rate the market grew would have ballooned to $1.945 million at the end of that 30 years.
So, a gain of just over 1.8 million.
Now, that sounds great, right?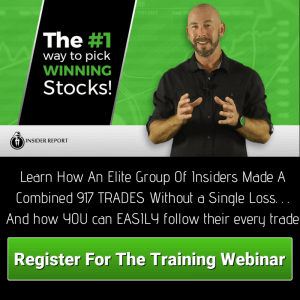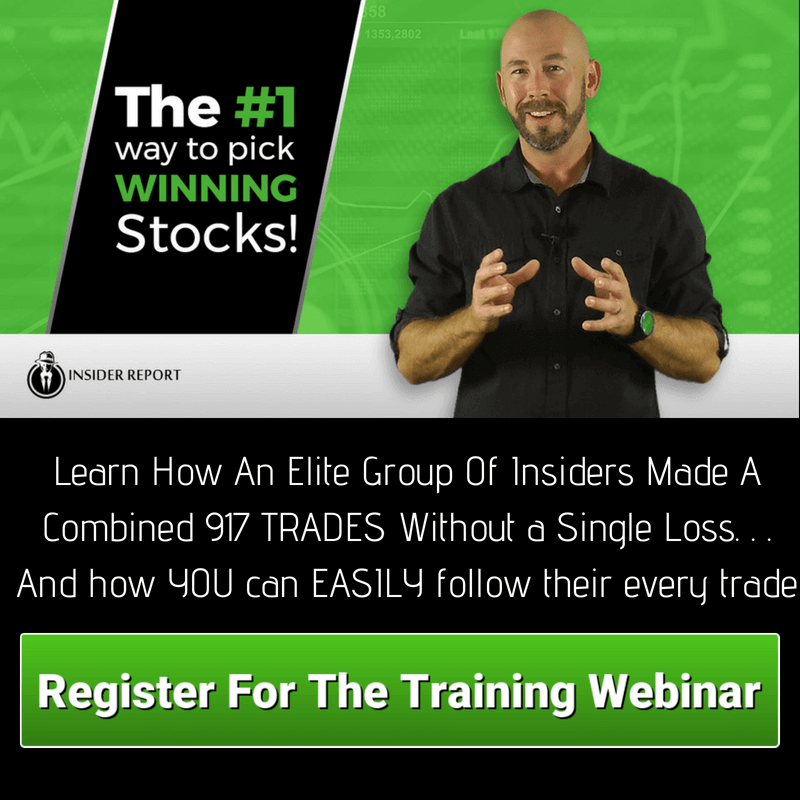 You could have a pretty comfortable retirement on that.
Your money is up roughly 20 times.
However, if you were invested in a mutual fund, I can guarantee you your performance was nowhere near this, and the reason is fees and expenses.
Now, I used to be a VP at JPMorgan. I was also a financial adviser and used to sell this stuff.
There's a reason I'm not in that business anymore, and it is this…
"Mutual funds are the greatest con that has ever been pulled in the investing public and they have one very specific purpose."
To suck the money out of your account and put it in their own.
Allow me to show you what I mean.
The main expense most people know about is something called the expense ratio.
This is what the mutual fund charges you each year to manage your money. The average fee as of about two years ago is 1.25 percent. It doesn't sound like a lot, but over 30 years it's going to add up to a little under $300,000.

However, there are four more expenses that most people have no idea about that is demolishing your gains.
The first one is cash on hand.
Now, cash on hand is very specific to the mutual fund industry because they have to keep a certain percentage of that fund in cash, ready to pay out to people at the end of each day who decide to sell their shares. That means the fund can never be fully invested.
So, if it's not fully invested, you're not getting the full performance and that costs you almost one percent per year.
Again, it doesn't sound like much, but over a 30-year time horizon, that's going to cost you in the neighborhood of $191,000.

Now, the next fee, which is also the largest. And again, never talked about is called transaction cost.
You don't see trades going in and out of the mutual fund, but they have to continuously buy and sell stocks to keep the portfolio balanced, to keep it in line with the indexes if it's an index fund etc, and all that trading costs money.
That ends up costing the average investor around 1.44 percent a year.
Again, over 30 years, around $331,000 that is coming out of your pocket.

Now, the next one's a fairly obvious one, but again, brokers don't have to disclose this. And that is their personal commission. It's usually pretty small. Around 0.25 percent or 25 basis points.
In the business, we used to call this a trail. They sell you a mutual fund. They get a commission up front and a 25-basis-point trail or 0.25 percent of your money paid directly to them each and every year.
Very, very small fee, but once again, over the lifetime of your investing it adds up pretty quickly.
"And they get paid every year…  No matter what!"

And then finally, there is another expense to you and that is the additional capital gain.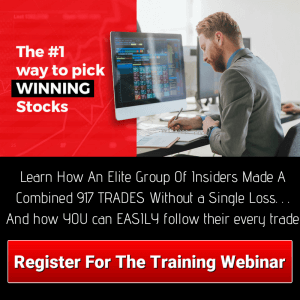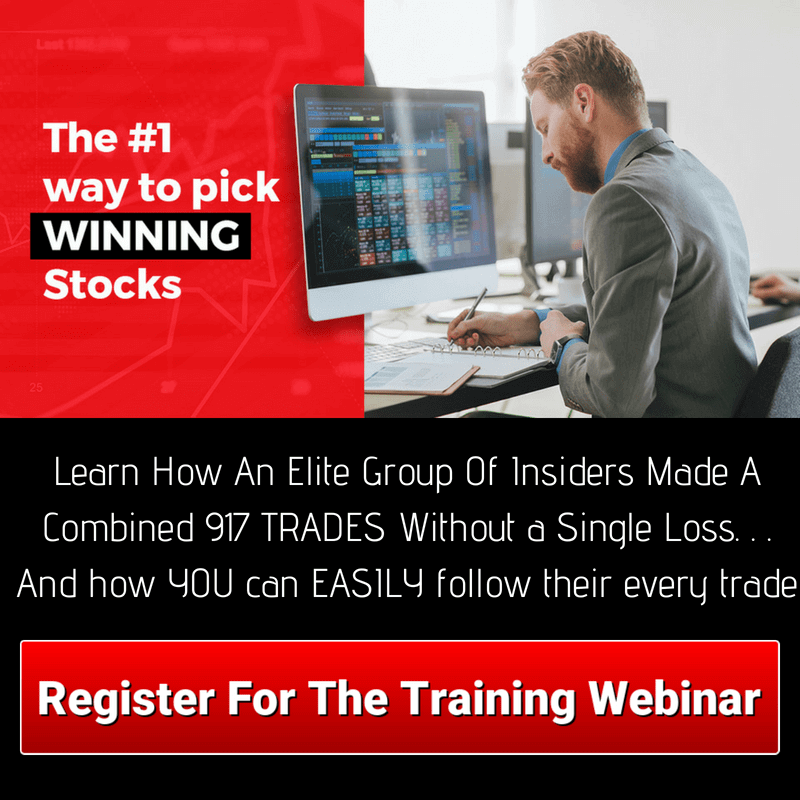 Most of you probably know that if you buy a stock or a mutual fund, hold it for a year or longer then sale it the taxes you pay are capital gains. Around 15 or 20 percent. But…
…what you don't realize is that the mutual funds, with all their buying and selling inside of that, often times have to buy the stocks that are very hot, sell the ones that are losing, and that causes them to incur additional capital gains that the fund must pay.
They're not paying this out of their pocket. They're taking it out of the big coffer. That means you're paying those additional capital gains costs. You don't see it, but it's sucking another one percent a year out of your account, adding up to around $230,000.

So, in total, with all these costs, fees and expenses, you end up losing about 4.77 percent every single year that you were invested in this mutual fund.
Over a 30-year lifetime on a $100,000 initial investment, that would cost you almost 1.1 million dollars.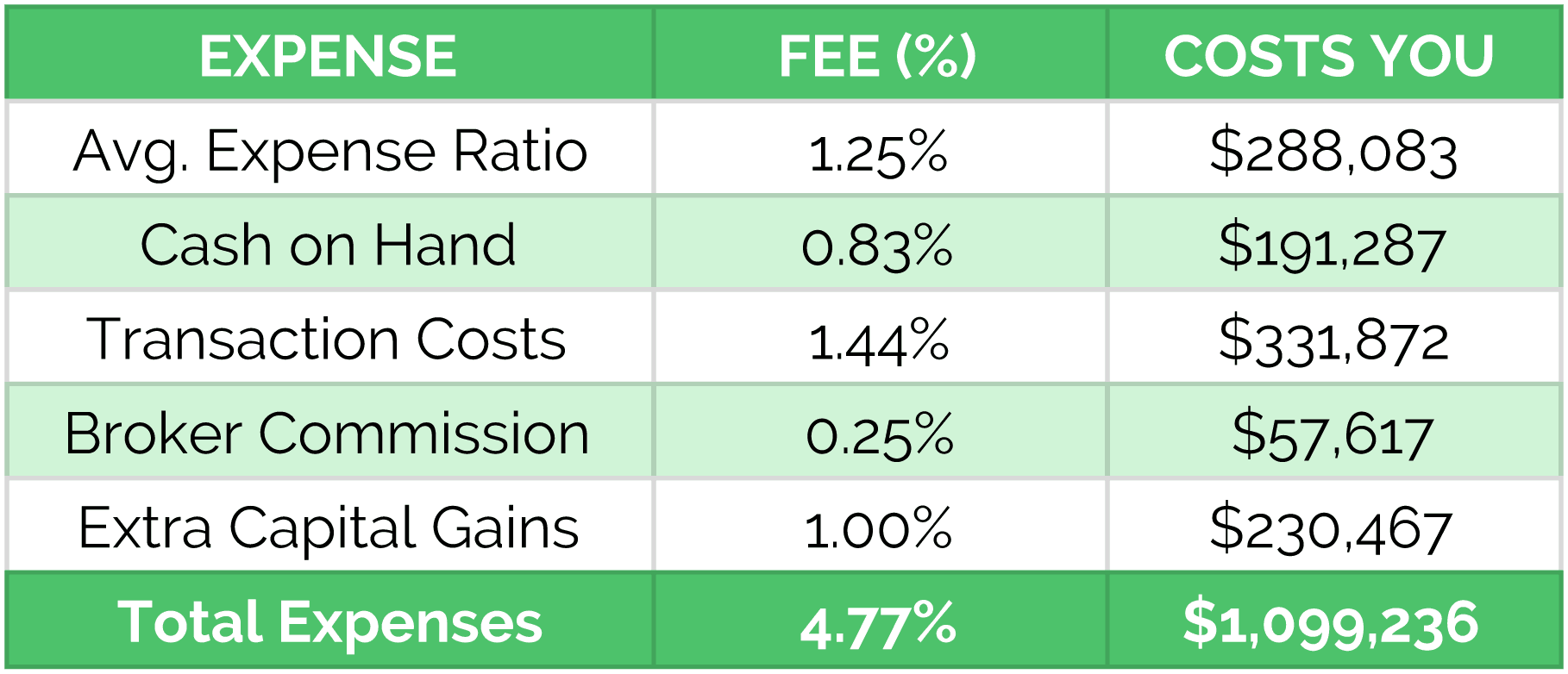 You can see the dramatic difference between investing in an index and investing in a mutual fund.  A total gain of $1.845 million versus only $400,000
Here's a chart of what that looks like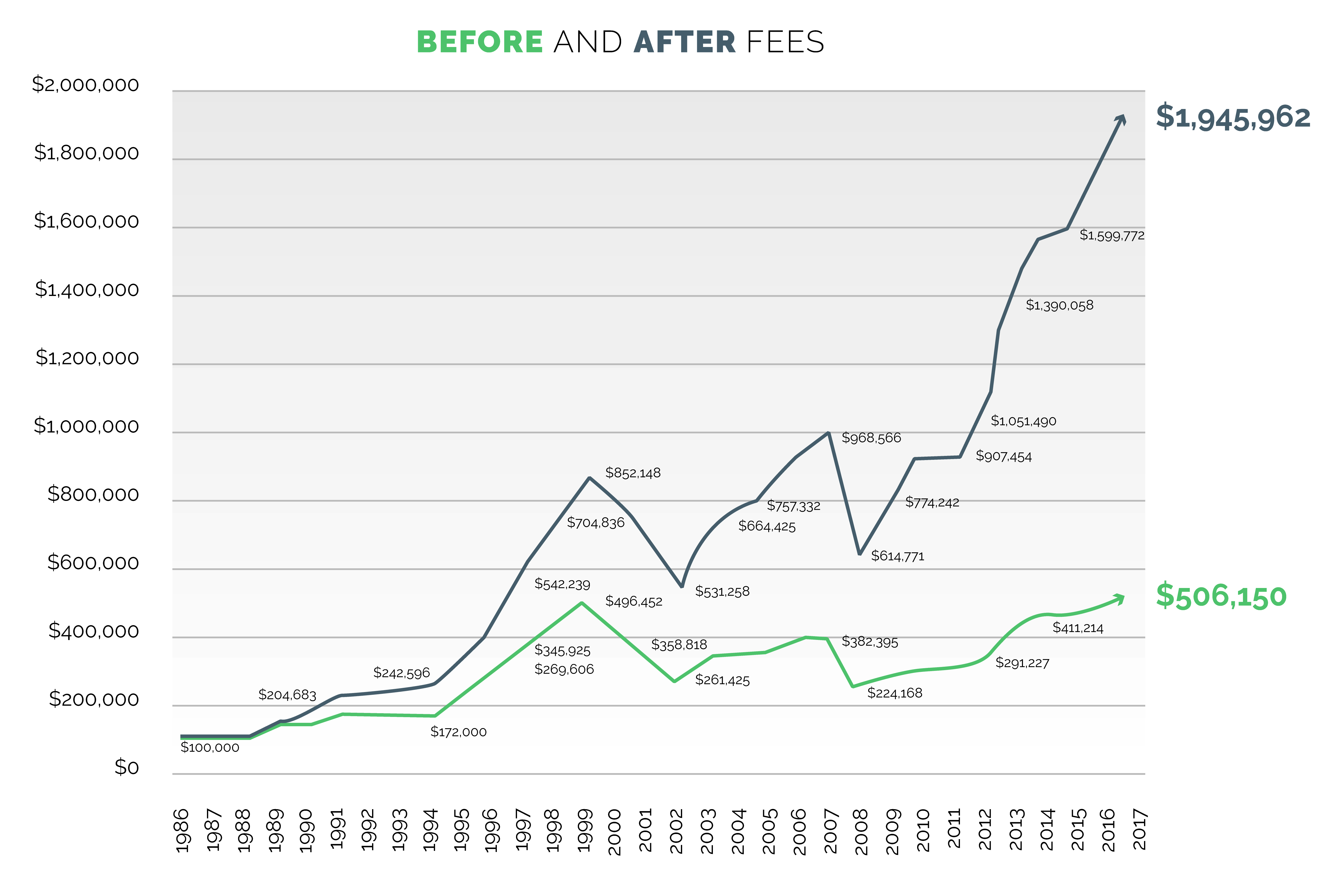 Now, if there's anything between your ears, this is probably beginning to scare you.
A lot of people have never seen this with the hard numbers put in front of them with all the fees and all the costs and all the expenses added up.
My guess is you are starting to realize the extreme impact it has on your retirement dollars.
If you want to get shocked a little bit further, let me show you where your money actually goes.
This is showing you, over 30 years, where the money ends up.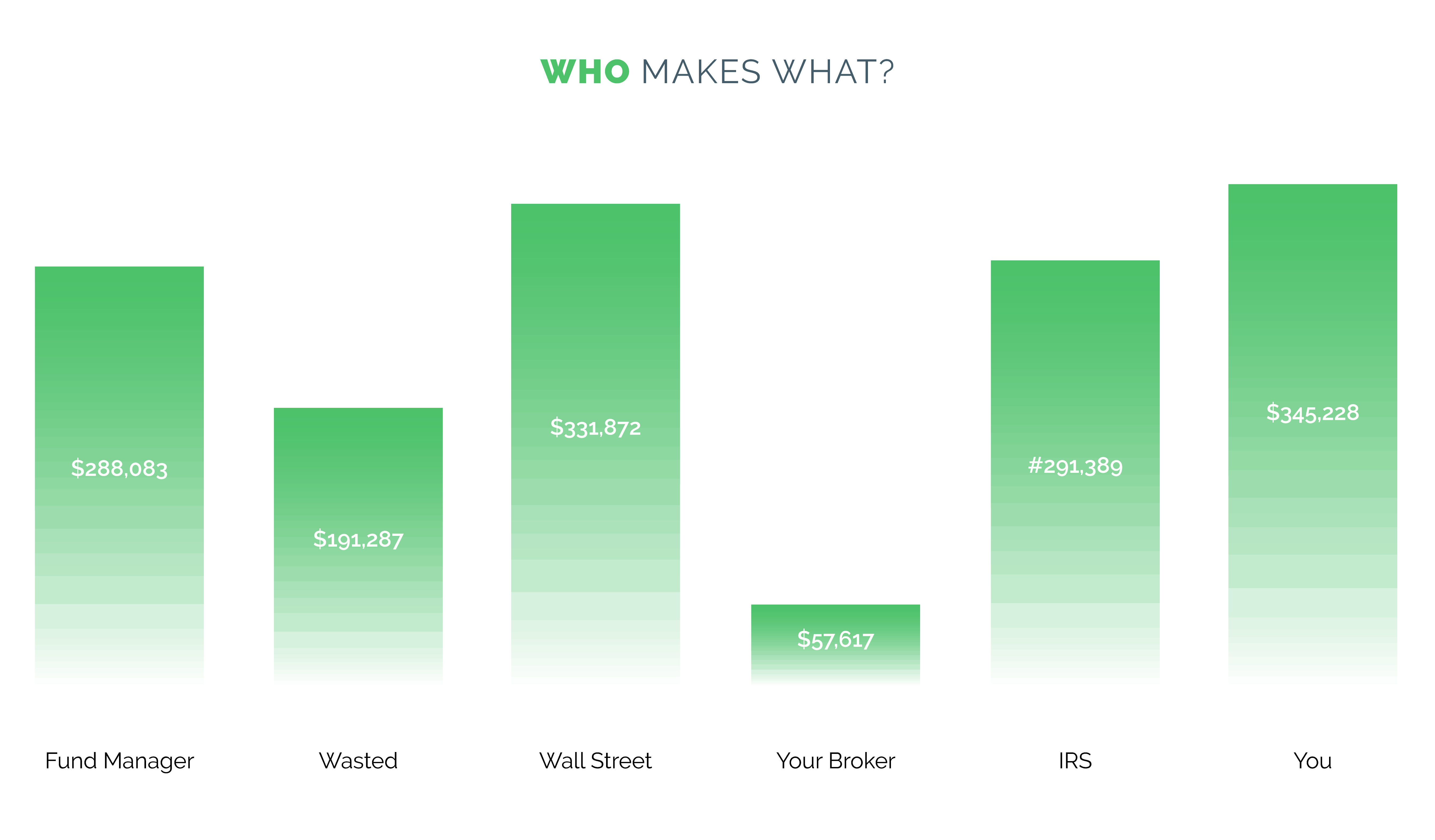 Remember, it's your hard-earned dollars.
Your investment account.
The fund manager, the guy clicking on the mouse, managing the money ends up with around $288,000.
Almost $200,000 ends up just being wasted, sitting in cash that could've been generating returns.
Wall Street ends up with about $330,000 in the form of commissions and trading expenses.
Your broker. Just his personal cut is around $57,000.
The IRS, between the taxes they collect from the mutual fund and then the ones they collect from you after you get the net, gets around $291,000.
And you just barely make more than the others, winding up with a profit of around $345,000.
So, take a look at this and ask yourself one question.
Do you want to give Wall Street $300k
Do you want your fund manager to make $288k?
Do you want to give the IRS $290k?
Your broker $50k?
Do you want to see $191k just wasted sitting there, doing nothing?
Or would you like to keep 95 percent of these dollars?