I hope your week is going well so far!
A few weeks ago, I told you about the new wakeboarding boat I ordered for the family. 
Well, I finally picked it up and brought it home last week…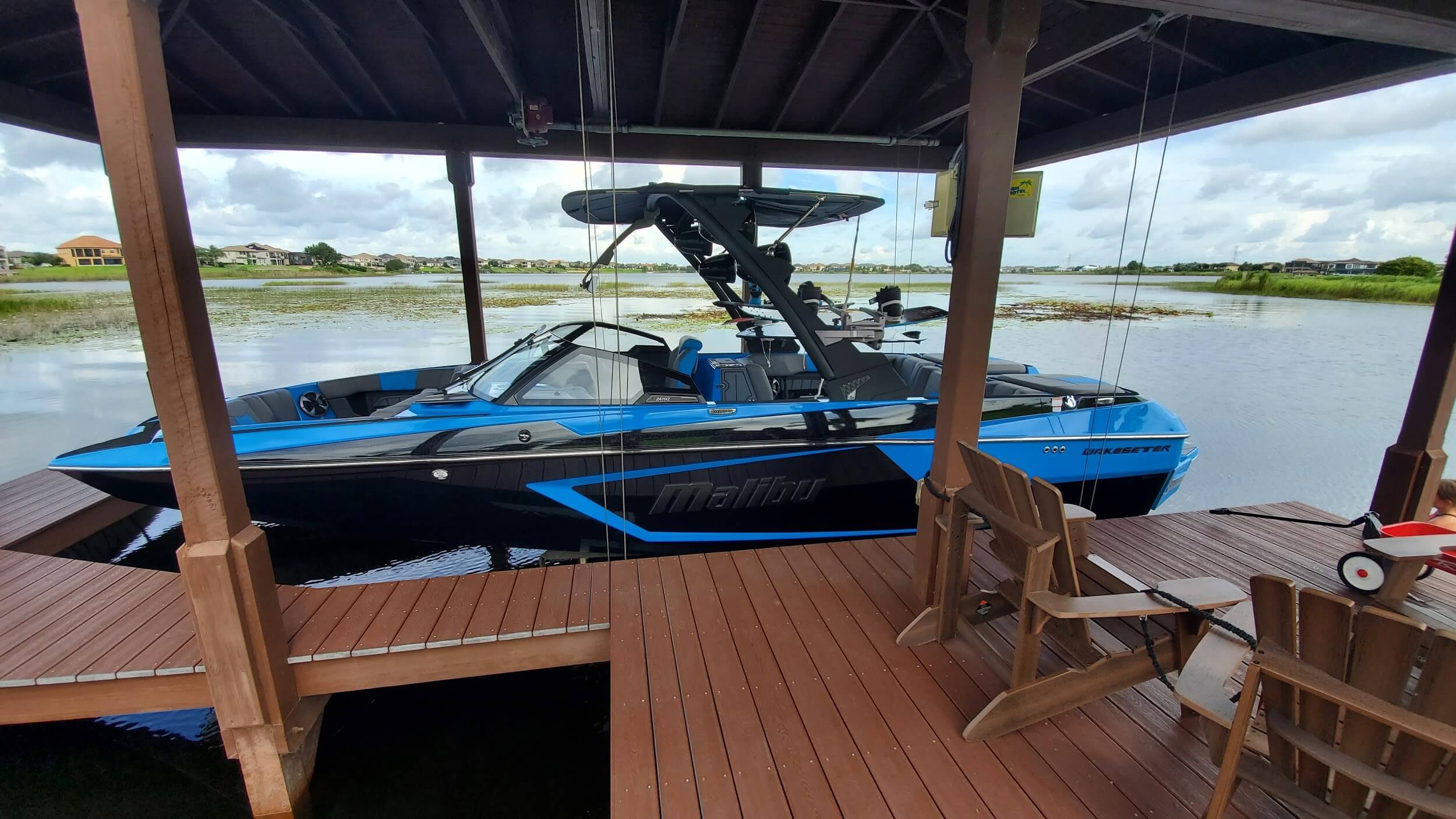 And man, she is a beauty. 
Unfortunately, though, our maiden voyage did not go according to plan. 
You see, I brought the boat home last Thursday, about a month after ordering it. 
Of course, the first thing I wanted to do was polish it up and get a couple coats of polymer on to protect the paint. 
So, I spent all evening Thursday wiping it down with alcohol to prep it for the polymer… 
And just as I was finishing up around 10 p.m., it started pouring down rain. 
No big deal, right?
So Friday morning rolls around, and I restart the whole process. 
I finally got the first coat of polymer on, waited a few hours, then put a second coat on… 
And once that layer was dry, we were ready to rock and roll. 
Of course, I let my little girls ride first, and they had an absolute blast. 
I pulled them doubles, which means they were both on their wakeboards behind the boat at the same time. 
Once the girls had a turn, my wife wanted to try out the wake surf mode… 
And it performed like a dream. 
Now, after watching my daughters and my wife out there having such a great time, I just couldn't wait to get out there on my wakeboard… 
But Mother Nature had other plans, and it started getting too windy as my wife was finishing up her surf… 
So we docked it for the night. 
Now, come Saturday morning, I'm absolutely itching to get out there. 
I got up bright and early and started filling the ballast, getting it all set up and dialed in just right to create the perfect wake. 
… And when I tell you this was some of the best wakeboarding I've experienced, man, I mean it! 
The wake was absolutely amazing, and I was catching crazy air. 
I was having the time of my life… 
Until all of a sudden… The engine just shut off. 
Talk about a buzzkill. 
Turns out, one of the cylinders had zero compression. 
We ended up having to get towed back in, and I called the manufacturer to tell them what was going on. 
Of course, everything is under warranty, and they'll be sending a replacement motor for free…
But it will be another three weeks before it's here and we can ride again. 
Now, obviously this is a disappointing situation. 
Wakeboarding is by far one of my family's favorite pastimes, and we've been missing it for the past month…  
And we'll continue to miss it for the next three weeks while we wait for the new engine.
But… this is also a prime example of a "first-world problem." 
I mean, at the end of the day, if the worst thing I have to complain about is a blown engine on my brand new boat, then how bad can life really be?
It's also a good opportunity for me and my family to practice patience and "rolling with the punches," as they say. 
Listen, sometimes in life things happen that are simply beyond our control.  
And in those situations, we have to focus on the one thing that we can control… 
Our emotional response. 
See, we could choose to be mad, upset, sad or depressed about the boat situation. 
But in the grand scheme of things, what good would that do any of us?
It certainly wouldn't help us get the new engine here any faster. 
So, it really would just be a waste of emotional energy to put that much focus on it. 
And so it is with trading, too. 
Listen, if you've been trading any amount of time, you know that sometimes the markets just don't go your way. 
All you can do is position yourself in the highest-probability trades you possibly can… 
And realize that you'll win some, and you'll lose some. 
Of course, in the end you hope that your winners far outweigh your losers… 
And that's where strategy comes into play. 
Now our good friend Ross Givens has just released a brand new strategy for pinpointing precise options trades… 
And modeling those trades to extract the highest possible returns. 
In fact, this simple technique can turn 50% gains into 250% gains with ease. 
If you haven't seen it yet, you can watch a full training session on the details of this brand new system…