We are taking profits on one stock and rolling that into a brand new small cap.
Three weeks ago, we issued a buy recommendation on Eidos Therapeutics (EIDX) following heavy insider buying by the CEO and its parent company, BridgeBio Pharma.
Despite massive sell offs in almost every sector, these insiders clearly knew something.
It turns out that BridgeBio has made a tender offer to buy up the rest of the outstanding shares.
The stock jumped on the news, but it has continued to climb higher – above the buyout offer price.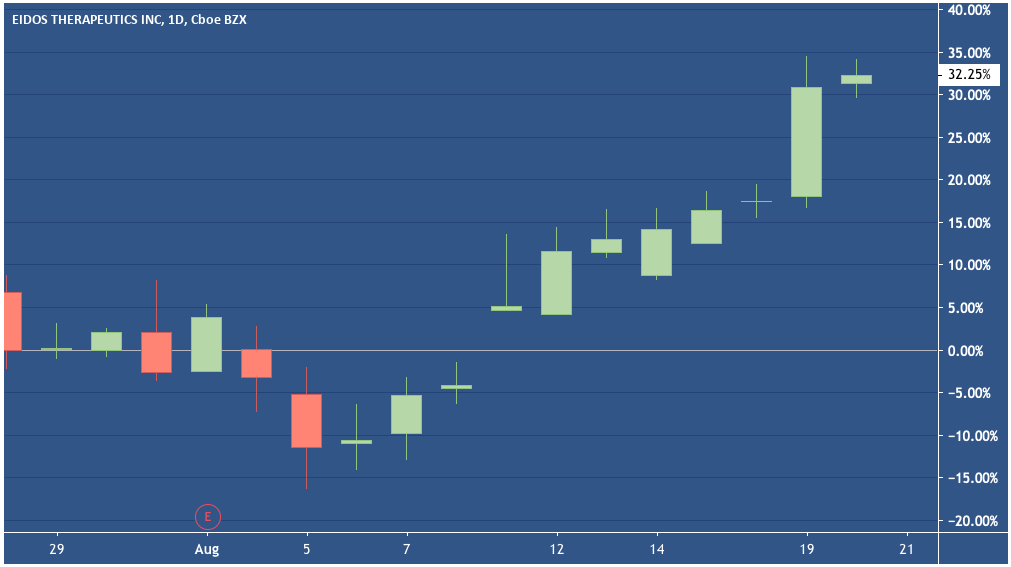 We don't like to look a gift horse in the mouth so we are taking our profits and rolling them into a brand new opportunity.
The company provides scale-out storage, archive, and data protection solutions for small and multi-national enterprises.
Over the last twenty years, our next stock has traded as high as $346 and as low as $1.05.
But shares have been screaming higher since the beginning of 2019, and two insiders think it has a lot further to go.
President and CEO, just purchased 80,000 shares for a personal investment of $408,000.
On the same day, the Chief Financial Officer picked up 100,000 shares at a cost of $509,000.
Both of these insiders are first time buyers.
They are also buying into new highs – adding even more significance to their actions.
Additionally, these are the first insider purchases by anyone since a cluster buy in 2015.
Following an 8-for-1 split, the stock is up more than 500% since that time.
With a market cap of just $209 million, Quantum Corp is still a micro-cap stock.
This keeps it off the radar of Wall Street analysts since most funds are unable to invest in it.
But as always, insiders know the company best.
And the top brass is making a substantial bet that shares will soon trade much higher.
If you would like to get the ticker symbol for this trade and learn how we find these Insider opportunities…
Attend An On Demand Webinar Here