Societé Generale, Jason Daw [Head of Emerging Markets Strategy], commented on how the Yuan will only hit (break) above '7' mark -only- if the Authorities in China want such scenario to take place. The strategist gives a 50/50 probability to see this taking place. 
Over the last 3 months, USDCNH took all the necessary time to build a robust short-term bottom around 6.6680/6.6950 levels. Those in the MT/LT were critical as the 38.2% Fibonacci at 6.6940 was unchanged adding fuel to the current bullish narrative. 
USDCNH Technical Levels | MT/LT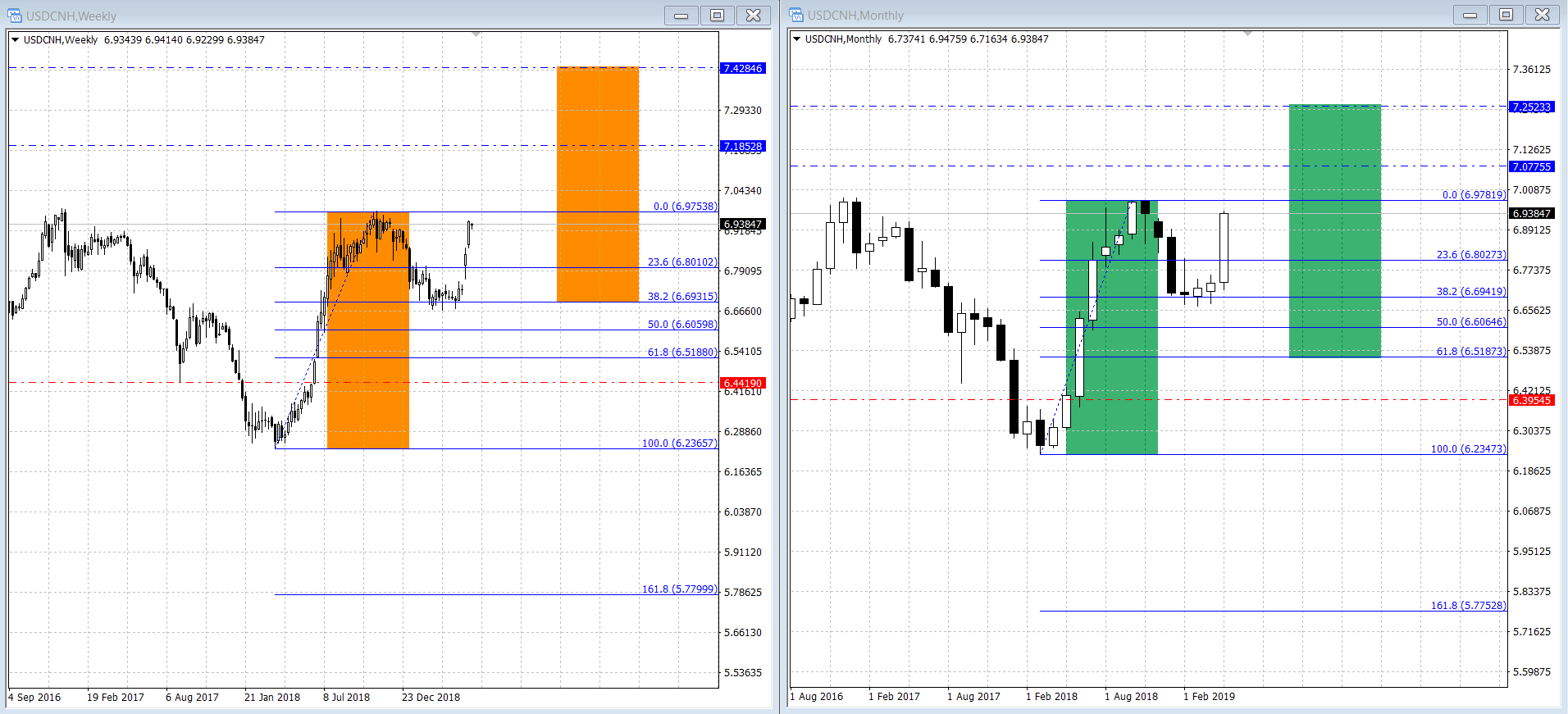 Earlier this morning, I did a quick scan of the Asia news sector and thought it was important and relevant to share some interesting findings on the CNH. There is no reason to say no to an extra couple of dollars per month if the risk is measured, right?
Allow me to share my technical analysis on USD/CNH, then you will have an effective 'roadmap' to trade MT/LT levels:
All roads seem to lead towards '7' however, this price should not come as a surprise nor as a negative outcome. It is the consequence of the current global trade environment. The red alert is going to be triggered at 6.9850 which is the December 2016 high (2 years and 5 months resistance). You can see it on the monthly chart above.
PBOC cut Yuan's fixing by 129 pips to 6.8988 per USD, a new low since December 2018 versus 6.8859 one day earlier via Yuan Talks.
On both charts, weekly and monthly, the price never breaks to the downside and the 38.2% Fibonacci is protected. This is key for the current bullish leg and it could easily finish at the 0% [6.9780] Fibonacci level.
When price crosses the 0% Fibonacci, then you will find yourself trading in the 'unknown' and at this point, you can use the Fibonacci projection to have some guidance. If prices were to reverse and move below 6.8020 level or lower, markets no longer need to be concerned about US dollar strength as the currency is due to a corrective move targeting to the downside 6.69/6.60 levels.
LT evidence indicates enough room for USDCNH to trade lower towards 6.51 without breaking the bullish trend which started in February 2014.
Risk Scenario | Short USDCNH [Corrective Trade]
I expect the pain to increase if the Yuan climbs near the round figure '7' this will not translate well in Emerging Markets and could lead to some intervention from PBOC or even the Fed.
To play the long game, needed to win all the time, I am willing to sacrifice 60%/75% of my capital going short at 6.9429 with an exit plan (Stop Loss) at 7.1827 level. The time duration (like a professional thief targeting a bank) is 5-months which is exactly the time it took to get to this level.
If the margin required is too high for the risk capital available in your account, then consider your 'proxy' going long the currency cross AUDNZD. I exited a short-term position last week for ($480) loss, however, due to yesterday's election and a better tone in the markets the opportunity seems available at a better exit level 1.0513 (May's low); you can watch 🎥 Trade of the Week | AUDNZD