Are you a fan of boxing?
Even if you're not, I'm betting you know who Mike Tyson is. 
"Iron Mike" claimed his first heavyweight title at just 20 years old, making him the youngest heavyweight champion in history. 
And while his career has been plagued with controversy, there's no denying he's one of the all-time greats in the ring. 
Anyway, I recently read a powerful quote from Mike… 
And even though he was talking about boxing, what he said can be applied to just about everything in life… 
Including trading. 
Check this out: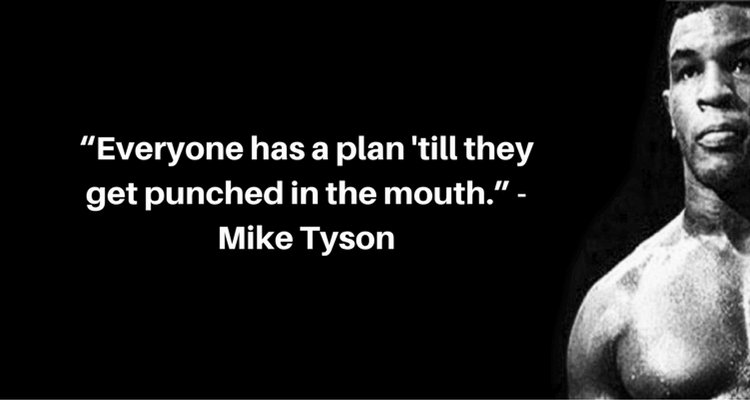 I mean, let's face it… 
That's a brutal statement. 
But guess what? 
Life can be downright brutal sometimes!
Even though you may not be getting literally punched in the mouth, we've all experienced a plan that went sideways due to an unexpected challenge… 
Or an expected challenge that proved to be much tougher than we anticipated. 
And so it is with trading. 
Think about it… 
Countless traders have come into the markets thinking they had it all figured out. 
They researched their strategy.
They knew exactly what they were going to trade and when they were going to trade it.
They even paper traded their plan to build confidence and verify the plan worked. 
But then… as soon as they put real, live money on the line… 
Their emotions kicked them in the teeth… and their plan went out the window. 
It's not just new traders, either. 
Even experienced investors can get "punched in the mouth" by an unforeseen event that throws the markets… and their plans… into turmoil. 
Heck, we just went through one earlier this year, when the coronavirus outbreak caused the fastest fall into a bear market in history. 
A lot of traders were blindsided by the pandemic selloff. 
And right now, we're in the midst of another historic event that is going to cause potentially massive disruption to the markets… 
And truly test the mettle of anyone with skin in the game. 
I'm talking, of course, about the election. 
Listen, it doesn't matter what side you're on. 
The fact is that regardless of whether Trump or Biden comes out on top, the decisions and policies that the next administration pursues will have ramifications on the markets. 
Now, here's the thing to keep in mind about Mike's quote. 
It doesn't mean that we shouldn't make plans. 
In fact, there's another famous quote that sums it up pretty well: "Failing to plan is planning to fail."
But what Tyson's statement so viciously reminds us is that although we need to plan and strategize as best we can… 
We also need to be prepared for the possibility of a proverbial punch to the mouth. 
That means expecting the unexpected… 
And have contingency plans in place for when the unexpected occurs. 
Now, when it comes to the election, there are a few possibilities… 
And while we can't predict who will win…   
We can make preparations so that we don't get knocked to the canvas come election day. 
That's why our resident equities expert and trading pro Ross Givens is hosting an exclusive online event to give you strategies to protect your portfolio… 
And profitably trade the election no matter who comes out on top. 
He'll tell you what you can expect if there's a Blue Wave… 
What to watch out for if Trump wins reelection… 
And show you how the stock market historically predicts the presidency with 87% accuracy. 
This live event is happening tomorrow at 1 p.m. Eastern… 
So click right here to save your spot, and learn how to set yourself up for success in the aftermath of this bitter election!