So here's a little news from BioTech land…
Summit Technologies is a company that develops drugs to treat infectious diseases.
They just struck a licensing deal with a larger company, sending the shares skyrocketing higher.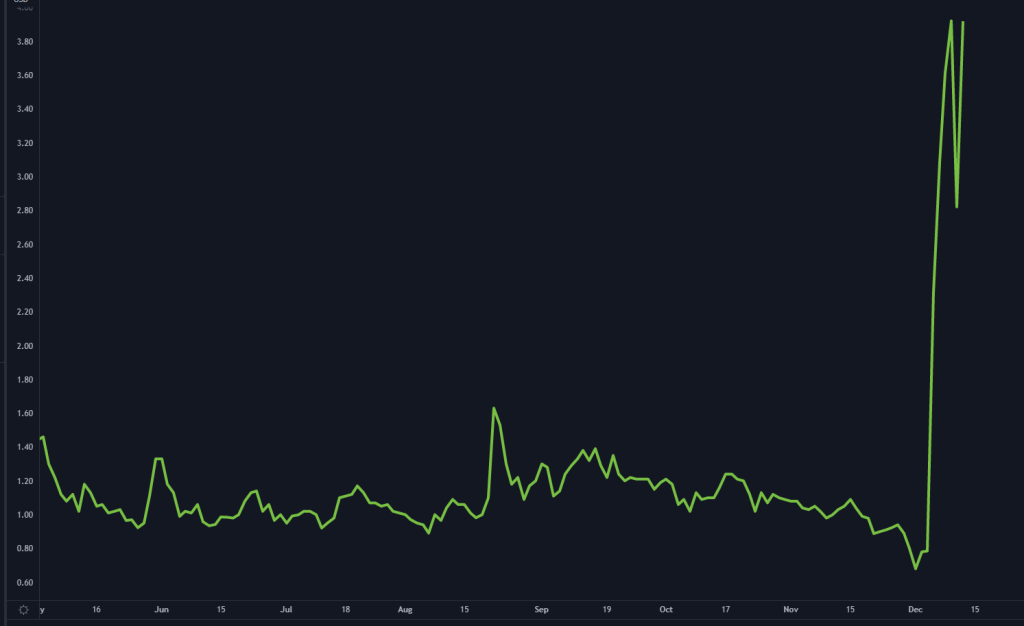 Here's the chart of SMMT…
You can see they traded sideways pretty much all year until…
Wham!
That spike you're seeing is a tidy 260% breakneck rocket ride to the stratosphere.
It just happened completely out of the blue in December…
While the rest of the market was waiting on the Santa Claus rally that still has yet to materialize.
Our subscribers at Insiders Exposed were alerted to SMMT before the spike.
So, how did we know?
Am I some sort of hotshot biotech expert?
Far from it… I despise hospitals and do everything in my power not to go to the doctor.
I also didn't spend any time digging into the company's financials…
I haven't spent one minute trying to understand their technology or looking at any of the data from their clinical trials…
I didn't have to… because I know someone who already has his finger on the pulse of all of this information.
Someone who lives and breathes it every day…
Someone whose entire livelihood depends on knowing it more thoroughly than I could ever hope to… the CEO.
Back in September, the company sold $100MM worth of stock…
And guess who ended up buying $92MM worth of those shares?
I'll give you 3 guesses but you'll only need one.
Do you think a CEO who makes a $92 million dollar bet might know something you and I don't?
Well, he did… and he's now fabulously wealthy because of it.
And not just him… our subscribers were able to "bump draft" off of his move and pocket a fast profit for themselves as well.
It's all part of a powerful strategy that lets me profit from a little-known 1000% loophole.
We're putting on a free training to show you exactly how this works:
>>> Tiny Little Loophole Gives You BIG Gains (1000%+ in just weeks)
Original Post Can be Found Here