For once, it happened to a nice guy.
We've been best friends since the seventh grade.
He grew up just like me… 
Neither of us came from money.
Then… out of nowhere… he inherits $200,000.
(It was actually more, but that's what was left after buying a boat and paying off some debt.)
I feel like windfalls usually go to silver spoon babies and jerks who don't deserve it.
He's neither.
In fact, he's probably the nicest guy I've ever known.
Anyway, Monday I got a text:
I FUNDED MY STOCK ACCOUNT. NEED SOME HELP.
By the time I called him back, he'd already bought $20k worth of Amazon.
The funds were burning a hole.
I told him to put down the mouse… 
Stop buying… 
And wait til I get there.
I went to his house later that night… and we set up a plan for how to invest the money.
Here's what we came up with…
Instead of picking individual stocks, I told him to stick with the S&P 500 index.
Specifically, an index ETF you can buy and sell just like a stock.
The symbol is SPY.
If the market goes up 10%, SPY will be up 10%… 
And vice versa.
It's not fancy.
But it gets the job done.
Plus, it's safer than picking stocks.
Will Boeing go under, or will it survive?
Will the government bail out the airlines?
What will happen to Starbucks if all its stores close for 3 months?
No one knows.
That's why it's safer to stick with an index ETF like SPY.
Cruise stocks might go to zero… 
But the entire market won't.
Question #2 (and this is the tricky one) – Where do I buy?
If you put all your money in now, you won't sleep next month.
You'll be sweating every tick of the market.
What are the odds you bought the dead low?
Or that the market goes straight up from here?
Slim to none.
My solution?
Tiered buying.
It works like this…
Instead of investing all the money at once, you identify levels to go in in chunks.
I used this volume profile to identify entry points: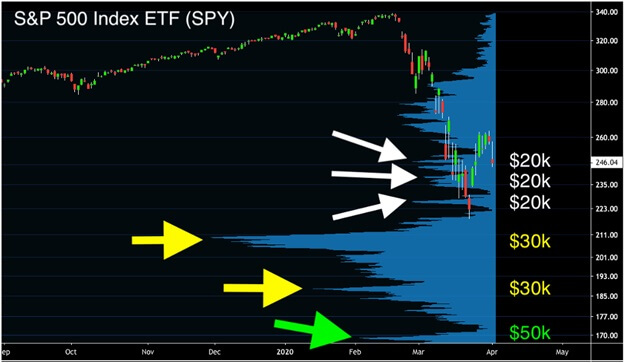 The idea is simple.. 
The further stocks fall, the more you buy.
He wants to invest up to $200k.
As you'll notice, the investments get larger on the way down: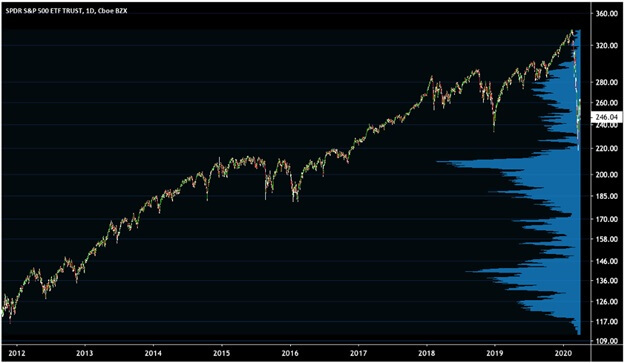 The last one, which represents a 50% drop in stocks, is for $50k.
This way, all the buys will happen automatically.
There's literally nothing for him to do except decide when to sell.

You can do the same thing.
Just make sure the trade is a GTC (good-til-cancelled) BUY LIMIT order (the limit is the price you are willing to pay).
Here's why I like this plan…
Worst case scenario, he doesn't get all his money invested.
He and his wife just started buying rental houses.
So if the market rallies early, he's got idle cash to pick up a couple cheap houses.
Also, there's very little stress.
Wednesday, he got his first order filled.
Was he panicking over whether it's going to go up tomorrow?
No.
He wants the market to go LOWER!
He wants to get all his orders filled.
So, unlike everybody else, he's actually cheering for stocks to do down.
And finally, the purchases are tiered.
Instead of investing in uniform amounts, the plan gets him in heavier at lower prices.
This will keep his cost basis much lower… 
So he will never need a huge move up to get profitable.
Is this plan perfect?
No. 
It's probably not for you.
But that's really the whole point… 
There are no rules to investing.
You don't have to own mutual funds.
You don't have to own ETFs.
Hell, you don't have to own stocks at all.
Maybe sitting in cash is the best decision for you right now.
At least you won't lose anything.
Look… at the end of the day, what's right for you is probably not right for me and vice versa.
But if I can give one piece of advice, it's this…
No investment is worth losing sleep over.
If it gives you stress and costs you peace, it's not worth it.
Do what makes you comfortable.
But if you want to learn the specific details of how I choose which stocks to buy in this environment, Click Here.
Invest Well,
Ross