Is COVID-19 Really Worse Than The Flu?
More than 35 states have issued shelter-in-place orders and hundreds of cities are completely locked down.
And today's labor statistics show that 6.6 million people filed for unemployment in the last week, on top of the 3.3 million who filed the week prior.
There's just no other way to put it — our world has been turned upside down in a matter of weeks, all thanks to the novel coronavirus that causes COVID-19.
And people want to know… Is Covid-19 really worse than the flu?
In times of crisis, we must always remember that PERSPECTIVE is paramount…
So let's take a look at the numbers and see if we can't gain some perspective on this situation.
As of today, total coronavirus deaths worldwide are sitting just under 50,000: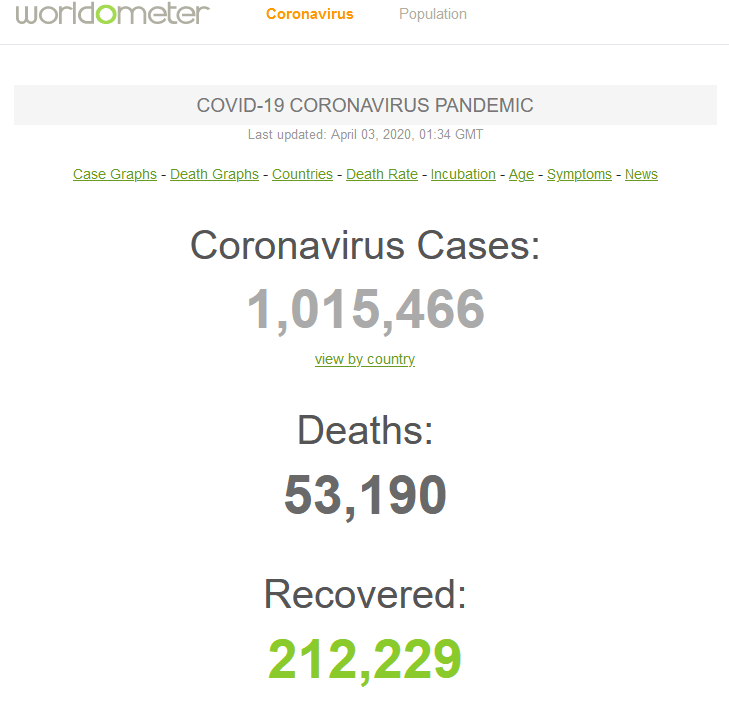 Now, 50,000 deaths is nothing to scoff at.
I'm in no way trying to trivialize the loss of life associated with this virus.
All I'm saying is that we need to keep things in PERSPECTIVE.
So how about seasonal flu?
Now you may be surprised — just like I was — to learn how many people die every year from the seasonal flu.
Here's a graphic from the World Health Organization: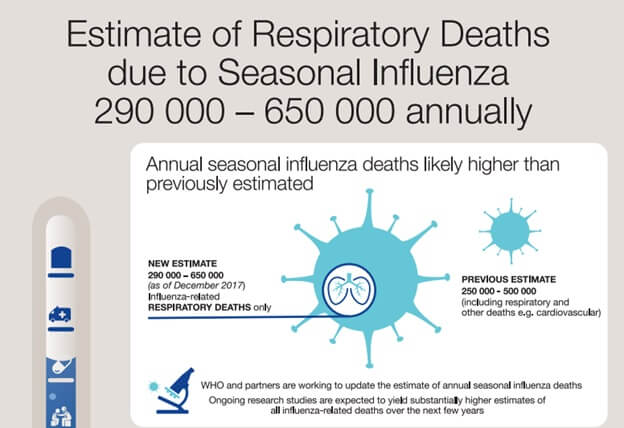 You read that right…
Up to 650,000 deaths every year are attributed to the flu.
That's 13 TIMES the current total of deaths due to COVID-19.
And yet, we've never seen countries closing their borders and worldwide economic unrest in response to the seasonal flu.
Now, let's look at the U.S…
Total deaths as of April 2 are 5,911, with 244,678 cases reported.
But, again, how do those numbers stack up against the flu?
The CDC reports that since 2010, an estimated 9 million to 45 million people are infected with the flu every year…
Requiring 140,000 to 810,000 hospitalizations…
And resulting in 12,000 to 61,000 deaths.
EVERY. SINGLE. YEAR.
Oh, and that top 61,000 range of fatalities?
That's from just two years ago, during the 2017-2018 flu season…
Which was a record-breaking season for all the worst reasons: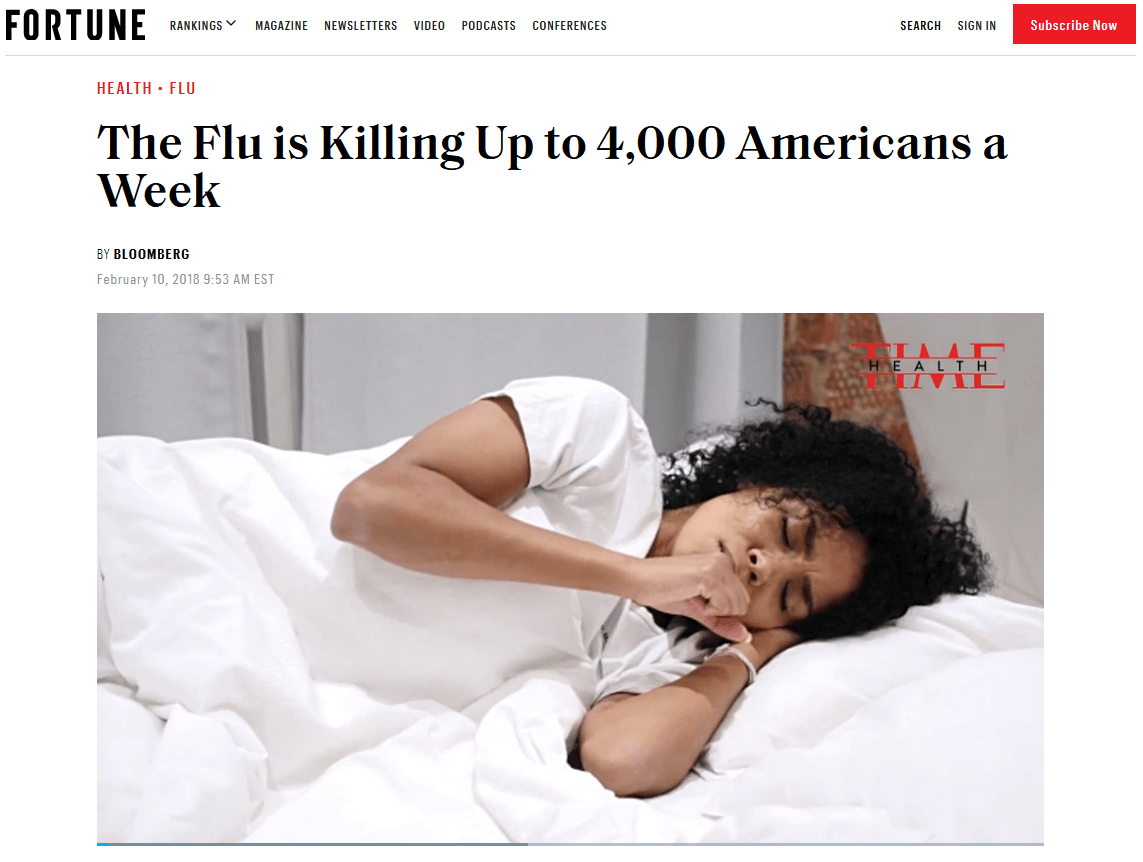 That article is from February 10, 2018…
When the flu was taking as many as 4,000 American lives EVERY WEEK.
By comparison, the coronavirus has claimed just over 5,000 lives in the U.S. since the first reported case on January 20…
More than 10 weeks ago.
Where was the panic in 2018?
Where was the outcry?
Why weren't we shutting down the economy when the seasonal flu was ravaging the country just two years ago?
These are the questions we should be asking.
Now, you've probably seen headlines talking about the coronavirus death rate compared to the flu, like this one:


But the fact is that COVID-19 testing is disproportionately skewed toward patients with the most severe symptoms and the worst outcomes…
And even that same Business Insider article points out that: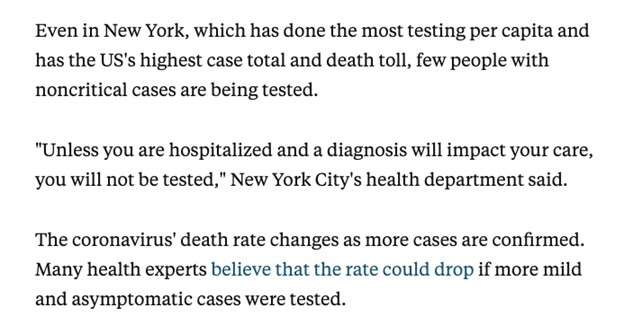 Now, again, I'm not trying to downplay the severity of the situation.
The coronavirus is a real thing, and it is causing illness and death.
But compared to the effects of the flu EVERY YEAR in this country and around the world…
It hasn't yet come close.
So it begs the questions, is covid-19 really worse than the flu?
But here's my larger point…
Panic… fear… chaos… outcry…
They're what media companies thrive on.
But they're a trader's worst enemy.
When you start making financial decisions out of media-driven fear, you put yourself… and your future… at unnecessary risk.
Listen, I know things may seem bad…
But this is going to pass.
The market is going to recover.
And you need to start thinking strategically if you want to recoup… and even surpass… any losses you suffered in the collapse.
Now, I sat down with Ross Givens just last week to host a live broadcast.
Ross runs the Insider Report…
And he shared some invaluable strategies for positioning yourself in this unprecedented market…
And even revealed some explosive opportunities that could pop at any moment.
If you missed the live broadcast, fear not…
Because you can catch the full replay by clicking right here.
I highly recommend you watch it now, though…
Because these opportunities may not be around tomorrow.
Stay safe, and remember…
It's all about PERSPECTIVE!