It's officially the most wonderful time of the year… 
In a year that's been dubbed by many as the absolute worst on record.
It's true that 2020 has presented some unique challenges — including an unprecedented market selloff… 
But I wanted to know exactly how this year stacked up as a contender for the title of "worst year ever."
Well, seek via Google, and ye shall find…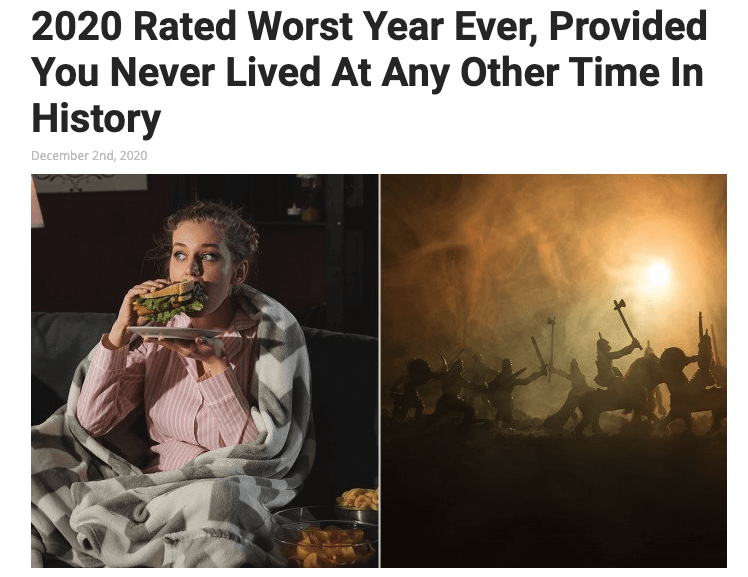 From the article:
According to studies, 82% of Americans agree that 2020 has been a terrible year of unprecedented suffering and misery. 
Experts confirmed that 2020 was indeed the worst year, provided you have never lived in virtually any other time period in all of human history. 
"We noticed that most of the respondents who called 2020 the worst year also enjoyed delicious food being delivered to them for 8 months while they sat on their couches with the air conditioning on and binge-watched shows the whole time," said one researcher.
"While we understand it hasn't been easy, we also found very few instances of Viking raids, Black Plague, famine, world war, using rotary telephones, needing to look things up in a physical dictionary, slavery, people being burned at the stake, walking miles to school, living in caves, sleeping on the ground, ice ages, Nazi holocausts, civil war, infant mortality, global floods, ethnic cleansing, using leaves as toilet paper, using leeches as medicine, using wooden mallets as an anesthetic, fighting wild saber-tooth tigers, cannibalism, occupation by the Persian Empire… "
So there you have it — 2020 confirmed as the worst year on record!
… Just kidding. 
This tongue-in-cheek article comes from The Babylon Bee, a satirical "news" site. 
I got a good laugh out of this… 
And it's funny because it's true. 
Listen, I understand that a lot of folks lost jobs this year, and many Americans are struggling to get back on their feet in the aftermath of Covid-induced lockdowns and business closures. 
I'm also not trying to downplay the lives that have been tragically lost to the coronavirus. 
But I also think it's imperative to keep a healthy perspective on things. 
Like I said, this year has definitely been challenging in many ways. 
And for us traders, the selloff in late February and early March was a true black swan event that took us all by surprise. 
But just look back at what happened in the months following that selloff… 
The fastest recovery on record, and new all-time highs being reached within six months of the fastest fall into a bear market in history. 
Now obviously the coronavirus isn't going to just disappear overnight. 
But with vaccines on the brink of distribution and an economy that's primed for an even stronger recovery in 2021, NOW is the time to get your plan in place for the new year. 
Now my friend and trading expert Ross Givens just hosted a live training session earlier this week to reveal the red-hot sector that he believes could be the single biggest investment opportunity of 2021. 
He also put together a brand new research report detailing the top stocks in this sector that are showing the most potential right now… 
So if you're plotting your investment plan for the coming year, then you definitely want to click the link below and watch the full replay of this training. 
Just click here to view the training replay and get Ross' number-one stock pick — ticker symbol and all — for this sector that's set to boom for free!