Last week, the S&P 500 ran to new all time highs.
Yet why doesn't it feel like it? 
If you're like most investors right now, you haven't seen the market gains flow into your favorite names.
It could leave you frustrated, but I want to tell you that you're not alone, and I can prove it in today's blog.
First, let's take a look at the weighting of the top 5 stocks…
Remember, GOOGL and GOOG are the same company, just different classes of shares.
What does this tell us?
About 25% of the movement in the S&P comes down to just 5 companies. That's it.
And when large cap tech sees a run higher, it can drag the indexes up with it, but you won't see as many stocks participating.
A better way to look at the market right now is RSP — the equal weight S&P 500 index.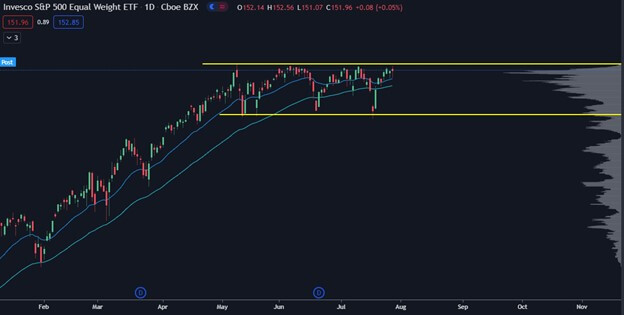 This shows us that the average stock hasn't moved since May! We've seen a time-based correction for several months. 
While many traders are waiting for some kind of "reset" in the market, they fail to see the forest through the trees– because they're all looking at the same 5 trees!
Here's a market breadth indicator to pay close attention to: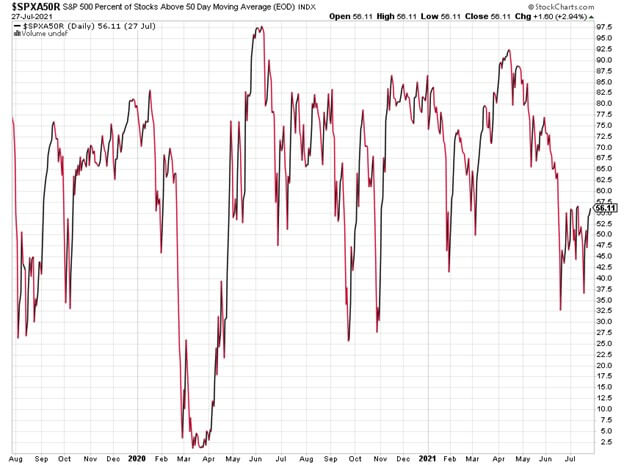 This is the SPXA50R. It shows us the percentage of stocks that are currently above their 50 day moving average.
Into the most recent pullback, we saw the vast majority of stocks break their trend. In a normal market pullback, readings in the low 30s have marked key turning points for the overall markets.
This stealth correction has allowed many individual names to reset and are primed for massive moves higher.
Here at PVA we've got a specialty retailer and a cybersecurity company that are poised to make those big moves. 
Click here to get access to these valuable tickers, and explosive gains!
Check us out today, because the optimal entry windows on these positions close soon.
Your for better profits,
Steve Place