Supply chain issues are hitting one of our favorite Insiders Exposed stocks right where it hurts…
And the stock price reflects that.
This name's dropped over 50% from its highs in early 2021.
Yet I noticed something quite interesting:
One key insider has been buying shares at breakneck speed for MONTHS.
First, let me give you some background on this name for some context.
The Insiders Exposed team first caught wind of this company when we noticed someone with a 10% stake in the firm made 4 big buys in April 2020 and 6 more in May 2020…
Right after the March selloff.
But things really got serious in Fall 2020, when this guy bought shares 14 more times between September and early October…
Totaling nearly $3 million in purchases!
We had to buy in…
And good thing we did.
Just 2 weeks later…
IE clients had the opportunity to bank a whopping 426% profits on the first leg of our trade.
About 3 months after that (early 2021), they had the chance to book another 127% options gain…
And that's not the end of it because our insider continues to gobble up more shares: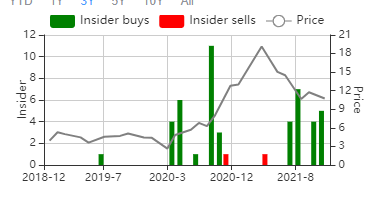 His total holdings in his company now sit at 4.6 million shares.
Now, here's the fun part.
If you thought 4.6 million shares was a lot…
The current shares float (the total amount of shares available for public investors to trade) is 14.52 million.
This man owns almost 32% of all available shares!
And that sets the stage for a MASSIVE squeeze.
Now, our insider has done this previously with other companies.
He picked up a concrete manufacturer that ended up getting bought by a larger company.
He picked up a tech company that ended up getting bought by a larger company.
I think you see the pattern here…
Of course, we can't know what this insider knows. We don't work at the firm or sit on the Board.
But if he is buying bucketloads of shares into this dip…
This is a very actionable point for this stock.
Now, if you want access to this ticker and the rest of our Insiders Exposed portfolio…
First, head here to watch a special insider trading webinar.