Back In April we took a trade based on Insider buying on Costco. Since then, despite the market turmoil we have closed nearly 150% in profits on the options and yesterday closed half our stock position with around 20%.
Today I want to give you a free Insider pick and also share with you a very exciting pick as well.
The Ticker symbol and details for the free pick are in the video so make sure to watch it.
This is the one I am REALLY EXCITED about…
Today's stock is a spin off denim-maker.
Shares hit the market at $40 and quickly fell to $26.
But the stock has been moving higher since late June, bucking the apparel sector trend.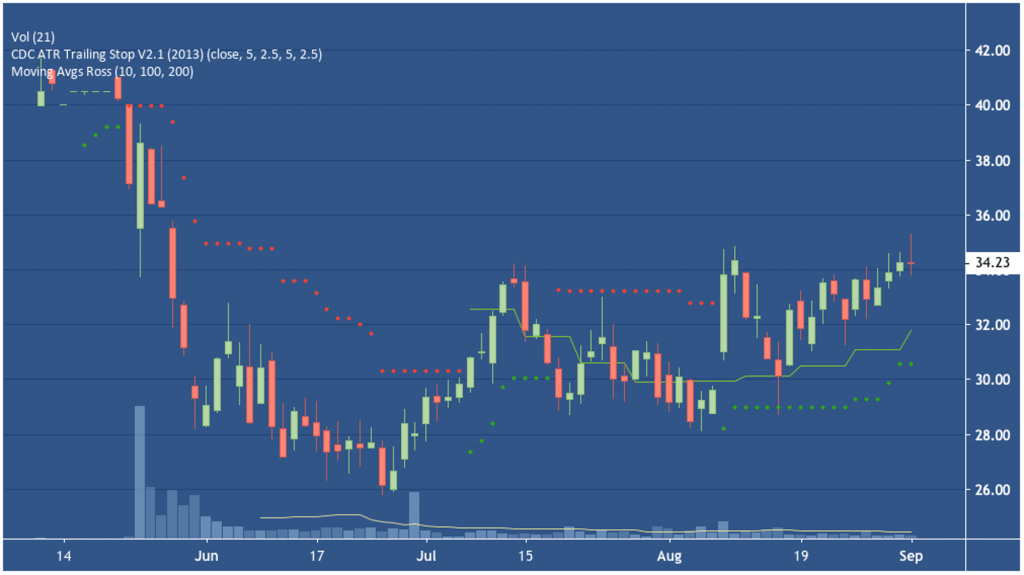 The quick sell off after going public is actually quite normal for a spinoff.
Unlike IPOs where investors actively seek out and purchase the new stock, spinoffs are automatically distributed to existing shareholders of the parent company.
In this case, stockholders received 1 share of the spinoff stock for every 7 shares of the parent company they owned.
Many investors choose to simply sell the spinoff shares and take the cash as a special dividend.
This selling pressure, combined with the start of a US/China trade war, tanked the stock out of the gate.
But fears surrounding the company's international exposure quickly passed.
Less than 1.5% of it's manufacturing is done in China, so tariffs are unlikely to have a material effect on the company's bottom line.
Additionally, most of its business is denim sold for $20 or less.
So even a macroeconomic event like a recession is unlikely to weigh down the stock.
In fact, it might even work in their favor.
Insiders seem to think so…
Board members made three purchases over the last two weeks totaling $696,950.
These are the first insider buys in the company's history.
It is impossible to know for sure why these executives are buying.
But one possible reason is the firm's newly announced expansion plan.
China is set to overtake the U.S. as the world's largest consumer of goods.
But as of today, only a small fraction of this companies $2.8 billion in annual sales come from there.
That's about to change.
The CEO announced plans to begin selling its denim brand in China in the first quarter of 2020 on Alibaba.
This will likely give a big boost to revenues.
And if we learned anything from Costco's China debut, it could spell good things for the stock as well.
There's one more reason to own this stock – its dividend!
The stock yields a whopping 6.54%.
Yield is hard to come by today.
The 30-year government bond now delivers an all-time low of just 1.97%, so high-yield dividend stocks like this are going to be even more in demand.
If you want to learn more about following Insiders attend an on demand webinar here.